SOS! The Six O'Clock Scramble to the Rescue Cookbook
SOS! The Six O'Clock Scramble to the Rescue Cookbook
Welcome SOS Cookbook Owners! You're one step closer to receiving your free month OF ONLINE MEAL PLANNING with the Six O'Clock Scramble! Please click here to head to our Join the Scramble page and select THE 3 MONTH MEMBERSHIP to head to the checkout. (Please note: you can select any subscription length and it will default to 1 month. You will not be charged for the MEMBERSHIP that you choose.) Once at the checkout, enter your Coupon Code in the provided box and you will receive your one month free! Start unscrambling DINNERTIME today with your free month OF FAMILY MEAL PLANNING!
Helps readers eat seasonally without missing their favourite foods
Moves toward a slightly more vegetarian menu for health and a lighter environmental footprint
Reveals when organic matters (and when it doesn't) and follows what's in season
Saves money through easy, efficient planning, bulk buying, freezing and storing, and avoiding waste
Packs the power of achievable, ethnic meals, such as Moo Shu Vegetable Wraps and Brazilian Halibut with Coconut-Lime Sauce
Makes grocery trips count with suggestions for weekly plans and

grocery lists
"I'm not the only cool mom who loves Aviva Goldfarb's sanity saving cookbooks. There were Cool Mom raves for Aviva's first book, The Six O'Clock Scramble and also for SOS! The Six O'Clock Scramble to the Rescue, my personal favorite. With her latest, Aviva gives us more than 300 recipes that can each be made in under 30 minutes with 10 ingredients or fewer, making green cooking a cinch. Which is good since we parents already have a few things on our plates that have nothing to do with food."  Read more: " –Cool Mom Picks: 6 cookbooks that every parent should own, May 2012

Find an independent bookstore near you
The Original Six O'Clock Scramble Cookbook
A whole year of healthy family dinners, organized by week and by season, with grocery lists online.

Find an independent bookstore near you

Delicious Downloadable Scramble Extras
Ever catch yourself searching for the take-out menus but know you can do better for your family? Try one of our eBooks instead! Our growing collection of eBooks is an excellent, easy, and on-demand resource to help you get healthy, delicious dinners on the table that the whole family will love!
Top 10 Six O'Clock Scramble Recipes
A collection of the top 10 Scramble recipes (plus a simple and delicious dessert) as rated by our members. This includes a variety of types of recipes (i.e., salads, sandwiches, soups, grilled, etc.) and many of the meat recipes include a vegetarian alternative to accommodate your lifestyles and diets. If you want recipes that are family-tested and given the thumbs up over and over, this is a great option.
$3.99 Add to cart
10 Healthy Smoothie Recipes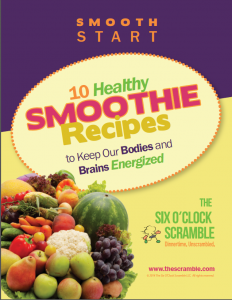 We at The Scramble love smoothies! Not only are they filling and refreshing, but also, you can squeeze so much nutrition into one glass by making a smoothie–sometimes 4 servings of fruits and vegetables plus other extremely healthy add-ins! Our eCookbook features 10 healthy smoothie recipes and a build-your-own-smoothies printable chart. Each of these smoothies is easy to make, tastes great, and provides optimal nutrition for you and your family.
$3.99 Add to cart
Best Slow Cooker Recipes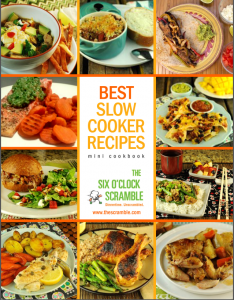 Would you like to come home at 6 PM and be greeted by the mouthwatering aroma of dinner waiting for you? A slow cooker can be a busy parent's best friend! Pulled from our database of several hundred slow cook recipes and based on ratings by scrambling families like yours, we have compiled our top slow cooker recipes with tips and balanced side dish suggestions for super-easy family dinners. (All the recipes can also be made without a slow cooker, too.)
$3.99 Add to cart
One of The Washington Post's Top Cookbooks of 2010! "Like an extra pair of hands that helps get dinner on the table."
"Healthy Eating Made Easy: The perfect guidebook for busy parents trying to feed their families well: SOS! The Six O'Clock Scramble to the Rescue. Author Aviva Goldfarb runs thescramble.com, a service that makes meal planning simple, and she brings her dinnertime sanity to these 198 quick, earth-friendly recipes. We also love the seasonal shopping advice and side dish ideas for every entrée." –Kiwi magazine, April/May 2010
"Goldfarb focuses on what's in season, fresh, cheap and tastes best." Natalie Haughton, Food Editor, Los Angeles Daily News
"Creative, healthy, unprocessed, and kid-friendly without being adult-alienating…a whole new kind of happy meal." –O. The Oprah Magazine.
"The Fastest and the Freshest: The simple, seasonal recipes pack more flavor with fewer ingredients in less time." –Real Simple
"Recipes are geared toward people who want a good, healthy meal but don't want to spend too much time thinking about it." –Reader's Digest