Liven up your baked potatoes with these simple and fun ideas for toppings for baked potatoes. Plus, how to make baked potatoes in the oven, microwave and slow cooker.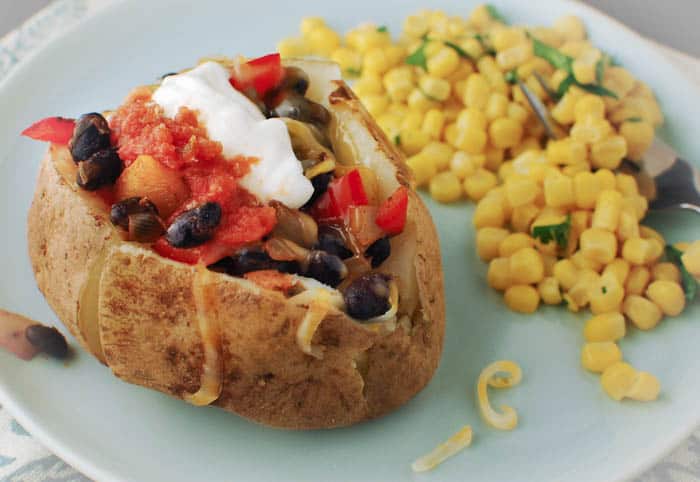 Watch the video and subscribe to the YouTube channel for more easy healthy recipe ideas for busy people:
How to make Baked Potatoes in the Oven, Slow Cooker or Microwave:
Pierce the potatoes in several places.
To cook in the microwave: Cook the potatoes on high for about 10 minutes, flipping them once, until they are tender when pierced with a knife.  If they are not done after 10 minutes, keep checking every 2 minutes.
To bake:  Preheat the oven to 400 degrees. For more flavorful skin, rub the potatoes with olive oil and sprinkle them with salt before baking.  Place the potatoes directly on the oven rack and bake them for 50 – 60 minutes, or until tender when pierced with a knife, turning them once.
Slow Cooker Directions: Place the potatoes in your slow cooker. Cook them on low for 6 – 8 hours or until potatoes are tender.
Now, for the fun part — customizing your potato!
Classic baked potato: Top it with butter, sour cream salt and pepper (can add scallions for color and flavor)
Mexican: Chicken or black beans, Taco Spices, Cheese, Salsa
Greek: Feta cheese, rosemary and Greek seasoning, sauteed mushrooms, onions, and spinach, topped with feta cheese or Greek yogurt
Italian: Pesto or tomato sauce, mozzarella, Parmesan or ricotta, chopped tomatoes if desired
Mediterranean: Hummus, chopped olives and tomatoes
Best toppings for baked potatoes:
Gorgonzola and buffalo sauce, sour cream, green onions
Sour cream, salsa, and chives
Cottage cheese chives and freshly ground pepper
Leftover BBQ pulled chicken or pork
Leftover chili
Chickpeas and curry powder
Steamed and chopped Broccoli and Cheddar
Fried egg and sriracha or other hot sauce
Ranch dressing and bacon
Baked sweet potato topped with crumbled gorgonzola and broiled
Baked sweet potato topped with fresh lime juice and cumin
Tip: According to the Environmental Working Group, conventional potatoes have more pesticide residue than any other fruit or vegetable tested by them, so, if possible, try to buy organic.