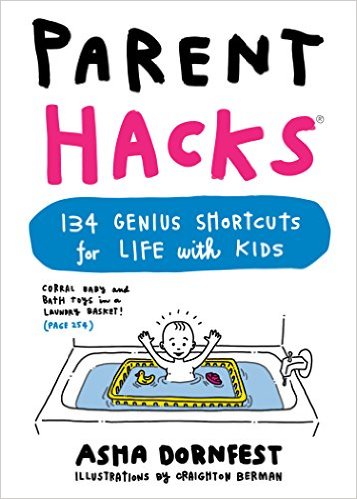 My friend Asha Dornfest is so clever. Asha has collected thousands of time and money-saving tips from parents all over the world via her popular site and hashtag ParentHacks.com and #parenthacks. Now she's turned the best of those genius hacks into an immensely readable, page-flippable book with delightful illustrations.
The new book is called Parent Hacks: 134 Genius Shortcuts for Life with Kids.  Asha has kindly shared some of the most popular Kitchen Hacks from the book with The Scramble community below. We're also giving away a copy of the book on Facebook this Friday, April 22nd, so visit it between 9 a.m. and midnight to enter.
Have any hacks to add? Please leave a comment below!
Kitchen Hack #83: Cool hot food by adding frozen fruits or vegetables: To cool food quickly, add frozen fruit or vegetables, ice cubes, or cold sauce. (Think frozen blueberries stirred into hot oatmeal, or refrigerated tomato sauce added to steaming pasta). Frozen items thaw, and cold sauce heats as it cools the hot food.
Kitchen Hack #85: Keep cabinet doors closed with silicone bracelets:  Looped around cabinet door handles, silicone bracelets work as lightweight locks—snug enough to keep a baby from opening the doors, but flexible enough for an adult to remove without hassle. No bracelets? Use ponytail holders or thick rubber bands.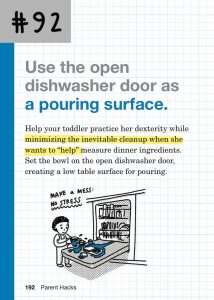 Kitchen Hack #92:  Use the open dishwasher door as a pouring surface: Help your toddler practice her dexterity while minimizing the inevitable cleanup when she wants to "help" measure dinner ingredients. Set the bowl on the open dishwasher door, creating a low table surface for pouring.
More Kitchen Hacks from Six O'Clock Scramblers: 
Transform leftover veggies into soup: I save leftover vegetables in a container in the freezer. When it's full, I add ground beef, tomatoes, seasoning, water, and sometimes broth for soup. – Lori Petersen Rankin
Freshen up the fridge with coffee: I use coffee grounds to make my refrigerator smell fresh. – Aviva
Make lazy pickles: We love to snack on pickles. When I finish up a jar of gourmet pickles from the farmer's market, I add more mini cucumbers or other veggies to the pickle juice so I can make my own pickles without starting from scratch.  – Aviva
Kitchen shears are the most valuable tool in your knife block: They're great for food prep like trimming meats and clipping vegetables and herbs. – Betsy Goldstein
Clean messy pans without scrubbing: Put hot water and a dryer sheet into your crustiest, cheesiest pan. Soak for 20 minutes.  Mess slides off. – Krista Elliott
Don't waste a drop: To keep beans, soup and other canned foods from sticking to the bottom of the can, store the cans upside down so the entire contents pour right out when you're ready to use them. – Aviva
Save a step on setting the table: Unload the dishes you'll need for that evening's dinner straight onto the dinner table, rather than putting them away in the morning and taking them out later for dinner. – Lorie Marrero, The Clutter Diet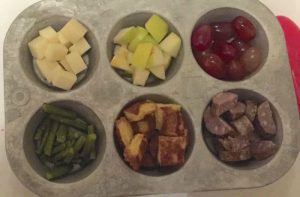 Muffin tin snack or meal: Fill each up of a 6-cup muffin tin with different foods. (I let my 4-year-old pick a few of the choices and I fill in the rest.) It's a win-win for us: she eats a balanced meal (more fruits and veggies than she likely would on a plate), I can give her a variety including repurposing leftovers, and she feels like she has some control because she picks some of the elements (usually one compartment is a "treat" item) and she can pick and choose as she eats.  (Recent examples include tomatoes, grapes, yogurt, mini rice cakes, carrots, bread cubes, apples, cheese, leftover green beans and sausage.) – Betsy Turner
Please share your favorite Kitchen Hack in the comments below.  Maybe Asha will even include it in Parent Hacks vol. 2! 
Kitchen Hacks 83, 85 and 92 are excerpted from Parent Hacks®: 134 Genius Shortcuts for Life with Kids by Asha Dornfest (Workman Publishing). Copyright © 2016. Illustrations © Craighton Berman.