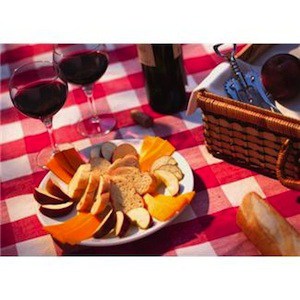 I just hate wasting food.  It makes me so sad to see food that's been grown or manufactured, packaged, shipped, stocked on store shelves, and purchased with our precious dollars just to wind up in the trash. So I've devised a few strategies to use up odds and ends before I restock for the upcoming week.
I've sometimes made what I call a 'Sixth Night Scramble', where I cook a pasta dish, a stir-fry, an omelet or frittata, or make a big salad with whatever vegetables, cheese, meat, etc. are left in the refrigerator at the end of the week.
We've been enjoying a new family tradition, which we've deemed 'the lazy picnic dinner'. The name is fitting because by the end of the week, after I have run through all my planned recipes, I sometimes feel too lazy to cook.
For the picnic dinner fare, I pull out all the leftover vegetables such as carrots, celery and bell peppers and cut them into crudités.  With these I serve other munchable leftovers, such as hummus, cheese, olives, pita or pita chips, cooked pasta, half an avocado (which I sometimes turn into guacamole with a little lime juice and salt), any small containers of cooked vegetables, beans or meat, and anything else that needs to get eaten.
I love having a night off from cooking with the added bonus of seeing that good food winds up in our bellies rather than the garbage. Does your family have any unconventional dinner traditions? I'd love to hear about them! Please share them here or on The Scramble's Facebook page.
You might like this easy no-cook family dinner recipe, Mediterranean 7-Layer Dinner Dip.