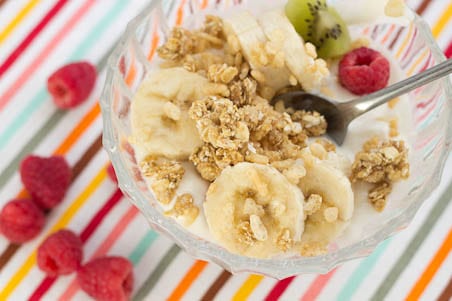 I guess everything good eventually comes back into vogue. I remember the frozen yogurt fad in the 1980s, when my friends' parents tried to convince us that "frogurt" was as good as ice cream. Ha! I remained loyal to Baskin & Robbins. Now, however, my kids beg me to take them out for frozen yogurt, but I think what they mostly crave are the toppings. One local hot spot, Yogiberry, has a giant bar with a myriad of toppings to put on the low fat yogurt (sold by weight), but once you load it up with candy, crushed cookies, sweet cereal and caramel syrup, you have a sugar bomb that can easily weigh in at $6 – $10!
Another local shop that I prefer, sweetgreen, only serves tart yogurt and wholesome toppings like berries, nuts and mini chocolate chips, but taking a family of four there for dessert can easily top $20.
The yogurts many of us pack in school lunches are convenient and relatively affordable, but they often have heaps of added sugar. I'm slightly ashamed to admit that my kids' favorite brand has 25 grams of sugar per serving, as opposed to 9 grams in the plain Greek yogurt I prefer.
I usually sweeten my yogurt with a little honey or fruit jam, and top it with fresh fruit and walnuts. So I thought, why not make our own yogurt bar at home and let the kids create their own healthy concoctions.
We started with plain yogurt (you could also use tart frozen yogurt), which they sweetened with honey or jam, and topped with fresh fruit and granola. A healthy sweet snack was born. The kids actually had so much fun visiting our own yogurt bar, that I think this would be a great idea for parties or play dates, too.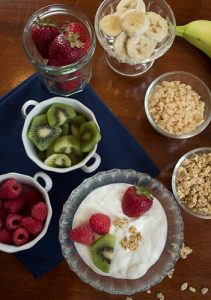 Here are some of the toppings we put on our yogurt bar
plain nonfat yogurt with little sweetening
honey
fresh fruit jam
pecans, walnuts, almonds, peanuts
raisins, dried cranberries and other dried fruit
mini dark chocolate chips
fresh seasonal fruit like strawberries, blueberries, kiwi, bananas
granola and other favorite cereals
Give it a try and let me know what toppings you use and what your kids think of this healthy (and fun!) eating activity.
Like this idea? Check out The Scramble's family-friendly meal plans to see just how simple getting dinner on the table can be!