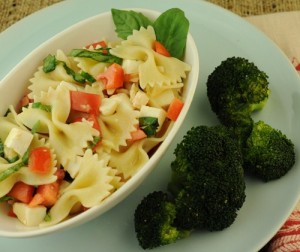 If your back yard in summer is anything like ours, your fresh potted herbs are starting to look a little like the multiplying pods from that old movie, Invasion of the Body Snatchers, with tentacles (or in this case, fragrant offshoots) threatening to invade the house while you sleep!
Since they taste so wonderful, have proven health benefits and are abundant here for only about half the year, I try to find loads of uses for these flavorful leaves.  Here are some of my favorite ideas, including a few creative suggestions from Scramble members—these ideas also work well for using up leftover herbs from the supermarket:
Watch the Video (and subscribe to my YouTube Channel for more weekly recipes and cooking tips)
1. Mix a handful of fresh oregano, mint, dill, or basil leaves into green salads, potato salad, tuna salad, or make a tomato, basil and mozzarella salad
2. Make pesto out of basil, parsley or mint, and use it as a topping for pasta, pizza, fish, chicken, sandwiches, or crackers.  Pesto also freezes well, so you can enjoy some now and some later.
3. Top pizza with fresh basil or oregano, or stuff the leaves in sandwiches.
4. Add herbs to almost any pasta dish, especially pasta salads.  This Pasta Salad with Roasted Summer Vegetables and Fresh Mozzarella is a great choice.
5. Sprinkle chopped fresh herbs in or on top of omelets or frittatas.
6. Before or after roasting vegetables or potatoes, toss them with rosemary, thyme or oregano.
7. Rub meat or fish with fresh herbs before baking or grilling it. This Grilled Salmon has you top the dish with a fresh herb pesto right after grilling.
8. Make lemonade or iced tea with springs of fresh mint, rosemary or sage.
9. Use herbs as a garnish on a platter, or put bunches in small vases for table decorations.
10. Bring a bunch to a friend or neighbor as a sweet summertime surprise.
If you live in a hot climate, don't forget to water your herbs nearly every day—that's an ideal chore for kids of all ages to help with.
If you have any other suggestions for cooking with fresh herbs or incorporating fresh herbs into your life, please send me a note at jessicab@thescramble.com, share them below or post your thoughts on The Scramble Facebook page.
Additionally, if you'd like access to a variety of quick, family-friendly recipes that incorporate fresh herbs and wholesome ingredients, sign up here for weekly dinner menus and shopping lists to make dinner planning healthy, easy and stress-free.