Custom Meal Planner with Grocery List
What I like about your menus is the fact that they are completely customizable. I save all the recipes my family likes into my recipe box and use it to mix and match and fill in based on the family schedule! I definitely love the ability to mix and match with the new website and the fact that the grocery list compiles on the fly. How awesome!
Scramble meal plans are quick and easy… yet flexible: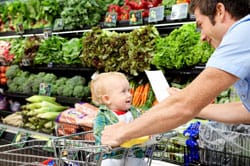 Each Wednesday, you will receive a suggested meal plan for the week with five seasonal, healthy meals complete with sides and a grocery list.
Customize the week's meal plan to your family's tastes and diets. Picky eaters? Vegetarian? Dietary restrictions? Need Kosher recipes? Dairy-free recipes? Gluten-free recipes? Nut-free recipes? Simply swap out any meal by selecting from our large Scramble recipe database. The grocery list is automatically updated with your choices!
Print out your selected recipes and grocery list (or view from your smart phone/tablet).
Make one trip to the grocery store, confident that you will have everything you need for a week of easy, healthy and delicious 30-minute meals. The grocery list is organized by store section. You'll also waste less food and save money by buying only what you need.
Dinner is ready for the week!  You have your meal plan, all your recipes, and every ingredient ready to go!
Try the Scramble for the next few weeks and create custom meal plans your entire family will love.
I wanted to write to say I am thrilled with the ability to customize my menus! I really like how your service helps me provide the kinds of meals/nutrition I desired for my family. The grocery list is absolutely the best invention since the internet! Thanks for making it even more convenient with your new custom/recipe box options-I have renewed my subscription and look forward to a summer filled with delicious, healthy, thought out meals! –Chawn T., Scottsdale, Arizona
I just wanted to let you know how much I enjoy the site.  My life is so much easier now!  I haven't had one recipe that the kids haven't gobbled up. The best is the grocery list.  I customize the menu based on the tastes of the family, print, and off to the store I go. I really appreciate not only the variety that I would have never been able to create myself, but also the healthy quick meals that are friendly to my budget and to my family's palate.  It is a saving grace to this working Mom's life! –Megan M., McHenry, Illinois