Creamy Cauliflower Soup with Pomegranates and Peanuts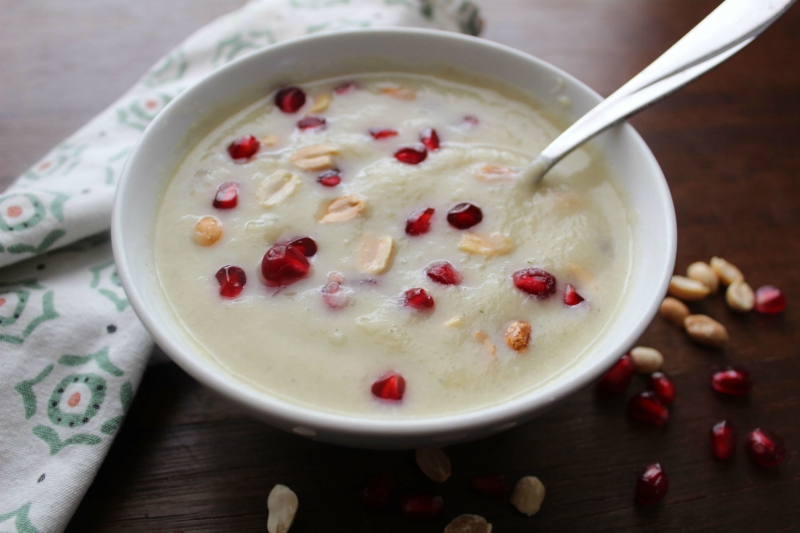 For this soup, I wanted the toppings to offer two components to the soup: a different texture and a zip of flavor (the punch of color didn't hurt either). Boy oh boy, did this soup deliver! There were fights over the last bowl. I literally had to scrape the pot clean. Everyone loved the burst of flavor that the pomegranates offered, as well as the salty crunch of the peanuts, to this velvety-smooth soup. It would make a gorgeous addition to any holiday spread and, yet, is simple enough for a weeknight meal. Can't beat that.
In a stock pot or large pot, heat the butter or oil over a medium-high heat.

Turn the heat down to medium, add the onion and celery, and sauté until the onion is soft and translucent, 5 – 8 minutes.

Add the garlic and thyme and stir well until the garlic is fragrant, about 30 seconds.

Increase the heat to high, add the cauliflower and stir well, then add the stock, salt, and pepper. Bring the mixture to a boil and then cover the pot and turn it down to a simmer.

Cook for 15 minutes, or until the cauliflower is soft, and then puree with an immersion blender or carefully scoop the soup into a blender, remove the little plastic cap that's in the center of the blender lid to let steam escape, and blend in batches until smooth.

Serve immediately, topping each bowl with peanuts and pomegranate seeds or, better yet, allowing each person to top the soup themselves.
Do Ahead or Delegate: Dice the onion and celery, peel the garlic, chop the cauliflower, or fully prepare and refrigerate or freeze the soup (keep toppings separate until serving).
Scramble Flavor Booster: Double the dried thyme and/or add hot chili flakes.
Tip: Did you know cauliflower is a nutritional powerhouse? It is packed with vitamins such as C, K, and even Folate. It also offers 3 grams of fiber per cup and is rich in antioxidants. Additionally, it can be prepared in lots of different ways from raw to serving as a low-carb rice or couscous substitute like in this cauliflower fried rice recipe.
Nutritional Information Per Serving (% based upon daily values): Calories 316, Total Fat: 19g, 30%; Saturated Fat: 3g, 15%; Cholesterol: 7mg, 2%; Sodium: 621mg, 26%; Total Carbohydrate: 26g, 9%; Dietary Fiber: 6g, 25%; Sugar: 12g; Protein: 14g