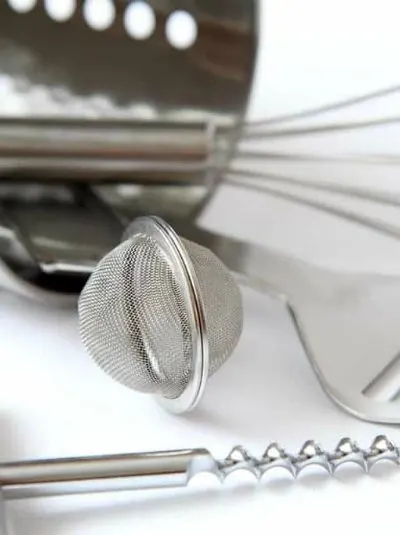 Note: This page contains affiliate links. If you purchase a product through these links, your cost will be the same but The Scramble will receive a small commission. I only link to products I personally use, trust, and love. If you want to learn more, please check out my disclosure page. Thanks for your support!
If we were to count up utensils, knives, gadgets and gizmos in our crowded kitchens, I'll bet the number would be astonishing. If you are like me, you may have dozens of spatulas, spoons, graters, zesters, squeezers, tossers, choppers, melon ballers, cherry pitters, and who knows what else packed in your kitchen drawers and cabinets.
I've accumulated these tools over the years, many of which, I hardly, if ever, use. In a relatively small kitchen like mine, it can make it hard to find the tools we really do want to use when we need them. (Hey, maybe we should create one drawer just for our favorite things!)
Just last night I used my metal skewers to make kabobs (with pork, pineapple and red bell pepper that were so delicious). I probably only use those skewers about twice a year, but I would never let them go because they are so useful for kabobs. On the other hand, I have about 50 wooden skewers cluttering the same drawer, and I don't remember the last time I used them.
But there are some gadgets in my kitchen, like yours I'm sure, that see a lot of action. Below I list some of my very favorites in order of how often I use them.
In case you're in need of more kitchen contraptions, I've included a link wherever possible to purchase your very own set of my favorite tools: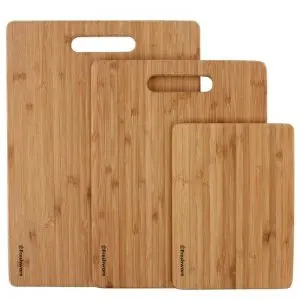 I use at least 2 of these (affiliate) every day. Chopping on wood is better for your knives and the wood has natural antimicrobial properties that help to keep you safe. I have one board that I use specifically for raw meat and the others I use interchangeably.
I discovered a couple of years ago that tongs (affiliate) have so many uses. They're great for flipping smaller items in a pan or on the grill, turning items that are marinating, and they're also handy for serving many foods. I often use them instead of a spatula.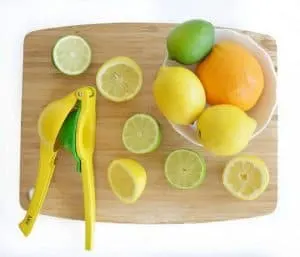 You may have noticed that I like to flavor a lot of dishes with fresh lemon and lime, and this juicer (affiliate) makes it practically effortless to do so (easy cleanup, too). My kids love using this.
Another well-designed gadget from OXO, this peeler (affiliate) is easy to use and the thick base makes it easy to grip. I use it on carrots, eggplants, cucumbers, apples, and potatoes, and loads of other veggies.

I just think this scrubber (affiliate) is so clever because you slip your finger into the back of this brush so it doesn't slip out of your hands while you scrub potatoes or other vegetables. I also like that I can clean it on the top rack of the dishwasher.
Especially because I'm developing recipes I use my kitchen scale (affiliate) a lot. If you are a serious baker, it's also practically essential, and the kids love using this one, too.
I'd love to hear what your favorite kitchen tools and gadgets are. Please share them in a comment below.
If you'd like more help getting your meals on the table in minutes, sign up for The Scramble's family-friendly meal plans to see how simple getting dinner on the table can be!