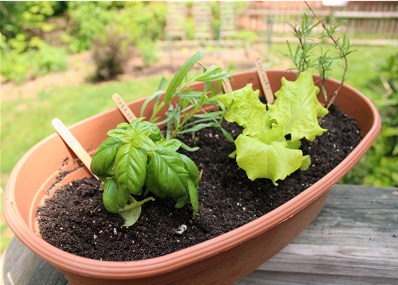 I love the aromatic flavor and nutritional benefits that fresh herbs add to almost any dish. However, I don't like the expense and waste of those plastic herb packets they sell at the grocery store, so every spring I plant a simple herb garden on our sunny deck.
It only takes about 10 minutes to transfer a few basic herbs from their temporary containers from the farmer's market or garden store, which sell in our area for about $3 each, to pots on your deck or balcony or soil in your backyard, and you'll have a simple herb garden with fresh herbs to cook with for months if you keep them watered and pruned.
Some herbs, like mint, rosemary and chives, will likely come back year after year so you won't have to buy them again.
Here's how to plant a simple herb garden on your deck or in your garden:
Choose the right time to plant: Wait until there is no more chance of an overnight frost in your area before you invest in fresh herb plants (check with your local garden center or just search on the internet). Most herbs, especially annuals, don't do well in very cold temperatures.
Pick a sunny spot for your herb garden:  Choose a spot that gets at least 6 hours of direct sunlight a day. Our deck is my favorite place because it's easy to step out there while I'm preparing dinner and snip the evening's herbs. (Send the children out to do this.  Encourage them to smell their collection and help them learn to identify which fresh herbs are which by smell, taste and the way they look.)
Select your herbs: I plant at least 3 pots of basil and one pot each of chives, cilantro, rosemary, parsley, thyme, mint, sage and oregano. I've found that jalapeño peppers grow really well, too, and we use them a lot in cooking and cocktails.  Make sure to get potting soil, large pots, and water catchers (round trays) to go under the pots.
Keep the herbs watered: The hardest part of maintaining the herbs is keeping the pots watered throughout the hot summer so the roots don't dry out.  This is a great opportunity for a child to tend a small garden while observing how plants grow. If it doesn't rain much, you'll need to water them thoroughly once or twice a week.
Prune the herbs for maximum growth: Once the herb plants have filled out a bit, prune them to keep them growing outward, not just upward. For basil, once the plant has 3 sets of leaves, cut the top off just above the 3rd set, and continue to do this during the growing season for all the offshoots.  Also, remove the flowers as they bloom. (You can add the trimmings to a compost pile!)
Use the herbs a lot: To substitute fresh herbs for dried in a recipe, use 3 times as much as the recipe calls for and add them toward the end of the cooking so they retain the most flavor. We love to use fresh herbs from our herb garden in iced tea, smoothies and cocktails, too.
Watch the video: How to use fresh herb in your cooking, meals and snacks
Make pesto, tea, flavored water or freeze extra herbs: Use mounds of basil or parsley to make pesto (recipes on Six O'Clock Scramble website for members) or if you have an abundance of herbs, you can lay them flat on a tray or baking sheet and freeze them, then transfer them to baggies in the freezer to use later in recipes. Use mint and rosemary to flavor water and/or tea.
Do you have any other tips for growing, using or extending the life of fresh herbs? Please share them here. 
Join The Six O'Clock Scramble meal planner for fresh, easy and seasonal family dinner recipes, weekly meal plans and grocery lists.