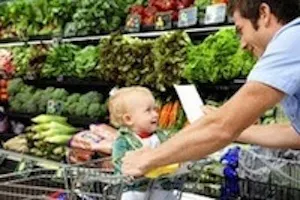 Regardless of the age of your kids, getting healthy, well-rounded dinners on the table can present a challenge for families. If you've got small children, you're probably dealing with the juggling act that comes along with little people wanting or needing your constant attention. If your kids are older, it's likely that you're shuttling them around to various activities and commitments in the hours preceding dinner or racing home from work. Knowing that as your kids grow older, and the challenges involved in getting everyone around the table may not go away, but rather just change, it's important (and sanity-saving!) to have strategies to help get nutritious, family-friendly dinners on the table most nights a week.
That's where a weekly healthy meal planner comes in handy. What I've learned from my years as a dinner planning expert, is that the key to making family dinners a reality is to plan a few meals in advance (I usually plan 5) and try to grocery shop just once a week. However, I do have a few other suggestions for keeping family dinners on track:
Schedule your meals for the week based on which ingredients are most perishable (i.e. meat, fish, and spinach), and which nights you will be shortest on time. You can put your recipes in that order or jot a note in your calendar to remember what you're making when.
Have a system for your kitchen. If you know where the vegetables are in your refrigerator (I keep one drawer for fruit and one for veggies), and can quickly lay your hands on the black beans and bowtie noodles, dinner prep will go a lot faster.
Get a head start during the day. While the kids are eating breakfast or doing homework, or while you are on a long call, wash and/or chop the vegetables you'll need, and pull out the pots and pans and non-perishable ingredients as well.
Before you begin to cook, clear off the kitchen counters, empty the dishwasher, and pull out all of the ingredients (or delegate these tasks). These steps make dinner preparation a lot less chaotic.
Before you start cooking, take a moment to think through the whole meal (and quickly read the whole recipe), including side dishes and table settings, so you know what you need to start preparing when. Enlist help from other family members if you can.
Post a grocery list in an easy place for the whole family. When you use up an ingredient that you consider a staple, write it on your grocery list right away so you'll be fully stocked after your next grocery trip. Teach your family to do this too and you'll all have your essentials on hand when you need them.
Put the ingredients away as you use them, so cleanup goes more quickly. When you are ready to do the dishes, stack all of the dirty dishes by the sink and load the dishwasher first (most dishes don't need to be pre-rinsed), so your dishwashing goes quickly and you use less water.
Sometimes having a system can sound daunting, but I have found that a little planning ahead saves so much time and effort that it makes cooking dinner for my family a pleasure most days, rather than a chore.
If you believe that you (and your hungry family!) could benefit from The Scramble's online family meal planning service which provides easy, healthy recipes and stress-busting weekly dinner plans, join us now.
Here I share two recent emails I received from Scramble members who have found having a weekly healthy meal planner to be both time and sanity saving:
Your service has been life changing for me! I love having the afternoon to spend playing with my son instead of stressing out about what's for dinner.
Kimberly H., South Carolina
Our daily and weekly lives have become infinitely better since I became a member. We eat good healthy fresh food every night, I feel confident as a cook because your recipes are totally idiot proof and tell me how to do all the little things I didn't know how to do before, and I save hours a week!
Heather R., Hawaii
Give a Scramble recipe and our sanity-saving meal planning suggestions a whirl with this scrumptious and filling Spaghetti with Creamy Avocado Pesto and Roasted Tomatoes.