Is there anything more comforting and nourishing than soup? As the days get shorter, the nights colder, and the risk of sniffles more pronounced, I find that I am drawn to making big batches of soup. There is something so soothing about sitting down to a steaming bowl after a day of cold weather. And no matter how high end the store-bought stuff is, I always think the homemade versions taste better.
I also love soups as a way to get more vegetables into my family's diet, especially during cold and flu season, when we could all use a little boost to our immune systems. When my kids were small, pureed vegetable soup was one of the only ways I could get my younger son to eat vegetables. We would set out a bowl of soup and some crackers or bread and he would float little pieces, almost like boats, in the soup and then scoop them up with absolute delight!
If a big pot of soup sounds like just what the doctor ordered for you and your family, here are six soups that will keep you warm and nourished all winter long!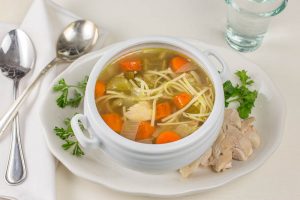 Whole Chicken Noodle Soup in the Slow Cooker: What could be better than setting this up in the slow cooker in the morning and coming home the delicious smell of soup in the evening?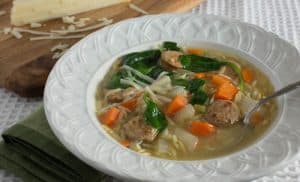 Italian Shotgun Wedding Soup: The simplest version of an Italian Wedding Soup you'll ever find!
We Got the Beet Soup: My kids love the dark red color and earthy sweetness of this soup. A great one for dipping bread or crackers.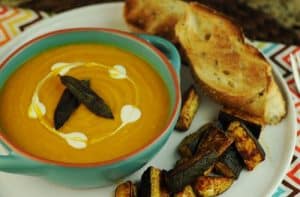 Butternut Squash and Apple Soup with Crispy Sage: Described as "sinfully delicious," this soup is incredibly healthy, but so packed with flavor you'll be convinced you must be breaking some rule.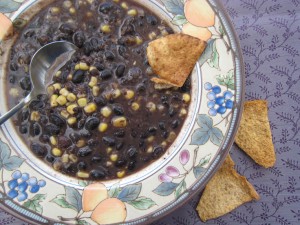 Soup-er Easy Black Bean and Corn Soup: This is always a huge hit in my family, and you probably have all the makings for it in your pantry right now! Serve it with a little grated cheese or sour cream on top to really make it sing.
Cauliflower Cheddar Soup: Rich, nourishing, and so yummy! This is a great way to convert skeptics into cauliflower lovers.
Do you have a favorite soup recipe on The Scramble or elsewhere? I'd love to hear about it in the comments!

Do these recipes look intriguing? Sign up for a two-week free trial of our meal planner to see how simple and delicious family dinners can be.