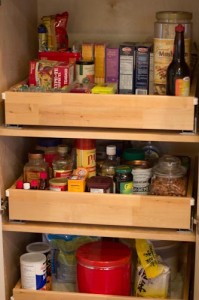 Guest column by Jackie Kelley, professional home organizer
Staying organized in the home is a battle that we fight daily.  For most of us, a little "picking up" is about all we can manage during the busy week!  But in your quest to deliver quick, healthy meals to your family, have you considered how much prep time could be shaved off at mealtime by working in an organized kitchen, in addition to doing your weekly meal planning?  By taking stock of what you and your family need on a daily basis, and by organizing items by how they are used, meal preparations will likely seem easier and more enjoyable.
Planning your space is an essential first step to any organizing project.  Plan a day when you have at least one uninterrupted hour, and put it on the calendar.  Clear a table or counter for sorting items.  Have bags or boxes nearby to collect items for donation, relocation or trash.  Begin with one area of the kitchen (e.g., cupboards above the sink, pantry, etc.) and work clockwise around the room as you have time.  Remove all the items from shelves to your work area and sort by use.  Purge or relocate items that you don't like or don't use routinely.
Below are some additional ideas to think about as you go about streamlining your workspace:
•    Who uses the kitchen and how?  If you are the primary cook, products and equipment should be stored at your eye level and reach.  Are large, rarely used items and appliances hogging space on precious work areas? Do baking items occupy prime cupboard space when you only use them a few times a month, if that?  Review the contents of your cupboards and move them around if necessary to maximize access to essential tools.  Most kitchen shelves are adjustable and products such as shelf risers and turntables work wonders!
•    If you have children, help them meet their own needs and yours by planning the kitchen around their abilities.  Designate one or more accessible pantry, refrigerator, and storage drawer or shelf for them.  They will appreciate the ability to make their own meals and snacks, and this will make it easier for kids to help with chores (e.g., unloading the dishwasher, setting the table) if they can reach the shelves you use most.   If you have younger ones, devote lower drawers or cupboards to kid-friendly pots or plastic storage containers.
•    Identify shelves and cupboards that are both at capacity (e.g., pantry) and underutilized (e.g., cupboard above refrigerator).  Relocate items that are not used much (such as pitchers, serving plates, holiday items) to upper shelves or off-site pantry or basement storage.  Purge items that are no longer used or have multiplied (sports cups and coffee mugs are common offenders in this category).
•    Evaluate the contents of your pantry.  To create space, dispose of foods that no longer make it to your table.  Consolidate open snack and cereal boxes.  Refrain from buying more items until you reduce your current inventory.  Scramble customers like me are already ahead of the game in this regard by purchasing and using only what we need for the week!
Getting organized is not too difficult when you break it into small tasks.  As you stand back and admire your work, know that your kitchen will now be a more functional and desirable place to cook!
Jackie Kelley is a professional organizer who owns Clearing House, www.clearinghousenow.com