Wondering what cookware you really need? Here's a list of the pots and pans that I believe are essential for any home cook.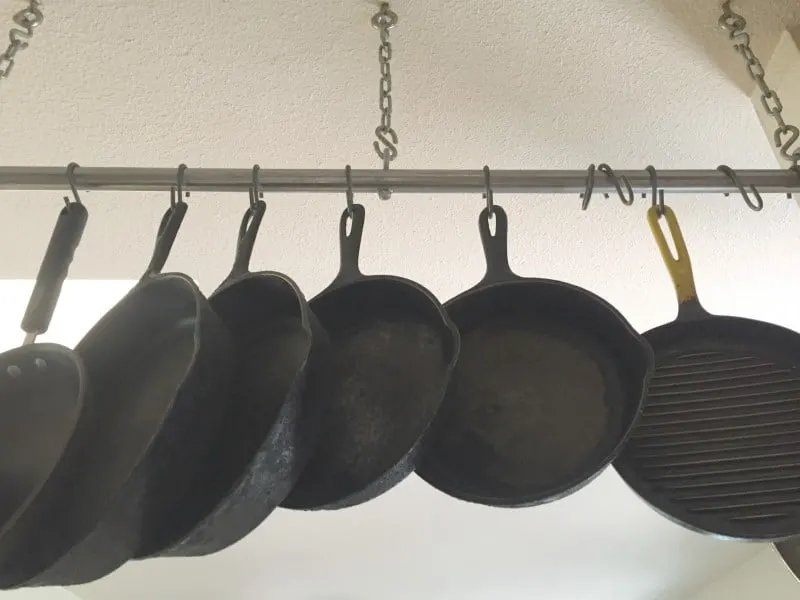 Note: This page contains affiliate links. If you purchase a product through these links, your cost will be the same but The Scramble will receive a small commission. I only link to products I personally use, trust, and love. If you want to learn more, please check out my disclosure page. Thanks for your support!
When I worked as a one-on-one cooking coach, one of the services I offered was a kitchen audit. Together, we would go through a client's kitchen and determine what was needed, what could go, and what required some organizing. In going through so many kitchens, I noticed that one of the most common space hogs were unnecessary pots and pans.
The truth is that there are really only ten pots and and pans that I believe are essential for any home cook. With these tools on hand, it's possible to make pretty much any recipe.
So I pulled together a list of the pots and pans that I have found to be indispensable for making my family's meals, along with descriptions of what each work best for.
Note: If you're just starting out in the kitchen, have a limited budget, or are in very cramped quarters, you could get by with just numbers 1, 5, 8, and 9 below.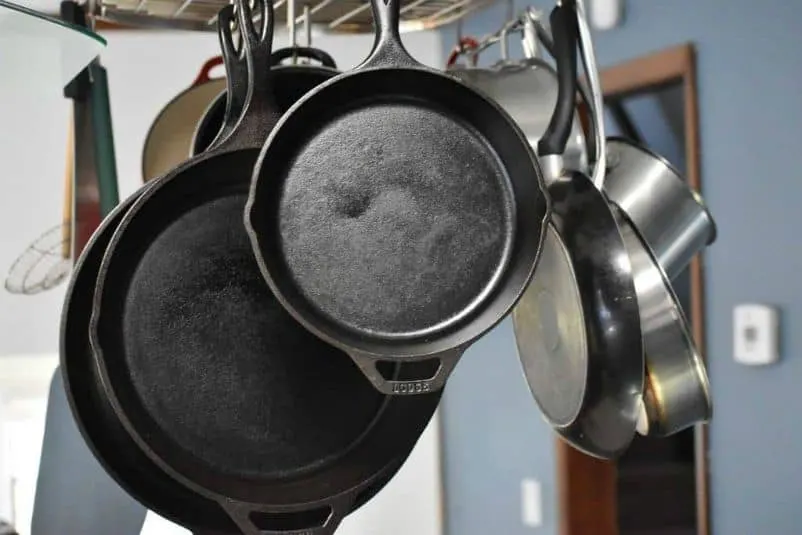 A Lifetime Investment
Before I share my full list, I wanted to take a moment to comment on quality. While I understand the temptation to save money by purchasing less expensive cookware, I have found that while you don't need to go for the top-of-the-line equipment, investing in some decent pots and pans really does make a difference, and they also don't need to be replaced as often.
The recommendations I make below are middle of the road options, which was all I could afford when I bought (or registered) for these items, and they have lasted for many years.
If you have the money to invest in high-end equipment, I recommend consulting with the experts at a good cooking store, like Sur la Table, and/or using the product ratings and advice in Cook's Illustrated and/or Consumer Reports.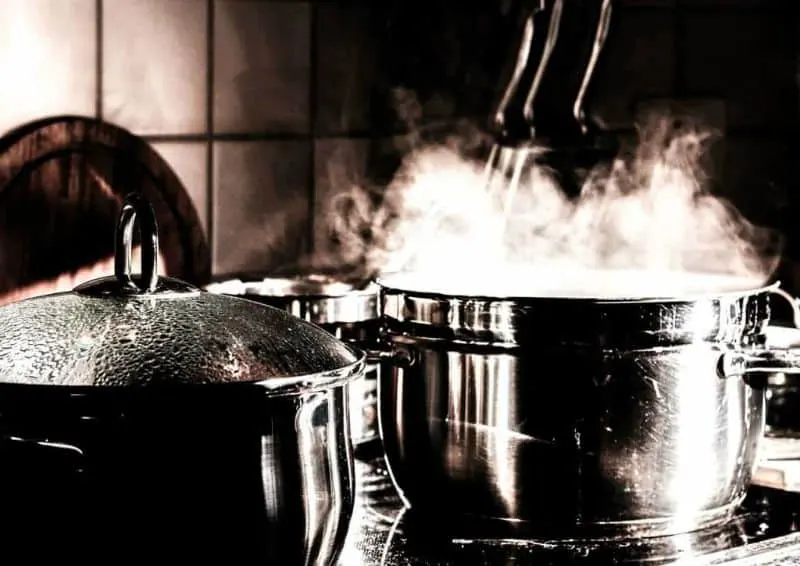 Essential Pots and Pans for Any Home Cook
1. Cast Iron Skillets
This inexpensive classic is my absolutely favorite. I have them in three sizes: 5-inch, 8-inch, and 10-inch, and use at least one almost daily. One of the best things about cast iron is that it holds the heat incredibly well and distributes it evenly, so that you get efficient and consistent results.
Another thing I love about them is that, if properly seasoned, a cast iron skillet can also be used as a nonstick skillet (which means they can replace numbers 3 and 4). To keep them well-seasoned, simply wash with hot water (no soap), dry it immediately by returning it to the heat on the stove until all water has evaporated, and rub it with a little vegetable oil on a paper towel occasionally.
The final perk that I will highlight about cast iron skillets is that they can be used on the stove and in the oven, which makes them incredibly versatile.
I use my cast iron skillets to brown or sear meats, sauté vegetables, cook eggs, make stir-fries, and prepare sauces (Note: tomato sauces or other high acidity sauces will do better in stainless steel, but can be made in cast iron if removed quickly after cooking).
2. Large (10 – 12 inch) Stainless Steel Skillet (also called frying pan)
Stainless steel skillets are excellent for browning or searing meats, sautéing vegetables, and making sauces. Like cast iron, they transfer heat very evenly, but are much lighter weight, which makes them easier to handle. They are great for sautéing, unless you need to use a nonstick surface in which case cast iron (if seasoned properly) or nonstick (see below) will be a better bet.
3. Large (10 – 12 inch) Nonstick Skillet (also called frying pan)
A good nonstick skillet is fantastic for cooking eggs, making stir-fries, browning breaded fish or chicken fillets, or cooking anything else that may stick to regular cooking surfaces.
While nonstick is incredibly convenient, the chemicals used in Teflon, the standard nonstick surfacing agent, are not safe once it starts to wear out. If you are sick of buying new ones every couple of years, a more expensive but long lasting and exceedingly durable option is Scanpan cookware (made in Denmark), which are amazing!
4. Small or medium (8 – 10 inch) Nonstick Skillet
Like the above, but this size is great for making omelets, scrambled eggs, and other smaller and potentially sticky meals. Again, you can use a traditional nonstick version or a well-seasoned cast iron skillet.
5. Large (6 – 12 quart) Stockpot (also called pasta pot)
These large pots are indispensable for making pasta, big pots of soup, boiling lots of potatoes or other vegetables, and making popcorn.
6. Medium (3 – 4 quart) Stainless Steel Stockpot (also called saucepan)
Again, a stainless steel option here will give you much more even and efficient cooking than their aluminum counterparts. I use this medium-sized saucepan for steaming vegetables or rice and for making smaller quantities of pasta.
7. Small (1 – 1 1/2 quart) Saucepan
I love my stainless steel saucepan, which is perfect for making small amounts of sauce, single servings of soup, and for melting chocolate.
8. Dutch oven
This heavy duty pot, often made of coated cast iron, goes easily from stovetop to oven to table and can work well for making a roast, stew, soup, or baked pasta. If you are low on funds or space, you can replace the saucepans and stock pot above with a larger Dutch oven.
9. Baking Sheets
Outside of my cast iron skillets and my 3-quart saucepan, baking sheets are the item I likely use the most. Of course I use them for cookies and other baked goods, but even more than that I use them for roasting vegetables, roasting spatchcock chicken, and making sheet pan meals. To save me time when it comes to clean up, I will almost always use either a silicone mat or parchment paper on top.
10. 9×13 Baking Dish
These are essential for casseroles and some baked goods, like our wild blueberry breakfast bars. I have one that is Pyrex (glass) and one that is ceramic. While pricier, I prefer my ceramic one for ease of use (I live in constant fear of the Pyrex one shattering, which has never happened, but still scares me).
Honorable Mention: Muffin Tins
I am a big fan of muffins for easy make-ahead breakfasts, but I also use muffins tins for mini-frittatas, lasagna cups, pizza rolls, and more. I have two kinds of muffin tins, and while the metal ones are great, this silicone version has been a nonstick game-changer for me.
Now you have my list, but what are the pans you can't imagine living without, or which are collecting dust and hogging space in your kitchen? Share your favorite pots and pans below!