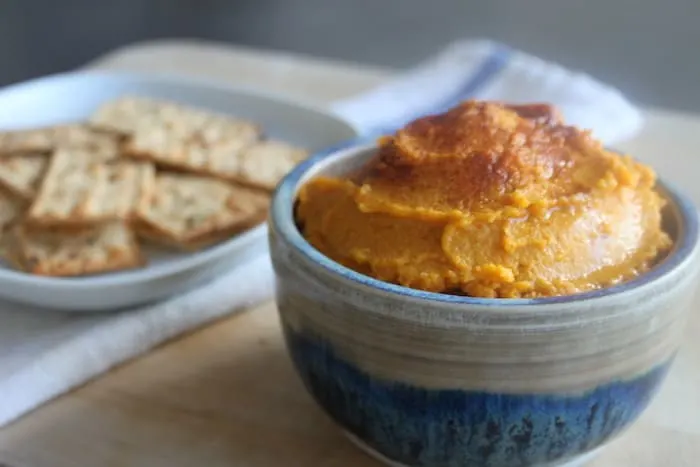 If you cringe at the idea of wasted food, check out two recipes that you'll likely embrace. Not only are they delicious and full of healthy ingredients, but also they will use up every last bit of the carrots and the kale you may have languishing in your fridge. These recipes come from holistic chef Celia Lam who works magic with ingredients that might otherwise go to waste. She is the culinary braun behind the Salvage SupperClub. After preparing these tasty recipes, you'll likely think twice before tossing produce that you assumed was no longer good to eat. What a scrumptious way to avoid wasted food!
Roasted Carrot Hummus
Prep Time: 10 minutes
Cook Time: 30 minutes
Total Time: 40 minutes
Yield: 6 servings
Ingredients:

• 4 medium carrots (keep peels intact, if organic)
• 2 cloves garlic, peeled
• 2 Tbsp olive oil + additional to drizzle
• 1 ½ cup chickpeas, cooked (or 1 can of chickpeas)
• 3 Tbsp tahini
• 1 lemon, juiced
• 2 tsp ground cumin
• Himalayan sea salt, to taste
• Fresh ground pepper, to taste
• Smoked paprika, for garnish
• Fresh parsley, roughly chopped, for garnish
1. Preheat oven to 400 degrees.
2. Cut carrots into 2" chunks. (If they're organic, scrub the carrots and give them a good rinse. Leave the peel on as many nutrients are found in the skin!)
3. Place the carrots and garlic in a baking dish and toss with oil. Season with a few pinches of salt and pepper.
4. Roast until tender, approximately 25-30 minutes. Let cool for five minutes.
5. Combine the carrot mixture, garlic, chickpeas, tahini, lemon juice and cumin in a food processor. Process until well mixed. (If the hummus is too thick, add a bit of water or oil while the motor is running to achieve the desired texture.) Season with salt and pepper.
6. Drizzle with extra virgin olive oil, sprinkle a dash of paprika and garnish with parsley. Serve on crackers, or as crudité with veggies.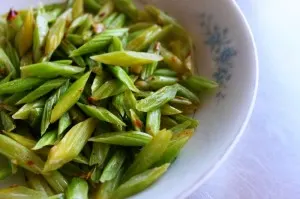 Sauteed Kale Stems with Garlic & Chili
Prep Time: 10 minutes
Cook Time: 15 minutes
Total Time: 25 minutes
Yield: 3-4 servings
Ingredients:
• Two cups of cold, filtered water (for boiling)
• 12 to 14 kale stems (about 2 batches), leaves removed
• 3 cloves garlic, minced
• 2 Tbsp olive oil or coconut oil
• Sea salt, to taste
• Freshly ground black pepper, to taste
• Chili flakes, to taste
1. Fill a small pot with water and bring to a boil (enough to cover the kale stems).
2. Slice kale stems into ½ inch diagonal cut pieces. Boil for 3 to 4 minutes or until semi-tender. Drain into a colander. (Don't throw away the water! It can be reserved for vegetable broth).
3. Heat oil in a medium pan on medium high heat. Add kale stems and sauté for a couple minutes.
4. Add garlic and cook for another 3 to 5 minutes, or until tender. Season with salt, pepper and chili flakes.
Photos by Celia Lam