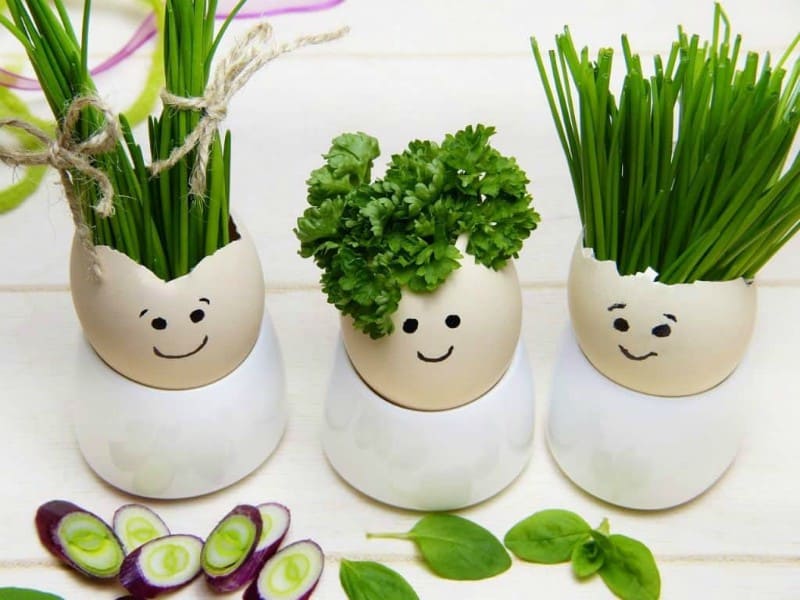 Each spring I plant my favorite herbs in the garden. Some of them like basil, parsley, cilantro, rosemary and mint, I clip and use constantly, while others, like sage, thyme, dill and oregano, languish for most of the season, despite my best intentions.
I love the convenience of having the herbs right outside my door. Also, I'm crazy about the bright and fresh flavors they add to my recipes, and I think they're pretty to look at through my kitchen window. In the last couple of years I've also learned more about the powerful health benefits of herbs.
It makes perfect sense that herbs would be health heavyweights. They are green (and we know that greens top all the nutritional lists), have intense flavor, and have been used by humans for thousands of years not only for cooking but for healing, too. (Dried spices are also rife with health benefits, but we'll save that for another column…)
Dr. Larry McCleary, a neurosurgeon and author of "Feed Your Brain, Lose Your Belly", is a huge proponent of eating more herbs and spices. He touts their power to increase weight loss and improve brain health and immunity. He says, "Every time you flavor your meals with herbs and spices, you are literally making whatever you eat 'better' without adding a single calorie."
Here are just a few of the benefits of common herbs:
Parsley: Protects the heart and may inhibit tumor formation. Can also be used to cleanse the system and treat digestive disorders, according to Dr. Andrew Weil.
Basil: Compounds in basil promote heart health and have anti-inflammatory and anti-bacterial properties. May also prevent acne and speed healing.
Rosemary: Its potent antioxidants may prevent cancer and Alzheimer's disease and calm jangled nerves.
Oregano: Rich in vitamin K, iron and omega-3s, oregano helps protect the heart and prevent diseases like cancer. May also relieve sore muscles, and treat allergies and intestinal problems.
Mint: A natural breath freshener, digestive remedy, diuretic, pain reliever and decongestant. May also inhibit growth of cancerous cells.
Sage: Promotes better brain function and has antioxidant and anti-inflammatory properties.
Cilantro: Its powerful nutrients may help improve symptoms of arthritis, improve cholesterol levels, ease nausea, and detoxify the body.
While new studies are underway to pinpoint their health benefits, we can be pretty certain that fresh herbs have vital nutrients that prevent disease, and we know that they provide wonderful flavor boosters for our meals. In addition to using them in your Scramble recipes, throw some fresh herbs in your salads, soups, iced or hot tea and lemonade. If you find other unconventional uses for fresh herbs, please share them below.
Thanks to Scramble newsletter editor Kathryn Spindel and her trainer Dawn Maynard for inspiring this column.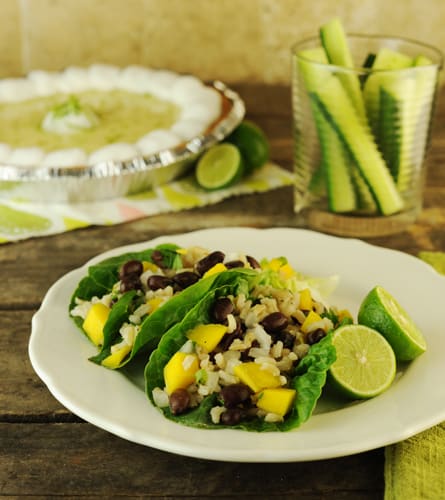 Mango and Black Bean Salad
Prep + Cook = 20 minutes +
6 servings, about 1 cup
I've recreated a delightful salad that our friend Tricia Nudelman enjoyed at the Genesis retreat in Ek Balam, Mexico. It's spa-healthy yet satisfying enough for hearty eaters. Serve it with sliced cucumbers with dip and with Berry Yogurt Pops for dessert.
1 cup quick-cooking brown rice (about 2 cups prepared)
15 oz. canned black beans, drained and rinsed
1 – 1 1/2 cups fresh mango, cut into 1/2-inch chunks, or use frozen
1/4 sweet yellow onion, such as Vidalia, finely diced (about 1 cup)
1/4 cup scallions or chives, green parts only, finely chopped
1 lime, juice only, about 2 Tbsp.
1/4 cup fresh cilantro, chopped (optional)
1/4 tsp. salt, or more to taste
6 large Boston or butter lettuce leaves (optional)
6 whole wheat tortillas (optional)
(Start the pie first, and thaw the frozen mango, if using it.) Cook the rice according to the package directions (and slice the cucumbers, if you are serving them.) Remove the rice from the heat. (If you want to serve this salad immediately rather than allowing it to chill for a while, put the rice in the freezer for 5 minutes to cool it.)
Meanwhile, in a large bowl, combine the beans, mango, onions, scallions, lime juice and cilantro (optional). Add the rice, season it with the salt, and toss gently. Chill it for at least 10 minutes (an hour or more is ideal) and up to 24 hours.
Serve the salad on its own or wrapped in large lettuce leaves, warm tortillas, or both.
Do Ahead or Delegate: Cook (and refrigerate) the rice, defrost the mango if using frozen, or chop the mango if using fresh, dice the onion, chop the scallions, juice the lime, or fully prepare and refrigerate the dish.
Scramble Flavor Booster: If it needs a little more flavor stir in a little honey or agave nectar, extra lime juice, and/or a little extra salt.
Tip: If you don't like raw onions, sauté the onions first until they are lightly browned. If you have picky eaters, put some of the beans and rice aside before combining all the ingredients and let them have simple black bean and rice burritos with mango on the side.
Side Dish suggestion: Dip 1 – 2 peeled and sliced cucumbers in dressing of your choice, such Annie's Naturals Goddess, ranch, or Italian dressing.
Side Dish suggestion:  To make the key lime pie, preheat the oven to 350 degrees. In a medium bowl, whisk together 14 oz. nonfat sweetened condensed milk, 1 egg, 3/4 cup fresh lime juice (from about 4 limes), and the zest of one lime (reserve about 1/4 tsp. lime zest to garnish the cooked pie, if desired) until they are completely blended. Pour the mixture into a prepared regular size graham cracker crust. Bake it for 20 minutes. The filling may not be completely hardened yet, but a toothpick inserted in the center will come out clean. Allow the pie to cool, cover and refrigerate it for up to 2 days. Serve it sprinkled with the reserved lime zest (optional) and with whipped cream dotted around the edges.
Nutritional Information per serving (with 1 whole wheat tortilla, main dish only) (% based upon daily values):
Calories 300, Total Fat 4.5g, 7%, Saturated Fat 1.5g, 8%, Cholesterol 0mg, 0%, Sodium 760mg, 31%, Total Carbohydrate 57g, 19% Dietary Fiber 7g, 28% Sugar 6g, Protein 9g