Perfectly chewy and light, these whole wheat bread machine bagels are simple to make and taste just like bagels shop bagels!
Note: This page contains affiliate links. If you purchase a product through these links, your cost will be the same but The Scramble will receive a small commission. I only link to products I personally use, trust, and love. If you want to learn more, please check out my disclosure page. Thanks for your support!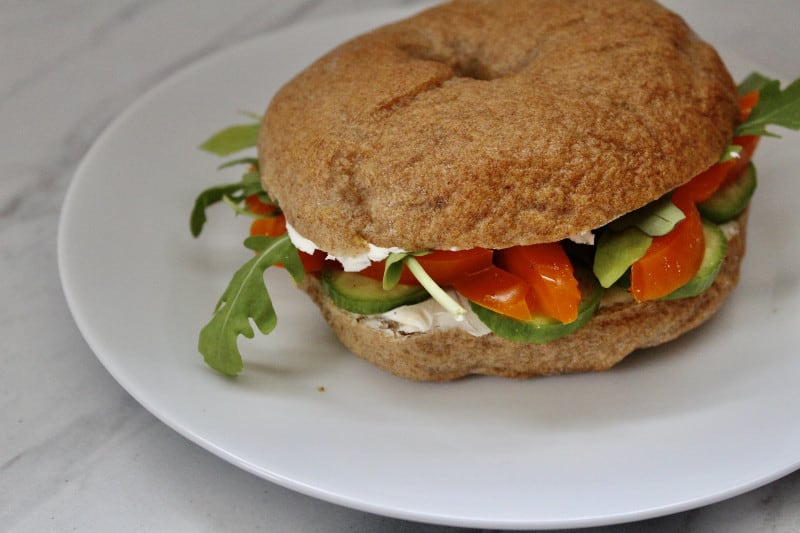 A good bagel is one of my all-time favorite foods. But during the pandemic, as we were trying to limit the number of stores we went to, getting to the bagel store wasn't a top priority, so I decided to give baking them myself a shot. To my great joy, I discovered that plain bagels were relatively easy to make, especially if I used my bread machine (thanks to Sally from Real Mom Nutrition's awesome recipe). Once I had gotten plain bagels mastered, though, I wanted to take the nutrition up a notch and try my hand at whole wheat bagels. After some trial and error, I am happy to report that my family has declared these whole wheat bread machine bagels to be their absolute favorite.
Majority Whole Wheat v. 100% Whole Wheat
First a disclaimer, for those looking for a 100% whole wheat bagel, this is not going to cut it. In my experimentation I found that I could successfully make a chewy, delicious bagels with a bit more than 50% whole wheat flour, but that 100% whole wheat was just too dense. If you are set on making 100% whole wheat bagels, I would recommend substituting all of the flour with white whole wheat flour, which is a bit lighter and more forgiving.
Making These Bagels Without a Bread Machine: It Can Be Done!
I developed this recipe for the bread machine because I found that by being able to just dump in the ingredients and forget about them until the rising was done, it became a completely doable task for a regular week.
Another added perk of using the bread machine was that I could start the process at night and we could enjoy bagels in the morning. Bagels need two rises, as well as a boil, so getting them made by hand to serve in the morning was a bit tricky. But, by using the bread machine I was able to set up the ingredients the night before, set the timer on my bread machine, and then wake up to dough ready for assemblage first thing in the morning.
If you want to make them by hand, here's how to do it.
How Make Bagels Without a Bread Machine
Making bagels without a bread machine is simple, it just requires a bit of elbow grease (or a standing mixer to do the kneading for you). Here are the steps you would take:
Combine the sugar, yeast, and ½ cup of the warm water together in a small bowl, stir, and let sit for 5 minutes.
In a large bowl or the bowl of a standing mixer, stir together the flour and salt. Then make a well in the center and pour the yeast mixture in. Mix together while steadily adding the remainder of the water, until the dough is moist but firm (a little shaggy is ok!).
On a floured surface, or using the kneading feature of your standing mixer, knead the dough until it is firm and stiff, about 7 minutes.
Lightly brush the inside of a large bowl with oil, add the dough, and turn to coat in the oil. Then cover the bowl with a damp dish towel and let the dough rise in a warm spot until it has doubled in size, about 1-2 hours.
When the dough has doubled in size, punch it down and let it rest for 10 more minutes.
Follow the directions for dividing, shaping, boil, and baking the bagels below.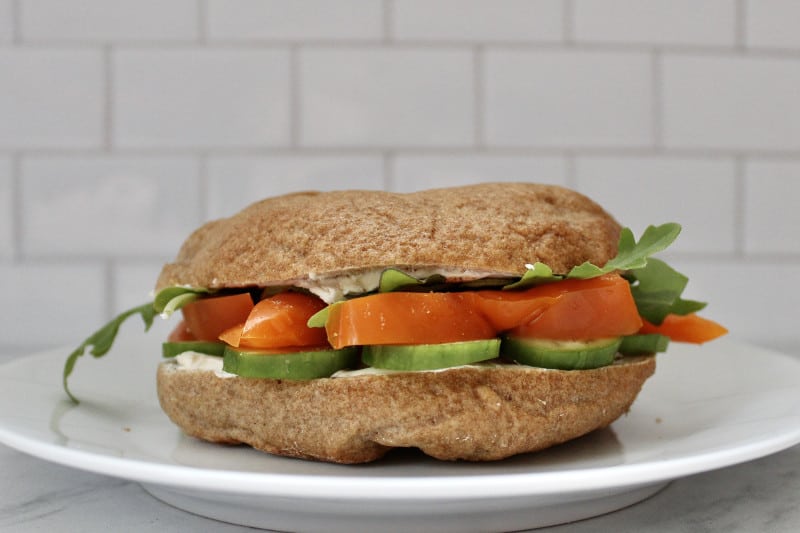 Adding Toppings and Mix-Ins
Toppings such as poppy seeds, sesame seeds, garlic or onion flakes, and cheese all work very well. To add them, just sprinkle on top after the egg wash (the egg will help them to stick).
While I haven't added mix-ins such as cinnamon and raisins, chocolate chips, or blueberries, I do think it would be possible. I would start with ¼ cup and would knead it into the dough towards the end of the kneading process before the first rise. If you try this, please do comment below to let us know how it turned out!
Freezing Bagels
These bagels freeze well (if any of them last long enough to be frozen, that is)! You can freeze them either whole or sliced in half for easy access for smaller snacks and meals. To defrost, I like to microwave them for 20-30 seconds and then toast them in the toaster oven.
How to Make Whole Wheat Bagels in Your Bread Machine
Here's a step-by-step guide for making your bagels using the bread machine.
Place the warm water in the bottom of your bread machine bowl and then top it with the flour, sugar, salt, and yeast.
Set your bread machine to its leavened dough setting and let the magic happen. If you check it as it is kneading the dough, it will at first look shaggy like the image below. If it doesn't look like that, add another tablespoon of warm water and carefully scrape down the sides of the bread machine bowl as it continues to mix.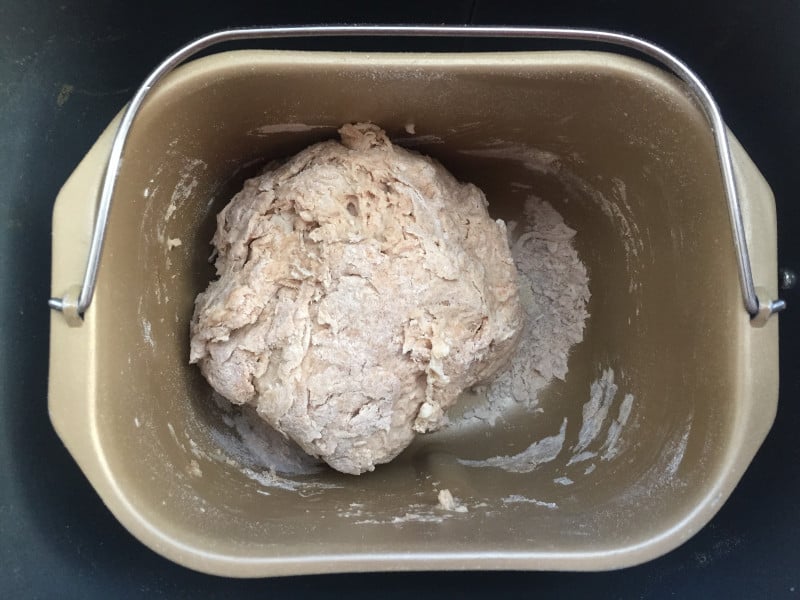 Then, after some more kneading, it will become a smoother ball, like this: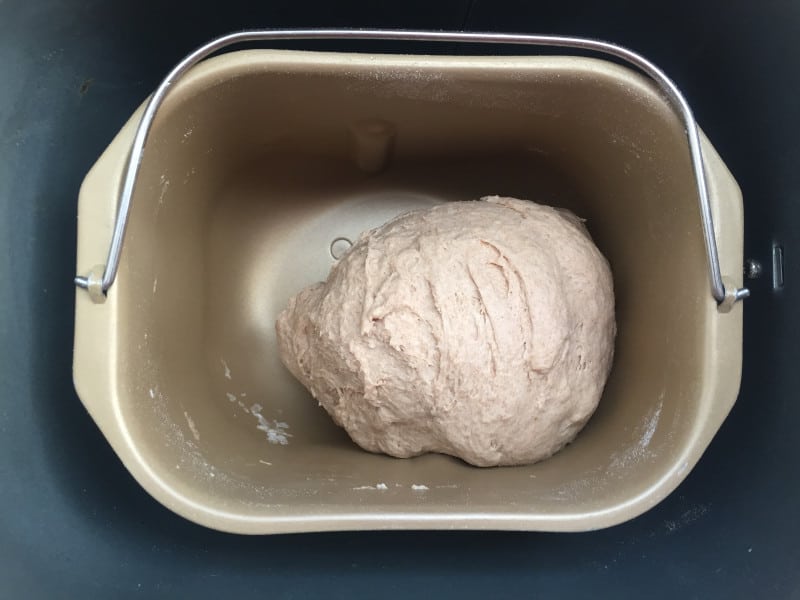 When the bread machine is done, you'll have beautifully risen dough, like this: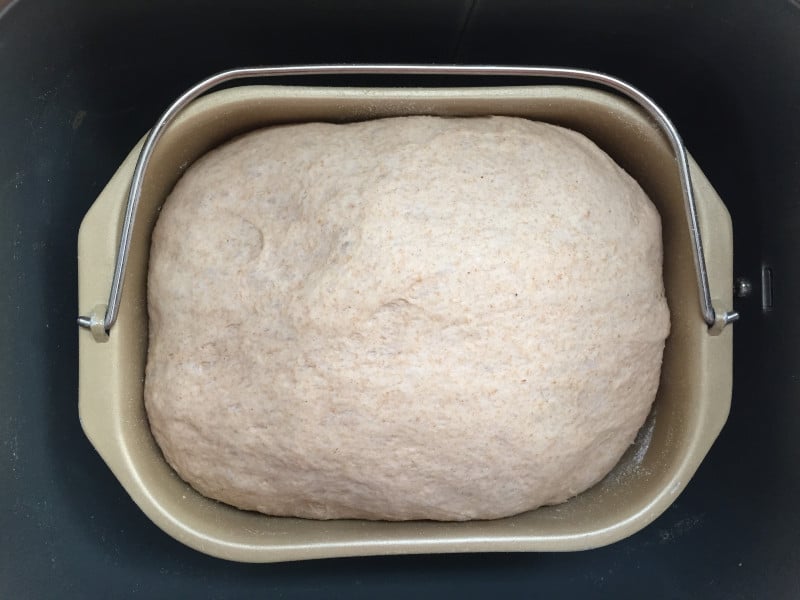 Punch the dough down and let it rest for 10 minutes (it will rise back up, that's ok!).
Turn the dough out onto a counter or cutting board and divide it into 8 equal pieces (you can use a kitchen scale if you want to be really precise).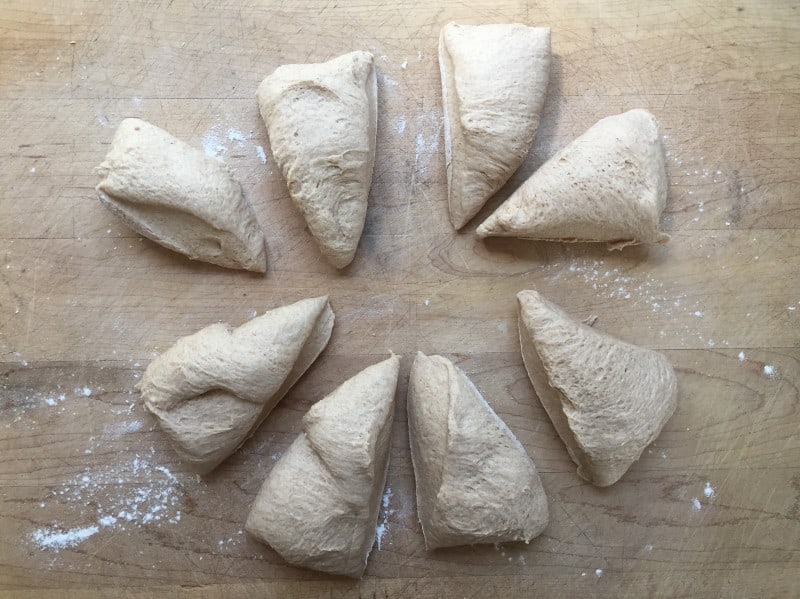 Gently roll each piece of dough with the palm of your hand to form a ball.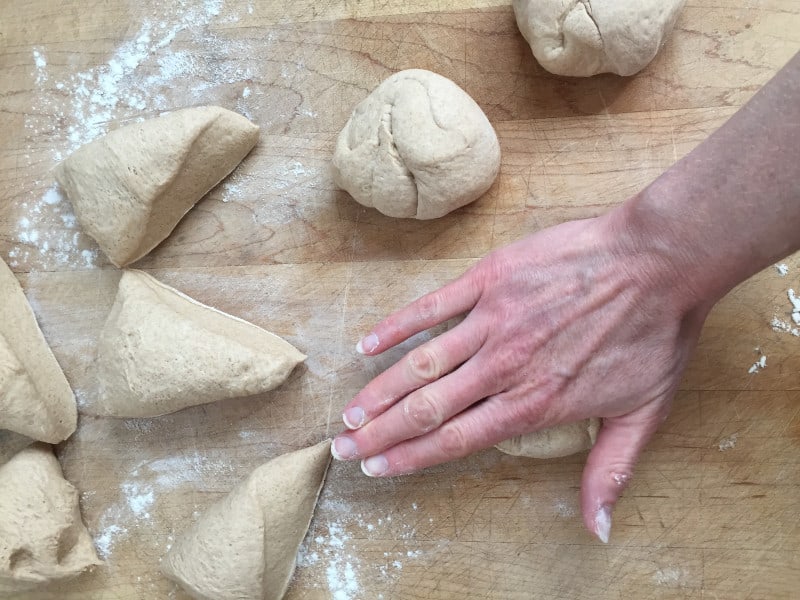 Lightly coat your finger with flour and press it into the center of each ball to form a ring.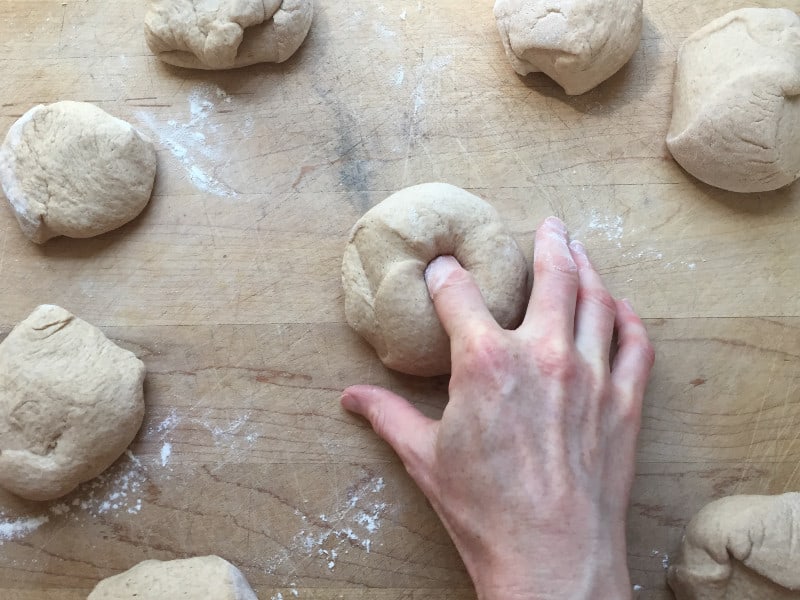 Then gently stretch the ring out into a bagel shape and set aside.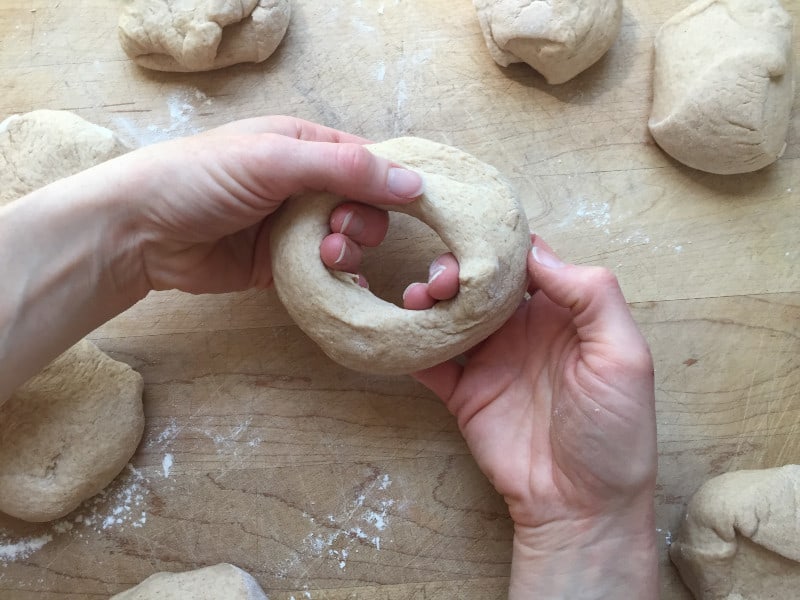 Once you are done forming all 8 bagels, cover them with a clean, damp dish towel and let them rest while you preheat the oven and bring the water to a boil, for at least ten minutes.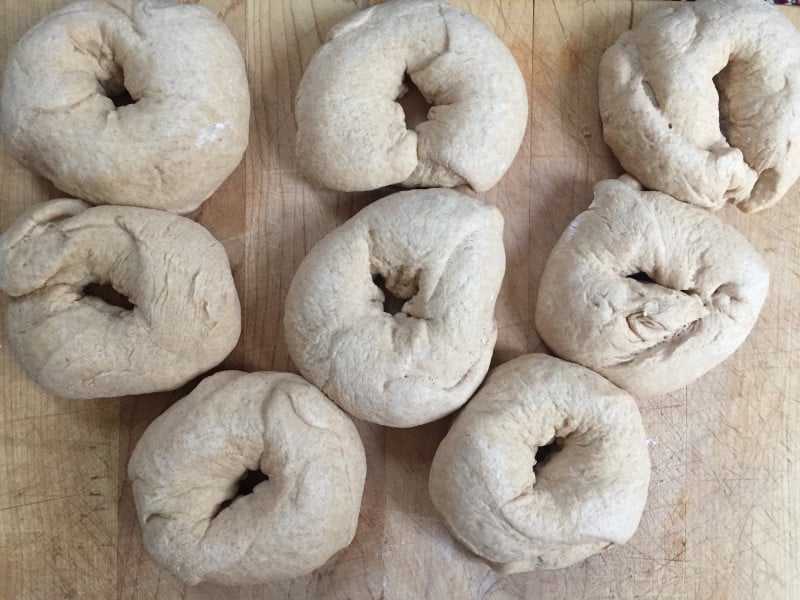 Preheat the oven to 425 degrees and line a baking sheet either with a silicone mat or parchment paper. Set a large pot of water on the stove to boil.
When the water is boiling, add the baking soda to the water. Adding baking soda helps to make the bagels chewier.
Using a slotted spoon, carefully lower 2-3 bagels into the boiling water and let them sit for 1-2 minutes (the longer they are in the water, the chewier the bagels will be). Then flip and let them sit for another 1-2 minutes.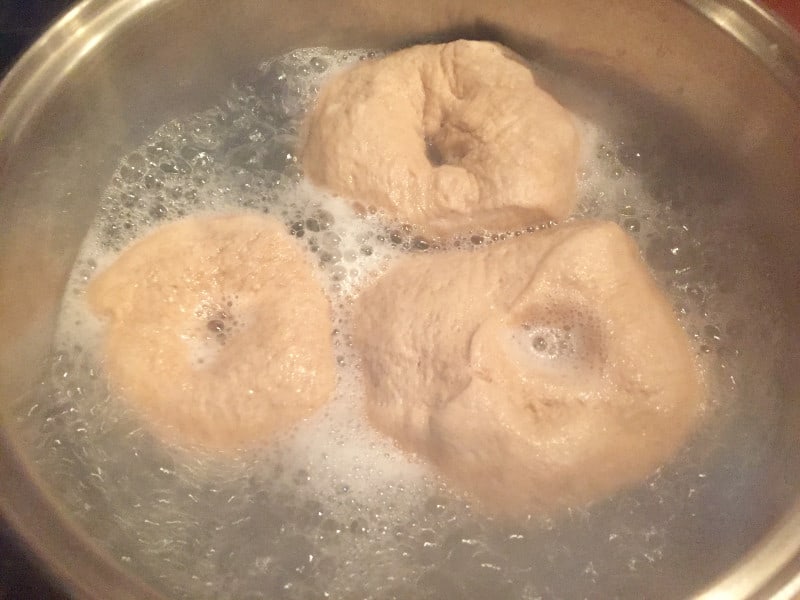 Using the slotted spoon, remove the bagels from the water and place them on the baking sheet. Repeat until all your bagels have been boiled.
Brush them all lightly with the egg wash, add toppings if desired, and then bake the bagels for 20 minutes, or until golden.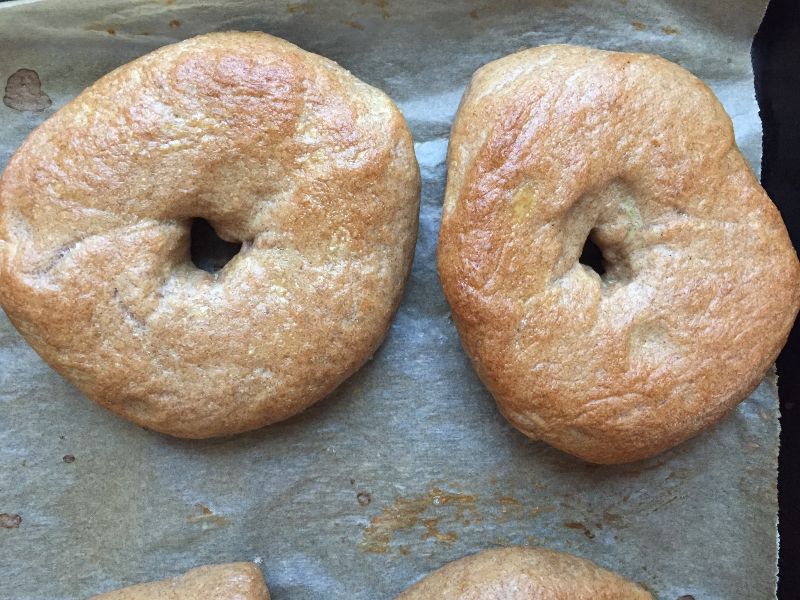 Place the bagels on a cooling rack or slice one up and enjoy with your favorite schmear!
Want more breakfast ideas? Check out my post on 5 Tricks to Make Breakfast a Breeze!