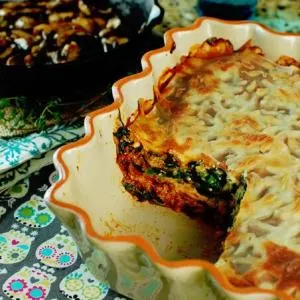 Egg Roll Lasagna
Scramble fan Kirsten Thistle shared this recipe with us for a super-easy lasagna. Egg roll wrappers, found in the refrigerated or freezer section of many grocery stores, are even easier to use and more tender than no-bake lasagna noodles. However, if your supermarket doesn't carry them, use no-boil lasagna noodles instead.
Ingredients
1

lb.

ground turkey, beef, or meatless crumbles

10

oz.

frozen chopped spinach

16

oz.

low fat ricotta cheese

1

egg

beaten

2

Tbsp.

grated Parmesan cheese

4

cups

red pasta sauce or tomato sauce

16

oz.

egg roll wrappers or no-boil lasagna noodles

2

cups

shredded part-skim mozzarella cheese (or use any variety),
Instructions
Preheat the oven to 375 degrees. In a nonstick skillet over medium heat, brown the meat until it is no longer pink, about 5 minutes. (If you are using meatless crumbles, thaw it and add it directly to the lasagna.)

Meanwhile, thaw the spinach in the microwave or on the stovetop and drain it thoroughly (I put the thawed spinach in a colander and press it with the bottom of a bowl to drain out all the extra liquid).

In a medium bowl, mix together the ricotta cheese, egg, spinach, and Parmesan cheese.

Pour one cup of red sauce into the bottom of a 9 x 13-inch baking dish one cup of red sauce and spread evenly

Add one layer of egg roll wrappers (to cover the sauce) and then all of the meat, 1/3 of the mozzarella cheese, and one cup of red sauce

Add another layer of egg roll wrappers, then all of the ricotta-spinach mixture, 1/3 of the mozzarella, and one cup of sauce

Then add one final layer of egg roll wrappers, a final cup of sauce, and the final 1/3 of the mozzarella. (At this point you can cover and refrigerate the casserole for up to 2 days.)

Bake the lasagna, uncovered (if the dish is very full, put it on top of a baking sheet), for 25 - 30 minutes until it is lightly browned and bubbly. Allow the lasagna to cool for 10 minutes before cutting it.

Serve it immediately, refrigerate it for up to 3 days, or freeze it for up to 3 months (if the lasagna is cut before you freeze it, then you can thaw only the amount that you'll need when you're ready).
Slow Cooker Directions:
Brown the meat as per the directions above (note: you can opt not to brown the meat before layering it in the slow cooker lasagna but the result will be soupier). In a medium bowl, mix together the ricotta, egg, spinach, and Parmesan cheese. Layer the ingredients in the slow cooker in the order above and cook on low for 8 - 9 hours or on high for 4 - 5 hours. (Slow cooker cooking times may vary—Get to know your slow cooker and, if necessary, adjust cooking times accordingly.)
Notes
Do Ahead or Delegate: Thaw and drain the spinach, beat and refrigerate the egg, grate the Parmesan cheese and shred the mozzarella cheese if necessary and refrigerate, make and refrigerate the ricotta cheese mixture, or fully prepare and refrigerate or freeze the lasagna.
Scramble Flavor Booster: Use spicy red pasta sauce instead of traditional. Stir 1/4 tsp. nutmeg and/or red pepper flakes into the ricotta-spinach mixture.
Tip: Egg roll wrappers can be used for so many different things. You can lightly fry them to make them crunchy and garnish a salad with them, or you can stuff them with a variety of morsels, both savory and sweet, and bake them. Try The Scramble's Baked Mexican Egg Rolls.
Nutritional Information Per Serving (% based upon daily values): Calories 360, Total Fat: 12g, 18%; Saturated Fat: 5g, 23%; Cholesterol: 85mg, 28%; Sodium: 930mg, 39%; Total Carbohydrate: 38g, 13%; Dietary Fiber: 3g, 12%; Sugar: 8g; Protein: 25g
Like this recipe? Check out The Scramble's family-friendly meal plans to see just how simple getting dinner on the table can be!