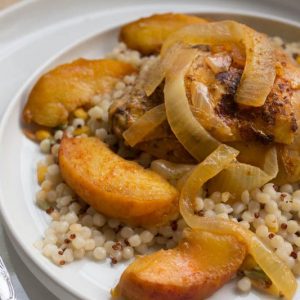 Farmer's Market Chicken with Curried Peaches and Onions
We only eat meat about once a week in our house so I splurge and buy it at our local farmer's market, where I know the animals had room to roam and were treated humanely. This summery recipe was suggested by Scramble fan, Jill Rabach, who made her version with pork tenderloin. The spices give the peaches and chicken a beautiful color and savory flavor. Scramble recipe tester Kim Freeman said, "This was a great recipe. The chicken is very juicy, the flavor uniquely sweet and spicy."
Ingredients
1

whole chicken, cut up (3 – 4 lbs.),

or use pork tenderloin or pork chops

1/2

tsp.

salt

or to taste

1/8

tsp.

black pepper

or to taste

1

Tbsp.

extra virgin olive oil

2

peaches

sliced

1/2

yellow onion

sliced

1

tsp.

curry powder

1

tsp.

paprika

1/3

tsp.

cayenne pepper

or use a pinch of chili flakes
Instructions
Preheat the oven to 400 degrees. Pat the chicken dry with paper towels and season it with a little salt and pepper.

Heat a large ovenproof skillet, preferably cast iron, over medium-high heat. When it is hot, add the oil and spread it around the pan.

Add the chicken, skin side down, and cook it for about 4 minutes on one side until it is starting to get browned and crispy.

Meanwhile, in a medium bowl, toss the peaches and onions with the curry powder, paprika, cayenne pepper, and 1/4 tsp. salt.

Flip the chicken, gently stir the onions and peaches into the skillet, cook it for another 4 minutes and then transfer the skillet to the oven.

Cook it for 30 minutes, flipping and stirring it once, or until the biggest piece of chicken is cooked through (and has an internal temperature of 165 degrees on a meat thermometer inserted into the thickest part of the thigh without touching the bone). Serve it immediately, refrigerate it for up to 3 days, or freeze it for up to 3 months.
Slow Cooker Directions:
Pre-browning the meat is optional. In the slow cooker, toss the peaches and onions with the curry powder, paprika, cayenne pepper, 1/4 tsp. salt, and a dash of pepper until mixed thoroughly. Add the chicken or pork, and turn over several times to coat. Cook on low for 6 - 7 hours or on high for 3 - 4 hours, until cooked through. (Slow cooker cooking times may vary—Get to know your slow cooker and, if necessary, adjust cooking times accordingly.)
Notes
Do Ahead or Delegate: Cut up the chicken if necessary and refrigerate, slice the peaches and onion, combine the spices, toss the peaches and onions with the spice mixture, or fully prepare and refrigerate or freeze the dish.
Scramble Flavor Booster: Double the curry powder and use Hungarian (smoked) paprika.
Tip: If you don't have an ovenproof skillet, you can transfer everything from the skillet to a preheated baking dish for the final stage of cooking (just heat the dish in the oven as you are preheating the oven).
Nutritional Information Per Serving (% based upon daily values): Calories 326, Total Fat: 19g, 29%; Saturated Fat: 5g, 24.5%; Cholesterol: 93mg, 31%; Sodium: 284mg, 12%; Total Carbohydrate: 8g, 2.5%; Dietary Fiber: 2g, 5.5%; Sugar: 6g; Protein: 31g
Like this recipe? Check out The Scramble's family-friendly meal plans to see just how simple getting dinner on the table can be!