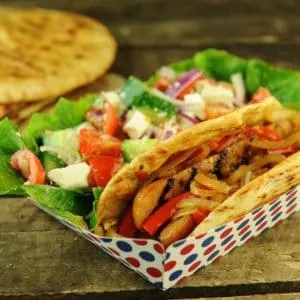 Grilled Quicki Souvlaki Sandwich
Honestly, this satisfying sandwich is just a distant cousin of a true Greek Souvlaki, but we couldn't think of a more descriptive name. Whatever you call it, recipe tester Debbie Firestone said her whole family gave it two thumbs up. It's higher in sodium that the usual Scramble fare because of the sausage, feta, and pita, so be sure and drink lots of water with lemon and/or eat some watermelon the day you enjoy the sandwiches, or look for reduced-sodium versions of those ingredients.
Ingredients
3

Tbsp.

extra virgin olive oil

1

yellow onion

halved and thinly sliced

1

green, red, or orange bell pepper

thinly sliced

1/2

tsp.

minced garlic

(about 1 clove)

1/4

tsp.

kosher salt

sea salt, or other coarse salt

12

oz.

sweet Italian-style pre-cooked turkey, chicken, or vegetarian sausage (use wheat/gluten-free, if needed)

4

whole wheat or white pita pockets (use wheat/gluten-free, if needed)

get the softest and freshest type you can find

1/2

cup

crumbled feta cheese

for serving (optional)
Instructions
Preheat the grill to medium-high heat.

Meanwhile, in a large heavy skillet, heat 1 Tbsp. oil over medium heat and sauté the onions and peppers until they are soft and well browned, about 15 minutes total, stirring occasionally. If they are getting too browned, reduce the heat.

In a small bowl, combine 2 Tbsp. oil, the garlic, and the salt and set it aside.

Cut the sausages most of the way through lengthwise, and grill them for 8 – 10 minutes until they are light to medium brown, flipping them once.

Meanwhile, brush the oil mixture onto both outer sides of the pita pockets (don't cut them), stacking them as you go so they can share their oil. Next, lay the pita pockets on the grill for about 3 minutes per side, flipping once, until they start to puff up (if they are fresh enough) and are lightly browned in spots. (Watch them carefully so they don't burn.)

Fold one pita pocket around each sausage, topping the sausage with the onions, peppers, and feta cheese (optional). Serve immediately.
Notes
Slow Cooker Directions: Combine 1 Tbsp. oil, onions and peppers in the slow cooker. Lay the sliced sausage on top and cook on low for 4 - 5 hours or on high for 2 - 2 1/2 hours. Serve on prepared pitas with feta (optional) as directed.
(Slow cooker cooking times may vary—Get to know your slow cooker and, if necessary, adjust cooking times accordingly.)
Do Ahead or Delegate: Halve and slice the onion, slice the bell pepper, peel the garlic, cut and refrigerate the sausage, make the oil mixture, crumble the cheese if necessary and refrigerate.
Scramble Flavor Booster: Add 1 tsp. fresh oregano to the peppers and onions while they are cooking. Serve the sandwiches with spicy mustard.
Tip: If you've got leftover pita bread, make a batch of pita chips. They're a tasty, better-for-you alternative to potato chips and easy to make:

Preheat the oven to 375 degrees.

Put the oil in a small bowl, and, using a pastry brush, lightly brush the top and bottom of one of the pitas with the oil. Put the pita on a cutting board, and brush the top of the next pita with oil, putting the non-oiled side on top of the first pita so they share any extra oil. Continue with the remaining pitas, brushing only the top side and stacking them.

Cut the pitas into eighths, cutting across the middle so they are triangle shaped, and spread them on one or two large baking sheets in a single layer. Sprinkle them evenly with salt.

Bake them for about 10 - 15 minutes until they are lightly browned and crisp, but remove them before they get dark brown.

Video: Watch Jessica make these on Facebook Live.
Nutritional Information Per Serving (% based upon daily values): Calories 423, Total Fat: 22g, 34%; Saturated Fat: 5g, 25%; Cholesterol: 53mg, 17.5%; Sodium: 1011mg, 42%; Total Carbohydrate: 37g, 12%; Dietary Fiber: 7g, 25%; Sugar: 3g; Protein: 23g
Like this recipe? Check out The Scramble's family-friendly meal plans to see just how simple getting dinner on the table can be!