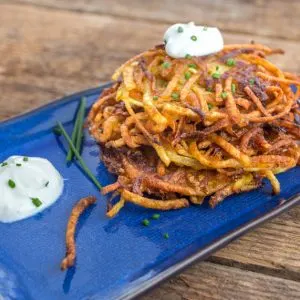 Indian Potato, Ginger and Carrot Latkes
This is a fun and flavorful spin on traditional Hanukkah latkes! Instead of applesauce, try serving them with mango chutney. If you make the batter ahead of time, refrigerate it until you are ready to cook them, and drain the excess liquid from the bowl before frying them. If you don't mind extra calories, extra oil will make them extra-crispy. Or, if you are looking for a fry-free preparation, see below for an oven-cooked technique as well!
Ingredients
2 - 3

russet potatoes

(about 1 lb.)

2

carrots

1/2

yellow onion

1

Tbsp.

fresh ginger

minced

1/2 – 1

jalapeno or other hot chili pepper

seeded and diced (optional)

1

egg

beaten

1/4

cup

whole wheat flour or all-purpose flour (use wheat/gluten-free flour if needed)

1

Tbsp.

curry powder

1/2 – 3/4

tsp.

salt

to taste

1/2

cup

canola or olive oil

1/2

cup

mango chutney

for serving (or go with traditional sour cream and applesauce)
Instructions
Using a hand grater or the grating insert in a food processor, grate the potatoes and carrots and finely dice or grate the onion. Drain the vegetables, if necessary, then wrap them in a clean dish towel for a minute or two to get the excess water out.

Transfer the grated vegetables to a large bowl. Stir in the ginger, jalapeno, and the beaten egg. Thoroughly mix in the flour, curry powder and salt.

In a large heavy skillet, such as a cast iron skillet, heat the oil (use enough oil to cover the bottom of the skillet with about 1/4 – 1/2-inch of oil) over medium-high heat. When the oil is hot (test it with a piece of potato and see if it sizzles), scoop in spoonfuls of the pancake mixture and flatten them with a spatula.

Cook the pancakes for 2 – 3 minutes per side until they are golden brown. If they start to get too browned on the outside before the middle is cooked, reduce the heat.

Using a slotted spatula and letting the excess oil drip off, transfer the cooked pancakes to a plate lined with a paper towel.

Serve the latkes immediately hot topped with the chutney or with sour cream and applesauce or refrigerate for up to 3 days or freeze for up to 3 months and reheat in a toaster oven.
Oven Directions
Preheat the oven to 425 and brush your baking sheet with oil.

Scoop up spoonfuls of the mixture, and lay them out on the baking sheets. Gently press them down until they are about 3 inches in diameter and ¼-inch thick. The latkes will not expand, so you can put them close together.

Bake for 10 minutes, or until the bottoms are golden, flip, and then bake for another 10 minutes.

Serve as described above.
Notes
Do Ahead or Delegate: Grate the potatoes, carrot sand onion (I don't think submerging the onions in water is advisable here because they're grated and it looks like the cooked latkes are brown anyway, so it's not really a problem if the potatoes brown), seed and dice the jalapeño if using, beat and refrigerate the egg, combine the flour, curry powder and salt, fully prepare and refrigerate the batter, or fully prepare and refrigerate or freeze the latkes.
Scramble Flavor Booster: Use the optional jalapeño, add a pinch of cayenne pepper to the batter.
Tip: If you own a food processor, it's worth bringing it out to make these. It will make quick work of grating the potatoes, carrots and onion. And while you have it out, why not go ahead and double the recipe? These little gems are addictive and any leftovers freeze nicely. No worries if you don't have a food processor— these latkes are worth the few extra minutes!
Nutritional Information Per Serving (% based upon daily values)
Calories 282, Total Fat: 16g, 23.5%; Saturated Fat: 2g, 7%; Cholesterol: 47mg, 15.5%; Sodium: 343mg, 14.5%; Total Carbohydrate: 32g, 10.5%; Dietary Fiber: 6g, 21.5%; Sugar: 4g; Protein: 6g
Like this recipe? Check out The Scramble's family-friendly meal plans to see just how simple getting dinner on the table can be!