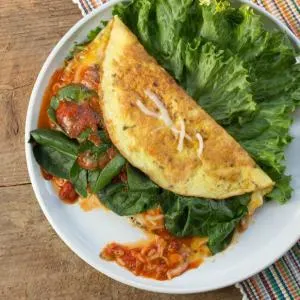 Pizza Margherita Omelets
This may seem like an unconventional combination of ingredients, but it works together beautifully! If you've got kiddos who are skeptical of eggs or omelets but love pizza, this could be the perfect vehicle to convince them to give eggs another shot.
Ingredients
8

eggs

1

tsp.

dried Italian seasoning

or use a combination of dried basil and oregano

4

tsp.

butter

1/2

cup

tomato and basil pasta sauce

1 1/2

oz.

sliced turkey pepperoni

diced (optional)

2/3

cup

part-skim shredded mozzarella cheese (or use any variety)

1

cup

baby spinach
Instructions
(Note: this recipe makes two large omelets.) In a large bowl, beat the eggs and stir in the dried herbs. Divide the butter and melt it in two large nonstick or cast iron skillets over medium heat.

Add half the eggs to each pan, and scramble them gently until they start to become firm, then, using the back of a spatula, form them evenly into a circular shape.

Put 1/4 cup of sauce on one side of each omelet, then top it with half the pepperoni (optional), 1/3 cup of cheese, and 1/2 cup of spinach.

Using a large spatula, fold the half of each omelet without the fillings over the other half. If you like your omelet a little more well done, cover it for 1 more minute, then slide each omelet onto a plate, cut them into halves or slices (a pizza cutter works well), and serve them immediately, seasoned with salt and pepper, if desired.
Slow Cooker Directions
Omit the butter. Combine the eggs, herbs, 1/3 cup of cheese, and all the spinach in the slow cooker and cook on low for 2 1/2 - 3 hours, until the eggs are just set. Spread the sauce on top, and sprinkle with the pepperoni (optional) and remaining cheese. Cook 15 - 30 minutes more, until the topping is warm and the cheese is melted. (Slow cooker cooking times may vary—Get to know your slow cooker and, if necessary, adjust cooking times accordingly.)
Notes
Do Ahead or Delegate: Beat and refrigerate the egg and herb mixture, dice and refrigerate the pepperoni if using, shred the cheese if necessary and refrigerate.
Scramble Flavor Booster: Sprinkle some crushed red pepper flakes on top of the sauce or on top of the finished omelets, double the Italian seasoning, and/or add some fresh basil with the spinach.
Tip: Eggs are not just for breakfast. Many hearty and healthy meals can be built around inexpensive and nutritious eggs, which can easily cost half the price of meat. You can put fried eggs on sandwiches with cheese, avocado, and greens, on top of roasted or sautéed vegetables, and on top of noodles to make a pasta dish richer and more filling. Try scrambling some eggs with cooked vegetables and herbs, or top them with salsa and a spoonful of cheese and wrap them in a whole wheat tortilla. Hard-boiled eggs make a healthy and satisfying snack, and can be jazzed up with some curry powder, paprika, or cumin.
Nutritional Information Per Serving (% based upon daily values): Calories 250, Total Fat: 18g, 27%; Saturated Fat: 8g, 41%; Cholesterol: 396mg, 132%; Sodium: 376mg, 15.5%; Total Carbohydrate: 4g, 1%; Dietary Fiber: 1g, 2.5%; Sugar: 2g; Protein: 18g
Like this recipe? Check out The Scramble's family-friendly meal plans to see just how simple getting dinner on the table can be!