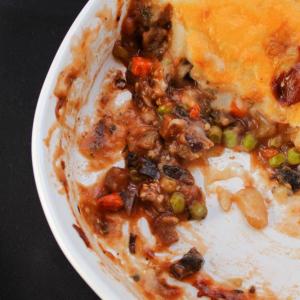 Vegetarian Shepherd's Pie
I've never thought of Shepherd's Pie as an ideal weeknight meal because you have to make the filling and the mashed potatoes to go on top, then bake it all together. But Scramble fan Jennifer Larson sent us her wonderful meatless version that does take a couple of key shortcuts, especially using store-bought mashed potatoes. We found a couple of brands, that only used ingredients I recognized and tasted a lot like homemade. Of course, if you want to make your own or if you have leftover mashed potatoes, use those instead.
Ingredients
4

cups

mashed potatoes (store-bought, in the refrigerated/prepared foods aisle, or homemade),

see link below for homemade directions, use about 5 - 6 potatoes about 2 lbs. if making homemade

1

Tbsp.

extra virgin olive oil

2

cloves

garlic

minced, about 1 tsp.

1

yellow onion

chopped

1

eggplant

diced into 1/2-inch cubes (no need to peel), or use zucchini

2 - 3

portobello mushroom caps

diced

2

Tbsp.

Worcestershire sauce (for a vegetarian and gluten-free option use 6 drops hot sauce and 1/4 tsp. sugar per each Tbsp. Worcestershire sauce)

1/2

tsp.

salt

1/2

tsp.

black pepper

2

Tbsp. flour (use wheat/gluten-free, if needed)

2

Tbsp.

tomato paste

1

cup

reduced-sodium chicken or vegetable broth (or use any variety)

1 1/2

cups

frozen mixed vegetables such as carrots and peas

2

Tbsp.

fresh flat leaf parsley

chopped, or use 1 Tbsp. dried

1

cup

shredded Cheddar cheese
Instructions
(Make the

mashed potatoes

if necessary). Preheat the oven to 400 degrees and spray a round 2-quart casserole dish with nonstick cooking spray.

Heat a large heavy skillet over medium to medium-high heat and add the oil. When it is hot, add the garlic and onions, and sauté them for about 3 minutes to soften.

Add the eggplant, mushrooms, Worcestershire sauce, salt, and pepper, and cook, partially covered, for about 5 minutes, stirring occasionally.

Remove the cover and cook for 8 – 10 more minutes until the eggplant is tender and dark.

Meanwhile, heat the mashed potatoes (unless you just made them) and set them aside.

Stir the flour into the skillet with the vegetables, then add the tomato paste and broth, and let it thicken for about 3 more minutes, stirring occasionally. Stir in the mixed vegetables and parsley and transfer them to the casserole dish.

Top the mixture evenly with the potatoes and cheese, and bake, uncovered, for 20 minutes. Serve it immediately or refrigerate it for up 3 days.
Slow Cooker Directions
Reduce the broth to 1/2 cup. In a small bowl, mix the oil, Worcestershire sauce, salt, pepper, flour, tomato paste, and broth. Put the garlic, onions, eggplant, mushrooms, frozen vegetables, and parsley in the slow cooker. Pour the sauce mixture over the vegetables, and stir to combine. Top it with the mashed potatoes, and cook on low for 6 - 8 hours or on high for 3 - 4 hours. Sprinkle the cheese on top about 30 minutes before serving. (Slow cooker cooking times may vary—Get to know your slow cooker and, if necessary, adjust cooking times accordingly.)
Notes
Do Ahead or Delegate: Make the mashed potatoes if necessary, peel the garlic, chop the onion and the parsley, dice the eggplant and the mushrooms, shred the cheese if necessary and refrigerate, assemble the dish and refrigerate, or fully prepare and refrigerate the dish.
Scramble Flavor Booster: Double the garlic and/or grind lots of freshly ground black pepper over the finished dish.
Tip: Many stores now sell tomato paste in a tube. It's a great alternative to the canned variety as you can use what you need and store it in the fridge until next time. If you can't find the tubes at your grocery store and don't want unused canned tomato paste to go to waste, freeze it in tablespoon-sized portions (use an ice cube tray or put tablespoon-sized portions on a cookie sheet). Once frozen, transfer these portions into a freezer-safe plastic bag for future use.
Nutritional Information Per Serving (% based upon daily values): Calories 285, Total Fat: 14g, 21%; Saturated Fat: 7g, 34%; Cholesterol: 31mg, 10%; Sodium: 808mg, 34%; Total Carbohydrate: 34g, 11%; Dietary Fiber: 6g, 24%; Sugar: 6g; Protein: 9g
Like this recipe? Check out The Scramble's family-friendly meal plans to see just how simple getting dinner on the table can be!