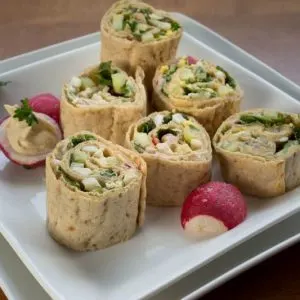 Warm Garlic Hummus Flatbread Rollups
These warm, crunchy and garlicky sandwiches make such an easy and fun meal. Put all the toppings in bowls so each family member can design their own flatbread rollups (or foldovers!) to their tastes. If you can't find a flatbread such as lavash, you can use naan or pita bread. The naan and pita are too thick to roll up like flatbreads, so just fold them in half and call them Turkish Tacos.
Ingredients
1/2

Persian cucumber

or use English cucumber, finely chopped, (about 1 cup) or use 1 pickle

1/4

red onion

finely chopped

1 - 2

hard-boiled eggs

chopped (optional)

8

pitted green olives with pimentos

chopped, or use kalamata olives

6

radishes

chopped

1/4

cup

fresh flat-leaf parsley and fresh mint

finely chopped

4

pieces

whole grain lavash flatbread

or use naan or pita bread

3/4

cup

Roasted Garlic Hummus

Freshly ground black pepper

to taste
Instructions
Put all the ingredients except the lavash, hummus and pepper in small bowls at the table.

If using the Lavash, warm it in the microwave for about 30 seconds, and using a spoon or spatula, spread about 3 Tbsp. of hummus on each flatbread, spreading it all the way to the edges but not on the last couple of inches of one end of the breads. Then top each flatbread evenly with about 1 tsp. red onion, 3 Tbsp. cucumbers or pickles, 1 Tbsp. egg (optional), 2 tsp. olives, 1 Tbsp. radishes, 1 Tbsp. fresh herbs, and a few twists of freshly ground black pepper. Start rolling the flatbread from the hummus end, finishing with the end without hummus on it. (The hummus acts as sort-of a glue.) Using a serrated knife, slice the rolls into bite size pieces.

If using the tandoori naan, preheat the oven according to the package directions (usually 400 degrees) and warm the naan in the oven for about 2 minutes until they are very warm but still soft.

If using pita, warm it in the oven (350 degrees) or microwave or directly over a burner on your stove until it is warm and soft. Spread the hummus and toppings on the naan or pita, fold it over taco style and enjoy immediately.
Notes
Do Ahead or Delegate: Chop the cucumber, onion, olives, radishes and fresh herbs and put them all in small bowls, cook the eggs if necessary, chop and refrigerate.
Scramble Flavor Booster: Add a little mustard or hot pepper sauce to the wraps or put a little on top after they are wrapped, use freshly ground black pepper at the table.
Tip: Are pimentos a bit of a mystery to you? They are small pieces of cherry peppers (which are a bit sweeter than bell peppers) that are stuffed into olives to help balance out the strong, salty flavor of the olive. Olives with pimentos are a good choice for those who like a more mild olive taste.
Like this recipe? Check out The Scramble's family-friendly meal plans to see just how simple getting dinner on the table can be!
Nutrition
Calories:
288
kcal
Carbohydrates:
38
g
Protein:
9
g
Fat:
12
g
Saturated Fat:
3
g
Sodium:
525
mg
Fiber:
7
g
Sugar:
2
g