Aviva's Potato Laktes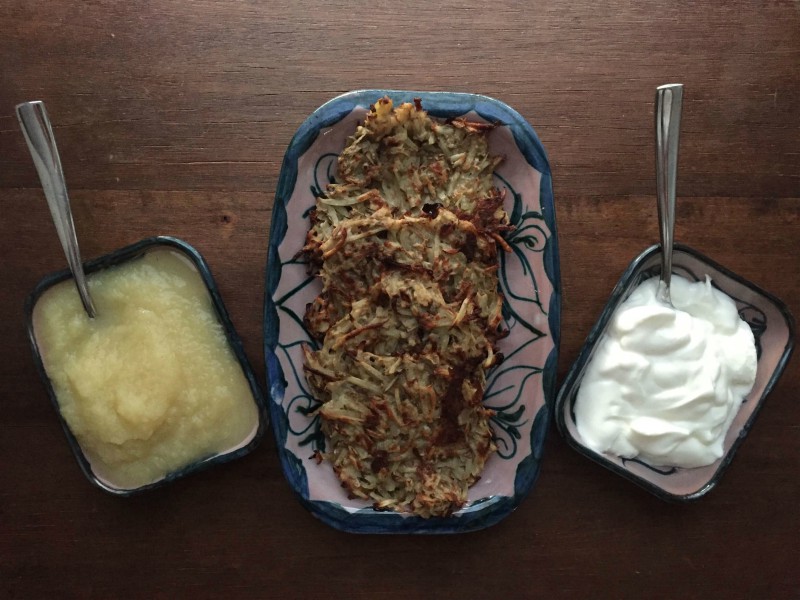 A traditional dish at Hanukkah, these are delicious and crispy.
Grate the potatoes and yellow onion coarsely (I always use a hand grater and ask the kids to take a shift). Rinse the potatoes in a colander with cold water and drain them thoroughly to remove some of their starch. Press them down into the colander to squeeze out as much water as possible. In a large bowl, combine the potatoes, onions, scallions, eggs, salt and flour and mix thoroughly.

Preheat the oven to 200 degrees to keep the cooked latkes warm, if you don't plan on eating the latkes as they cook.

In a large skillet (use an electric frying pan if you have one), heat the oil over medium high heat. To test if it's hot enough, drop a little piece of the potato mixture in and see if it sizzles. If it sizzles immediately the oil is hot enough.

Drop tablespoonfuls of the potato mixture into the pan, and flatten them to an even thickness. Leave about an inch between the latkes for even frying. Fry the latkes for a few minutes per side until they are golden brown. Remove the to a paper towel-lined baking sheet to drain. Transfer them to the oven to keep them warm, if necessary. If you need to add more oil to the pan, do so between batches so the oil can heat up fully before adding more latke batter.

Serve them topped with applesauce and/or sour cream, if desired.