Finding the perfect gift can be tricky, but there is one universal truth: everyone needs to eat! Given my passion for all things food, I thought I would pull together some of my favorite holiday gift ideas for every kinds of cook, from the novice to the expert to the kiddo, and everyone in between!
Note: This page contains affiliate links. If you purchase a product through these links, your cost will be the same but The Scramble will receive a small commission. I only link to products I personally use, trust, and love. If you want to learn more, please check out my disclosure page. Thanks for your support!
Holiday Gift Guide for Every Kind of Cook
I will never forget the Christmas my mother only gave me cooking tools. I was 22-years-old, living on my own for the first time, and had been scraping by with two pots that had been bought in a bodega on the first floor of my building, a couple of cheap knives I think I had gotten at IKEA, and a set of measuring cups and spoons purchased at Target.
That Christmas, when I opened my gifts, I was a little dismayed and secretly wished I had gotten maybe one fewer pot in exchange for a sweater or two, but looking back, those were some of the best gifts I ever received. They made it possible for me to explore cooking and expanded the types of meals that I could cook for myself.
While I am not advocating for giving a loved one only cooking tools (unless, of course, that is what they ask for), I do think a solid cooking-related gift or two is always welcome. So, to help you find the best gift for each person on your list, I have divided this gift guide into 5 recipient categories: The Daily Cook, The Novice Cook, The Adventurous Cook, The Health-Conscious Cook, and Kid Cooks.
And don't forget the gift that keeps on giving: a online meal planning subscription!
The Daily Cook
These gifts are perfect for the person who cooks frequently. Cooking may not be his/her favorite hobby, but s/he values being able to prepare a good meal. These tools will help the daily cook get dinner on the table more quickly and easily, and maybe raise their cooking game a bit, too.
This tool saves so much time and effort when it comes thinly slicing vegetables, which means dishes like homemade potato chips, gratins, and zucchini or eggplant lasagnas become possible weeknight meals!
This gorgeous cutting board is a home cook's dream (including me!). Gentler on your knives, wooden cutting boards are easy to take care of and naturally fight off germs, making them a more sanitary option (you still have to wash it between cooking projects, of course).
Enjoy fresh herbs all year long with this fun grow-at-home kit that will mean basil, oregano, thyme, or whatever herbs are preferred are always available!
This is the tool no one knows they needed… until they get one. Perfect for dividing up and scraping dough, this tool will also help to clean countertops and carry ingredients from the cutting board to the pot.
Reusable cloth napkins are not only environmentally responsible, but they also elevate dinnertime. Plus these napkins are easy to care for (no ironing!), which means they'll actually be useful!
This fantastic cookbook is the second written by my friends Serena and Deanna from Teaspoon of Spice. Every recipe takes 30 minutes or less, includes an awesome time-saving kitchen tip, and is creative and fun. I also love their list of the staples every Mediterranean kitchen should have. And if you want to go all-in for the Mediterranean diet, grab a copy of their first book, The 30-Minute Mediterranean Diet Cookbook, too!
The Novice Cook
Whether they want to or not, pretty much everyone needs to learn how to cook at some point, and these tools will make it that much easier. Whether your loved one is just entering adulthood or is later in life and just starting to get going on cooking, these tools will make the process quicker, easier, and more fulfilling.
A good knife is the most important tool in your cooking arsenal. And this one is both well-priced and high-quality. I have been using the same Wustof knives since that Christmas back when I was 22!
Another essential item in my kitchen. I use at least one of my cast iron skillets every day. I love that they can be used on the stove or in the oven and that they hold heat so well. Despite what many think, they are super simple to care for and will last forever.
Use it for Parmesan cheese on pasta, zesting citrus, grating nutmeg, or finely grating veggies. This is a tool that every kitchen should have.
This tool will make juicing that lemon or lime a breeze, which is great for flavoring drinks and adding acidity to dishes.
Practically indestructible, these bowls will serve your recipient well for years to come. They are wonderful because they are lightweight yet super tough so you can use them for pretty much any mixing task you might have.
The Adventurous Cook
Adventurous cooks want to push the envelope, try new cooking techniques, or think about food in new and different ways. These gifts will inspire and excite even the most accomplished cook on your list.
This is a gadget I don't have (yet), but have only heard wonderful things. The idea behind sous vide cooking is that the circulator keeps a pot of water at a constant temperature so that anything you put in it (in a sealed bag) will cook completely evenly. People swear by them for meat, desserts, even carrots! And this one is controlled by your Bluetooth, so you don't even need to be in the same room. How cool is that?!
This is a must-have for any cook who wants to start creating their own recipes. This book has a special spot in my kitchen because I refer to it all. the. time.
Another gadget that I don't have (yet), but what a great way to turn favorite fruits into a year-round treat! I think I would eat my weight in dried mango every two days…
Another great gift for the foodie in your life. If you've never made your own cheese before, it is a lot of fun and some cheeses (ricotta, buffalo mozzarella) are surprisingly easy to make once you know how. This kit will make that possible!
I love this book. Like really, really love this book. The recipes are amazingly good, but more importantly, it takes the reader on a journey that leads to thinking about food and cooking in an entirely new way, one that is based less on following a recipe and more on the balance of these four critical components.
The Health Conscious Cook
We all have someone in our lives who is just that much healthier than us. They plan more, cook from scratch more, know a ton about nutritional guidelines, etc. These gifts will make them super happy because they'll make healthy eating easier and more accessible.
Now this gift could be under any of the above cook categories, but I put it here because if there is any kitchen tool that makes cooking from scratch easier, it is a food processor. It slices, dices, grates, and mixes. It makes everything from hummus to muffins, to shredded vegetable salads easier.
Zoodles, anyone? The spiralizer turns any vegetable into "noodles" that are perfect for replacing pasta, roasting, sautéing, and serving raw in salad.
Quite possibly the healthiest way to cook, having a steamer basket that can hold a nice amount of food is always helpful.
Now your beloved health nut can take their snacks and meals with them in these cute, durable, easily washable bags!
Kids Cooks
Teaching life skills, encouraging picky eaters to try new foods, spending quality time with kiddos, and having someone else do the cooking for you are all reasons to get the kids in your life some cooking gifts.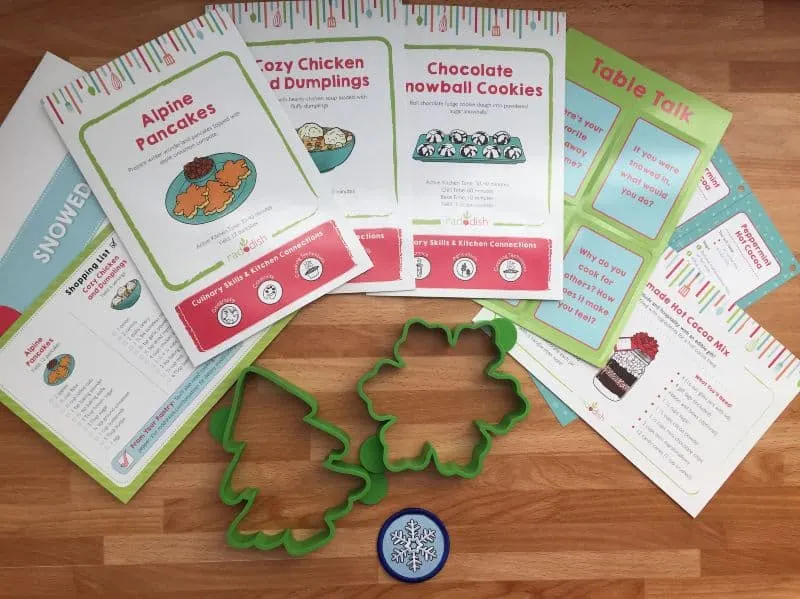 As someone who specializes in helping busy families to eat well, I have tried many cooking schools and cookbooks designed specifically for kids and I can honestly say that none of them have gotten my kids as inspired and excited to cook as the Raddish Kids Cooking Club. My boys loved the kit from the first moment we opened it. They were immediately drawn to the contents of the box. They thought the cooking tools were cool; they liked the games and activities that were included such as a mad lib, trivia, and quizzes; but most importantly they were thrilled with the recipe options.
For the younger kiddos, this knife set is a great starting point for teaching knife skills. They'll actually get to cut things and you won't be worried about their fingers. Win-win. I used these with my own kids when they were little and in kids cooking classes that I have taught over the years, always with great success!
Who doesn't love a costume and a special set of tools just for them? This kit will make any mini chef feel truly special. It is also a gift that lasts for a long time—just the other day my 8 and 10-year-olds pulled out the chef hats they received years ago to wear while they were making dinner.
My family has cooked from this book for years! It's packed with recipes that kids can make on their own. All the recipes are categorized by skill level and how much grown-up involvement is needed. A perfect gift for kids ages 7 and up.
This is my favorite cooking-related kids book. I used to read it as the kick-off when I taught kids cooking classes and it was always a hit. The perfect picture book for any aspiring chef or baker in your life.
Again, don't forget the gift that keeps on giving: a subscription to our online meal plans!
Do you have favorite cooking gifts or items on your wishlist for this year? I'd love to hear about them in the comments!