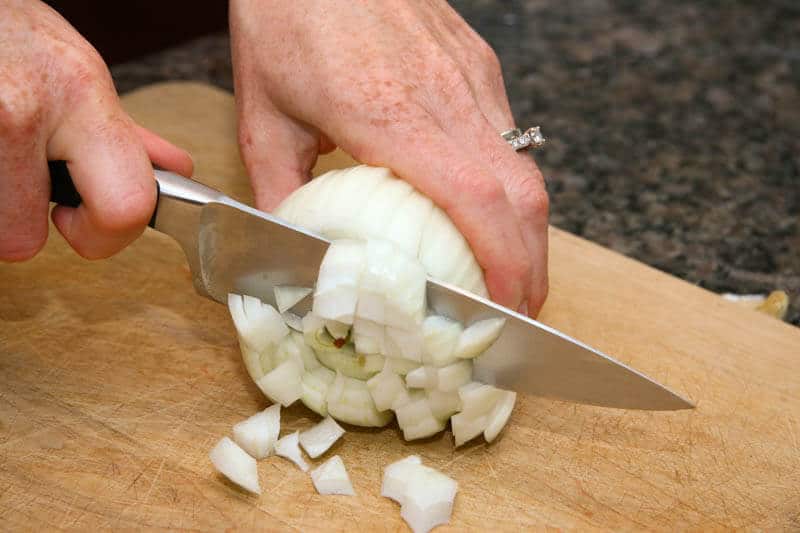 Do you ever feel like you're trying to cut through a tomato with the back of a comb? If you're like me, you probably purchased a few knives soon after your wedding, before you knew much about slicing and chopping, let alone cooking. If you're like so many people I know, you've hardly sharpened them since.
If you are straining your muscles and patience trying to saw through a squash or melon, you may not be using the right tool for the job.
In my daily cooking, I primarily use four knives for my kitchen tasks and have found that for these core implements, it's worth investing in good quality.

Chef's Knife
This knife is the workhorse of the kitchen and is great for cutting many foods such as onions, potatoes, melons, long vegetables, etc. A good quality chef's knife will make cooking any dish, for instance this this vegetable taco recipe, easier. For a reasonably-priced, but high quality version, try this Wustof knife (paid link).
Paring Knife
This is a small knife that is create for slice cheese, cutting small fruits and vegetables, and introducing knife skills to kids. I use mine (paid link) daily.
Medium Length Serrated Knife
This is a great knife for slicing slippery items like peppers and tomatoes, which are delicious in this fajita recipe. I really like this one (paid link) and use it almost daily in my own cooking.
A Long Serrated Bread Knife
Perfect for slicing breads of all sorts, this is an essential tool and will make preparing this French toast recipe so much easier. I like this one (paid link) a lot.
Other Tools to Consider
I also find that a top-notch peeler, grater, and pair of kitchen shears (paid links) come in very handy and make cooking go much more smoothly.
Caring for your knives
Protecting your investment by taking good care of them is very important. In order to keep them as sharp and ding-free as possible, store your knives either in a knife block or on a magnet strip mounted on your wall.
It is also important to cut on a proper cutting board. Stone and metal will destroy your knives. My favorites (paid link) are all wooden because they are easier on the knives and have antimicrobial properties that keep you healthier.
In addition, straight edged knives should be sharpened every week or two — it makes it much easier to slice, dice and julienne with a well-honed knife. Sharper knives are actually safer, too, because they do not slip off of vegetable skins or lurch unevenly through foods. I have tried many, many different knife sharpeners and have found this one (paid link) to be easiest to use.
Some Knife Skills
Watch this video to learn the 3 knives you REALLY need, how to use them to cut onions, tomatoes and other vegetables efficiently and safely, and how to sharpen them in seconds:
Do you have a brand of knives that you favor? I'd love to hear what it is and how you take care of your cutlery. Please share here or on The Scramble Facebook page.
Do you want meal preparation to be even easier? Sign up for a two-week free trial of The Scramble's meal planning service to see how simple planning, easy cooking, and joyful eating can be!
**Note: This page contains affiliate links. If you purchase a product through these links, your cost will be the same but The Scramble will receive a small commission. I only link to products I personally use, trust, and love. Thanks for your support!