As I have written about before, food and family dinners were essential parts of my childhood. Ironically, however, despite my mom's best attempts, cooking was not. The poor woman tried everything to entice me to cook and I did dabble a bit, but mostly I just wasn't interested.
And yet she persisted. If I wanted cookies, I had to make them myself (the first attempt was incredibly memorable, but that's a story for another post). If I wanted boxed macaroni and cheese when my parents went out for dinner (since they definitely weren't going to eat it), I had to make it myself.
Then, when my brother and I were in high school, we were each responsible for one dinner a week. I dragged my heels but she stuck with it, making sure I had the basic skills necessary to cook for myself when the time came.
Years later, when I first started my career as a health coach, I quickly noticed a pattern: clients who came to me reluctant to cook often spoke of never having anyone teach them the basics. Sometimes it was because their parents hadn't had time to teach them, sometimes it was because the kitchen was a parent's domain where they didn't feel welcome, and other times it was because they just never got around to it.
The reality, though, is that learning those basic skills is so important and the sooner we as parents teach our kids how to cook, the better equipped they will be to go off as adults and care for themselves, and the sooner they will be able to help us out in the kitchen, making dinner prep even easier!
Getting Kids to Cook (and Classes to Get Them Started)
That is why I am so excited about the Kids Cook Real Food online cooking classes. They are designed and taught by Katie Kimball, a former 3rd grade teacher, mom of four, and amazing home cook. She has taken the basic cooking skills that everyone should know and turned them into accessible, fun lessons that your kids will engage with and benefit from.
My kids have been cooking with me since they were 18 months old, but we decided to complete the knife skills class together. The class is only about 10 minutes long but really covers all that kids (and adults) should know about using a knife. All three of us loved it! They boys enjoyed it because it boosted their confidence with knives and I loved it because they were so motivated to try the new techniques that they ended up prepping all the vegetables for dinner!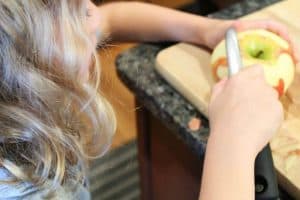 So if you are looking for a way to engage your kid in the kitchen, these classes might be perfect for you. Plus, you could use The Scramble's Do Ahead and Delegate steps in our recipes as ways to practice many of the skills Katie teaches in her classes! Skills learned and sous chefs doing your prep? I call that a win-win!
**Note: This page contains affiliate links. If you purchase a product through these links, your cost will be the same but The Scramble will receive a small commission. I only link to products I personally use, trust, and love. Thanks for your support!