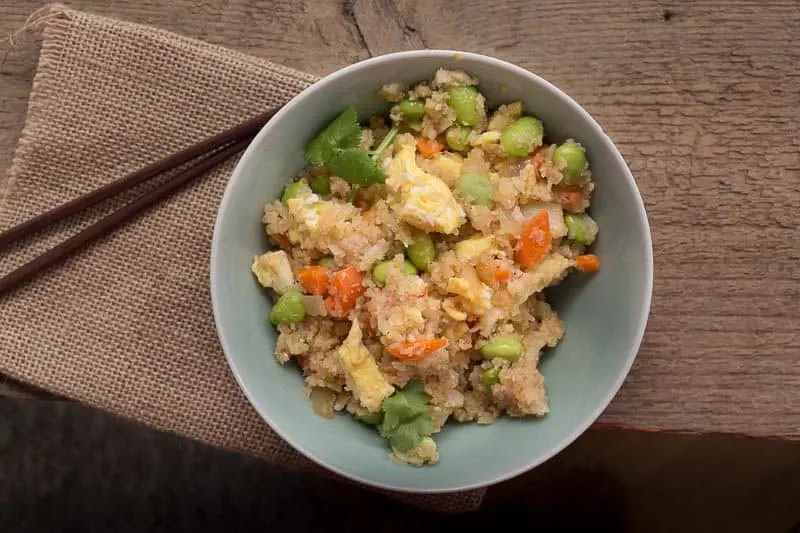 Have you ever tried cauliflower rice or cauliflower couscous? Starting a few years back, cauliflower rice became a go-to dish for people who wanted to eat healthier, include more vegetables in their diet, or follow a Paleo, low carb, Whole 30 or other grain free diet.
I have to be honest, at first I was skeptical that this healthy substitute would be satisfying or worthwhile, especially since I'm married to a Brazilian who takes his rice very seriously, but from the first bite I was convinced. The dish was flavorful, light, and incredibly reminiscent of actual rice. I was floored.
My husband? He didn't even realize it wasn't rice until I told him!

What is Cauliflower Rice?
Cauliflower rice is simply cauliflower grated into rice size "grains." And cauliflower couscous is the same thing, just grated even more finely.
It is a delicious and healthy option to add to your table as it is low in carbohydrates, low in calories (about 1/10 of the calories of brown rice), high in fiber, versatile, and easy to make and use.
Although it's not indistinguishable from rice, it is a pretty darn good and extremely healthy substitute for white or brown rice.
And while you can buy cauliflower rice fresh or frozen, in my experience the homemade versions taste must better and since it only takes a few minutes to make, especially with a food processor, it's a "from scratch" activity that I think is worthwhile.

How to Make Cauliflower Rice or Cauliflower Couscous?
Making cauliflower rice couldn't be simpler. There are two ways to make it: in the food processor or with a box grater.
How to Make Cauliflower Rice in the Food Processor
Making cauliflower rice in the food processor is super easy! It only takes 3 steps:
Step 1: Roughly cut up the cauliflower in any way that is easy for you—it doesn't need to be even or pretty.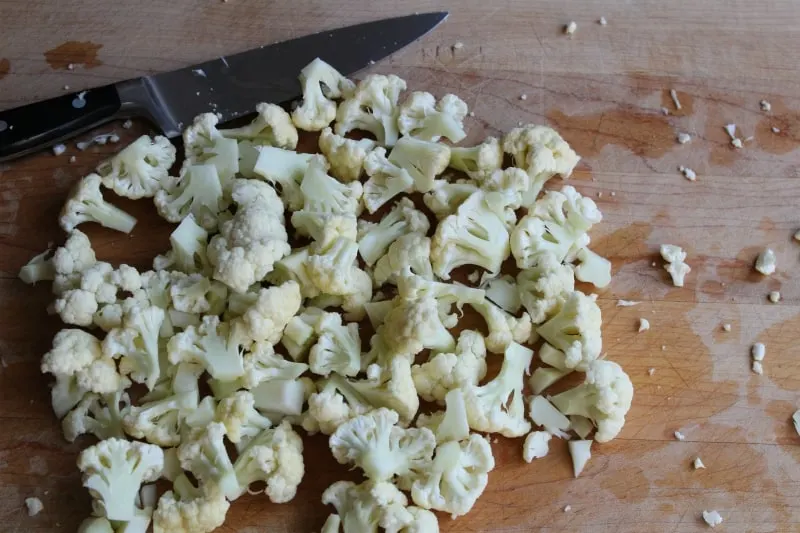 Step 2: Set up your food processor with the grating blade. Use a coarser blade for cauliflower rice and a finer blade for cauliflower couscous.
Step 3: Turn on your food processor and feed the cauliflower pieces through the tube.
How to Make Cauliflower Rice Without a Food Processor
If you don't have a food processor or are nervous about using one, you can also easily make cauliflower rice with a box grater. All you do is put your box grater down on its side, take the head of cauliflower, and rub it back and forth over the box grater to shred the cauliflower.

How to Use Cauliflower Rice or Cauliflower Couscous
While it is reminiscent in texture and flavor to rice and couscous, preparing cauliflower rice and cauliflower couscous is actually even quicker than preparing real rice.
Because the "grains" are so small and not dried out, as rice is, there is no need to steam it for 20 minutes. Instead, you can steam it in the microwave and use it like you would a bed of rice. I have found, though, that if you are looking to create a quick rice-like side dish, the easiest way to prepare it is to sauté it in a little bit of oil and salt (you can also throw some minced garlic into the hot oil before adding the cauliflower or you can sprinkle some garlic powder in).
From there, you can tailor it to whatever meal you're having by adding whatever seasonings you wish or top it with a flavorful sauce. For instance, here is an example of how you can make a Cauliflower Curry Couscous or Rice.
Cauliflower Curry Couscous or Rice
4 servings, about 1 cup
2 Tbsp. extra virgin olive oil or coconut oil
4 cups cauliflower couscous or rice
1/2 cup cashews, coarsely chopped
1/4 cup raisins
1 tsp. curry powder, or more to taste
1/2 tsp. salt
½ lime, juice only
Heat a large skillet over medium heat, and when it is hot, add the cauliflower couscous or rice, cashews, raisins, curry powder and salt, and saute it, stirring occasionally, for about 5 minutes until the "couscous" or "rice" is hot and tender.
Stir in the lime juice and serve.
Cauliflower Fried Rice
Perhaps my favorite way to use cauliflower rice, though, is in place of regular rice for a fried rice dish because it makes this somewhat heavy dish lighter and much healthier. With all of the flavors and textures that get added into a fried rice, it is close to impossible to discern that what you are eating is not, in fact, rice (this is the dish that stumped by rice-obsessed husband). See our recipe below!
More Options for Cauliflower
If incorporating more of this healthy, versatile, and delicious vegetable into your diet is of interest to you, then you'll want to check out my post on how to prepare cauliflower, where I share tips on how to prepare cauliflower, different cooking techniques, and more!
Plus, here are some other awesome cauliflower recipes from other bloggers I respect

Cauliflower Rice Pizza Crust recipe from Melissa D'Arabian
Pineapple Fried Cauliflower Rice from Olga Berman of Mango & Tomato
Cauliflower Pizza with Pesto and Tomatoes from Judy Lyness of My Well Seasoned Life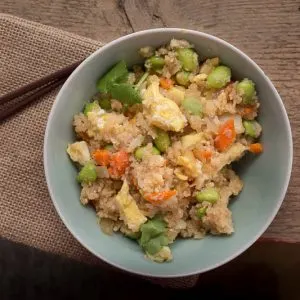 Veggie Cauliflower Fried Rice
Cauliflower rice has some health benefits over rice—high fiber, concentrated nutrients, and it's low in calorie, low in carbs and is Paleo friendly. You could also sauté a cup or two of cooked diced chicken or peeled shrimp instead of the edamame. My thanks to R.D. Jessica Levinson for inspiring the addition of rice vinegar and sriracha to the sauce. "Dana and I couldn't get over that we were eating cauliflower and not rice. It looked and tasted and felt exactly like rice. The flavors and the texture were spot on. The dish was satisfying, filling and tasty. Just right!" according to Scramble recipe tester Amy Stanley.
Ingredients
2

Tbsp

vegetable or canola oil

1/2

yellow onion

finely diced (1 cup)

1

carrot

finely diced

2

cloves

garlic

minced, about 1 tsp.

3

eggs

beaten

1

lb.

riced cauliflower

or 1 head cauliflower grated/riced (see link below for guidance) (4 – 5 cups)

3

Tbsp.

reduced-sodium soy sauce (use wheat/gluten-free if needed)

1

Tbsp.

sriracha

Vietnamese hot sauce

1

Tbsp.

rice vinegar or rice wine vinegar

1

tsp.

sesame oil

1

Tbsp.

orange juice

1

cup

frozen shelled edamame
Instructions
Heat 1 Tbsp. of the canola oil over medium heat in a large nonstick skillet or wok. When it is hot, add the onions and carrots and sauté them for about 3 minutes until they are starting to get tender. Add the garlic and cook for 1 more minute, then transfer the vegetables to a bowl and set them aside.

Add the eggs to the pan and scramble them for about 2 minutes until they are well cooked, chopping them with a spatula into bite size pieces as they cook. Add them to the bowl with the vegetables.

Add the remaining canola oil to the pan, and when it is hot, add the cauliflower and toss it a bit. Cover it for 2 minutes to let it steam, then remove the cover and continue cooking it for 2 – 3 more minutes, tossing occasionally, until it is tender.

Meanwhile, in a large measuring cup or bowl, combine the soy sauce, sriracha, vinegar, sesame oil and juice to make the sauce.

Add the vegetables, eggs, sauce and edamame to the pan and toss everything together over the heat until the sauce is well distributed. Serve it immediately or refrigerate it for up to 3 days.
Slow Cooker Directions:
Spray the inside of your slow cooker with nonstick cooking spray or coat lightly with oil so the cauliflower will not stick. Whisk together all ingredients except the onions, carrots, cauliflower, and edamame in the slow cooker until well combined. Add the vegetables and mix well. Cook on low for 5 – 6 hours, or on high for 3 hours. (Slow cooker cooking times may vary—Get to know your slow cooker and, if necessary, adjust cooking times accordingly.)
Notes
Do Ahead or Delegate: Dice the onion and carrot, peel the garlic, beat and refrigerate the eggs, rice the cauliflower if making your own (see our video for easy tips), make and refrigerate the sauce, steam the edamame, or fully prepare and refrigerate the dish.
Scramble Flavor Booster: Sauté 1 – 3 tsp. of fresh minced ginger with the garlic. Serve it with fresh lime wedges and additional sriracha sauce.
Tip: This is a recipe that you can get really creative with depending upon what you're in the mood for. It would be tasty with add-ins like crushed peanuts or cashews or different vegetables like bell peppers, mushrooms or snow peas.
Video:
[recipe-video]
or see Jessica make this on Facebook Live.
Nutritional Information Per Serving (% based upon daily values)
Calories 302, Total Fat: 19g, 29%; Saturated Fat: 3g, 13.5%; Cholesterol: 140mg, 46.5%; Sodium: 654mg, 27%; Total Carbohydrate: 20g, 6.5%; Dietary Fiber: 7g, 26%; Sugar: 6g; Protein: 17g
Like this recipe? Check out The Scramble's family-friendly meal plans to see just how simple getting dinner on the table can be!
What are your favorite ways to use Cauliflower Rice? Please share your ideas below!
Looking for more cooking inspiration, check out The Scramble's family-friendly meal plans to see just how simple getting dinner on the table can be!