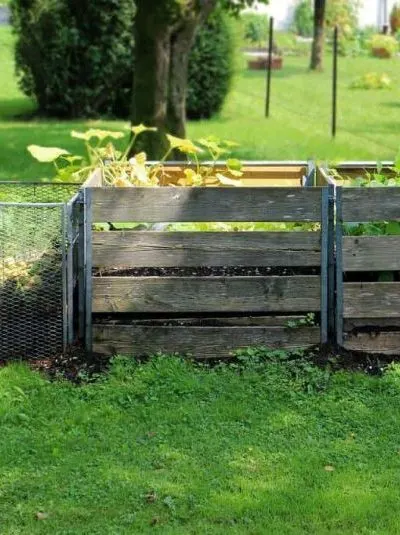 Composting is one of Mother Nature's miracles – it turns organic waste (like grass clippings, raked leaves, veggie peelings, fruit rinds and other produce leftovers) into rich soil. And it is one of the easiest things the average family can do to reduce their footprint and help the environment naturally. Just think, by turning everyday waste into compost, you can not only reduce the amount of garbage picked up curbside, hauled by fossil fuel operated trucks and dumped into landfills, but you will also gain free, 100 percent natural, organic fertilizer for your garden, flowerbeds and lawn.
While many of us have heard about the benefits to composting, we have hesitated starting this project because we are afraid it is complicated, messy and yet another household chore that is unlikely to get done. But in reality, there are easy ways to get started, and the benefits are vast. Here are some tips for composting simply without the mess and fuss.
Start small.

One of the most common mistakes of any gardening project is to get over ambitious, and then stare at a half complete project for months, drenched in guilt. You can simply start with a plastic bin or a designated corner where you dump organic refuse. As you enjoy the results you can expand to a larger area.

Pick a convenient location.

If your compost pile is far from your kitchen or your garden, you will be unlikely to visit it when the weather is cold or rainy. You don't really even need a 'bin.' You can simply make a pile of leaves in the corner of the yard and add material to it. Keep a plastic bin (with a tight fitting lid, of course) under your sink for compostable kitchen waste, and add it to your bin (or pile) when it's full.

Stay with 'brown' and 'green' materials

. Brown materials, as the name implies are dried pine needles, leaves and dead plants. Green materials are 'wet' fresh grass clippings and kitchen waste, such as vegetable peels, orange peels, watermelon rinds, egg shells (without egg contents), and coffee grounds (with filter paper). You can even add shredded newspaper and brown paper if you're feeling adventurous.

Avoid adding meats, oils and fruits.

While Mother Nature eventually breaks down anything, these materials are also likely to attract rodents and slow down the overall composting process.

Keep things moist.

Water is needed to attract worms, bacteria and fungi. If you live in a dry area or have dry seasons you can water with a hose and then place a plastic cover on top to conserve the water and heat.

Mixing optional.

Contrary to many guides, turning your compost pile is not necessary – it merely accelerates the process.

Compost Season.

While you can compost year-round, compost will develop more quickly during the warm growing season when your garden and lawn is at its peak. So, don't worry if you seem to be adding material every day or two during the spring and summer because nature will also have the composting process on overdrive.
Finally (after 6 – 12 months) you can

enjoy the 'fruits' of your labor!

Sprinkle your compost on your lawn and garden, once it turns into dark and sweet smelling dirt, and enjoy the beautiful flowers, vegetables and fruits that your own rich soil will inspire.
(Special thanks to Jeanne Rossomme and Composting King Kevin Warner for their assistance with this article.)