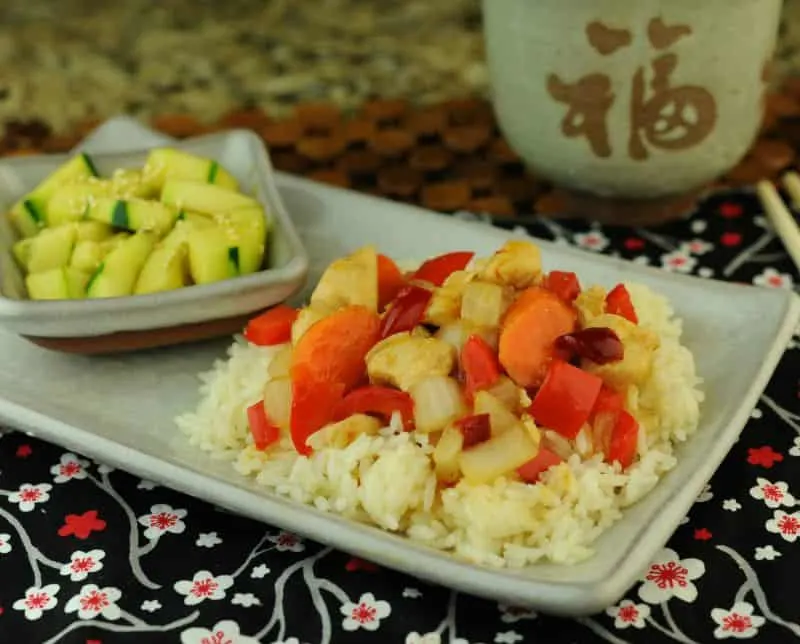 Note: This page contains affiliate links. If you purchase a product through these links, your cost will be the same but The Scramble will receive a small commission. I only link to products I personally use, trust, and love. If you want to learn more, please check out my disclosure page. Thanks for your support!
Guest column by long-time Scramble supporter Robin Thieme
A Diagnosis of Celiac Disease
In March 2011, our daughter was diagnosed with Celiac disease. Although the diagnosis came with its obvious negatives, we were glad for the clear diagnosis because it answered so many questions left unanswered for years. But, with the diagnosis came the reality that her diet had to change not by choice, but in order to avoid the symptoms brought on by Celiac including severe nausea and a higher likelihood of cancer later in life.
Ashley, a teenager whose regular diet had included pizza, chicken nuggets, macaroni and cheese and bagels, was beset with a challenge that she decided to take head on. She was determined to make sure her meals were gluten-free, but didn't want them to make her stand out in the crowd, nor did she want to consume poor tasting food.
I was determined to be fully supportive of her challenge, including acknowledging that there were many gluten-free products on the market that were either just plain bad or devoid of flavor.
Being diagnosed with Celiac in 2011 provides so many more options than there were for those having to adapt 20 or even 10 years ago. We have found the amount of gluten-free products and gluten-free friendly restaurants has exploded in the last two years. While I know, at times, it is hard for Ashley, she navigates through the limitation in a mature and healthy way and I am very proud of her.
Now, after a few years under her belt of avoiding foods containing gluten, Ashley and I are glad to share with others how she navigates her meal planning, in the hopes it can be helpful and encouraging to other kids.
Note: some individuals are more sensitive to gluten then others. While we make every effort to avoid cross contamination, she does not suffer symptoms when minute amounts of gluten fall through the cracks. Others may be more sensitive and then not all the advice would be appropriate for them.
Eating a Gluten-Free Diet
There are so many meals that, by design, don't contain gluten. Before, we all enjoyed a snack of pita and hummus. Now we enjoy the hummus with carrots, zucchini, or cucumber.
Of course, all fruits and vegetables are gluten-free, so those snacks hold more appeal now.
Hamburgers and hot dogs are enjoyed with a little ketchup, a slice of tomato, and buns offered as an option to those that request it.
Gluten-Free Products
In terms of the products that have been adapted to exclude gluten, it has taken a bit of trial and error. Anyone who knows me knows I do not like to waste food. But, when Ashley was diagnosed, I made a promise to her that I was not going to force her to eat something that was unpalatable, even if it meant throwing something away. (I have to try everything, too.)
We went through a lot of food, but we have found many foods that are not just palatable, but even preferable to the products with gluten.
Below is a sampling of some of the products we buy regularly and some of the little changes I have made to both accommodate Ashley and limit becoming a short order cook for the family by making one meal for everyone:
DeBoles makes many corn based pasta products that our entire family prefers to the flour based pasta
Glutino Bagel Chips (some Glutino products are more flavorful than others)
Bisquick – our family prefers the gluten-free product to the original and Ashley loves it when I make waffles for her, which was one of her favorites pre-diagnosis.
Bell and Evans chicken nuggets are not only superior to any nugget from a fast food establishment, but, made with hormone and antibiotic-free, vegetarian fed chickens.
One thing Ashley has really missed is Goldfish, but we recently found that Van's Say Cheese (affiliate) fills that void.
While the majority of these products are available by ordering through a website, I prefer to ask my local grocery store to carry them. We now have multiple choices among the grocery stores in the area and the more of us that band together to support those local grocers that provide these types of products, the better for the consumer and grocer alike.
Cooking for a Gluten-Free Diet
When cooking, we are able to adapt almost all of The Scramble recipes. Some of the staples we now have in the house to use as substitutes, include:
Breading or stuffing: Rice Chex, Glutino Gluten-Free Panko, or I make my own bread crumbs with Against the Grain Gluten-Free Bread.
Flour: Bob's Red Mill products including Almond or Gluten-Free All Purpose Flour
Soy Sauce: San-J Gluten Free
So, while we might have to look at ingredient labels much more carefully than a family with no dietary restrictions, in today's marketplace, we have found that there are usually more options available than limits.
If you have any gluten-free products that you or your family enjoys, I'd love to hear about them below or on The Scramble Facebook page.
You might enjoy this gluten-free recipe: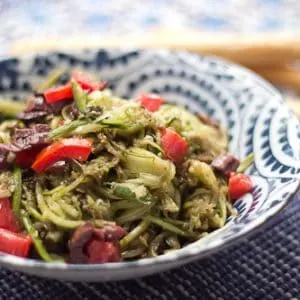 Raw Zucchini Noodles with Pesto, White Beans, and Tomatoes
Scramble recipe tester Kathryn Howell Dalton said that her 4-year-old son "is a pretty good veggie eater but the man just does not care for zucchini. Knowing this, I didn't load his plate tonight. Two seconds into dinner, though, it was gone! I asked for his feedback and he just mumbled, 'So good. I need some more.'"
Ingredients
2 - 3

cups

zucchini

(6 total)

15

oz.

canned white beans

drained and rinsed

1/2

cup

pesto sauce

1/2

cup

pitted kalamata olives

chopped

1

cup

cherry tomatoes

quartered (about 1/2 pint)

2

Tbsp.

pine nuts

toasted, if desired
Instructions
Using a spiral vegetable slicer, a food processor, a mandolin or the longest hole on the side of a box grater, shred the zucchini lengthwise into long thin strips. If using a spiral vegetable slicer, run a knife a couple of times across the long strips of zucchini so they are easier to eat. (If you did not use a spiral vegetable slicer and the zucchini seems a little moist, transfer it to a colander, sprinkle it with ¼-1/2 tsp. salt, and let the zucchini drain for 15 – 20 minutes, gently pressing the liquid out occasionally.)

Transfer the zucchini noodles to a serving bowl, add the beans and pesto, and toss it thoroughly.

Sprinkle the olives, tomatoes and pine nuts on top, and serve it immediately.
Notes
Do Ahead or Delegate: Shred the zucchini and drain it if necessary, chop the olives, quarter the tomatoes, toast the pine nuts if desired, or fully prepare and refrigerate the dish.
Scramble Flavor Booster: Top the zucchini noodles with freshly grated Parmesan cheese and freshly ground black pepper.
To make your own pesto, combine 2 cups tightly packed fresh basil leaves (or use combination of basil, parsley and mint), 2 chopped garlic cloves, 2 Tbsp. pine nuts, 1/2 cup olive oil, 1/2 cup grated Parmesan cheese, 1/2 tsp. salt, 1/4 tsp. pepper and the juice of 1/2 lemon in a food processor or blender and blend until coarsely chopped or smooth, depending on your preference.
Nutritional Information Per Serving (% based upon daily values): Calories 252, Total Fat: 18g, 27%; Saturated Fat: 2g, 9.5%; Cholesterol: 2mg, 0.5%; Sodium: 530mg, 22%; Total Carbohydrate: 20g, 6.5%; Dietary Fiber: 5g, 19%; Sugar: 5g; Protein: 8g
Like this recipe? Check out The Scramble's family-friendly meal plans to see just how simple getting dinner on the table can be!