We all know that it's valuable but these family dinner statistics highlight the importance of sharing a meal together, even just a few times a week.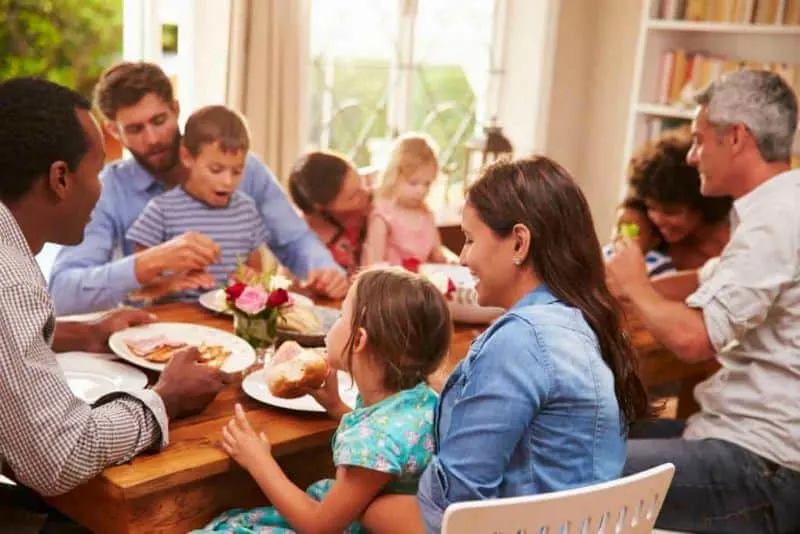 Why is family dinner so important?
We've all heard it before: family dinner is important. It is valuable for deepening family connection, hearing about each other's days, and enjoying some quiet time together.
And while we know this to be true, making regular meals together a reality can be challenging. In fact, in a recent study, 84% of parents agreed that family meals were important, but only 50% of family dinners were eaten together. What is more, another study found that the average American only has three dinners a week with their families.
In order to help you to better understand the challenges as well as the benefits of family dinners, we have pulled together some family dinner statistics that will show you why carving out the time together for even a few meals a week can make such a difference.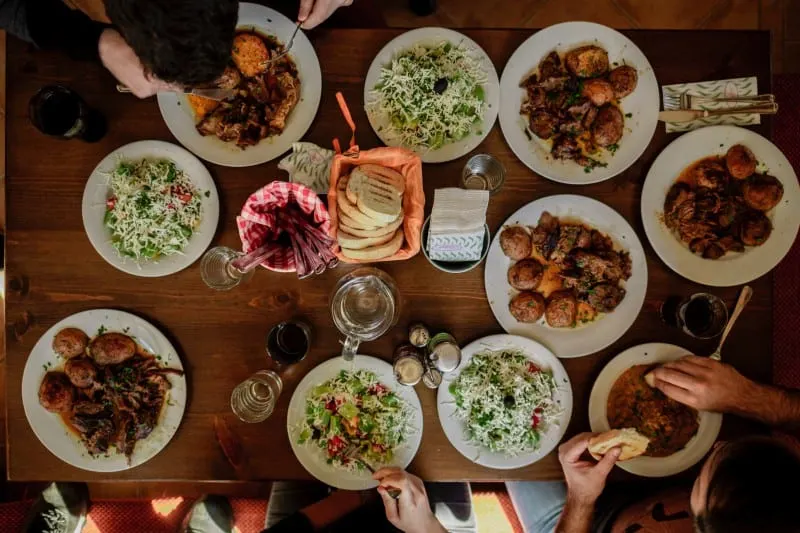 Family meals have changed…
First, it is important to recognize the reality of our world and how things have changed. These family dinner statistics highlight what that means and what it looks like.
Fewer meals together: In the past 20 years, the frequency of family dinners has declined 33 percent. In addition, a recent poll by YouGov found that 62% of parents with children under 18 wish they had family dinners "much more often" or "somewhat more often."
More Prepared Food
According to a recent study, Americans now spend a higher percentage of their food budget on restaurants (50.3%) than they do on groceries (49.7%).
97 percent of the children's restaurant meals studied by the Center for Science in the Public Interest did not meet the expert nutrition standards for children's meals.
Less than one-fourth of family dinners include a full serving of vegetables, according to a recent survey by Birds Eye.
Fewer Meals at Home
In 1970, Americans spent 26 percent of their food budget on eating out; by 2010, that number had risen to 41 percent. During that time, rates of obesity in the United States more than doubled.
A poll by NPR, the Robert Wood Johnson Foundation, and the Harvard School of Public Health found that:

Busy family schedules are cutting into family dinners together—46 percent of those surveyed said eating together is difficult to do on a regular basis.
Fewer than half the parents surveyed admitted that they had eaten together six or seven nights out of the previous week.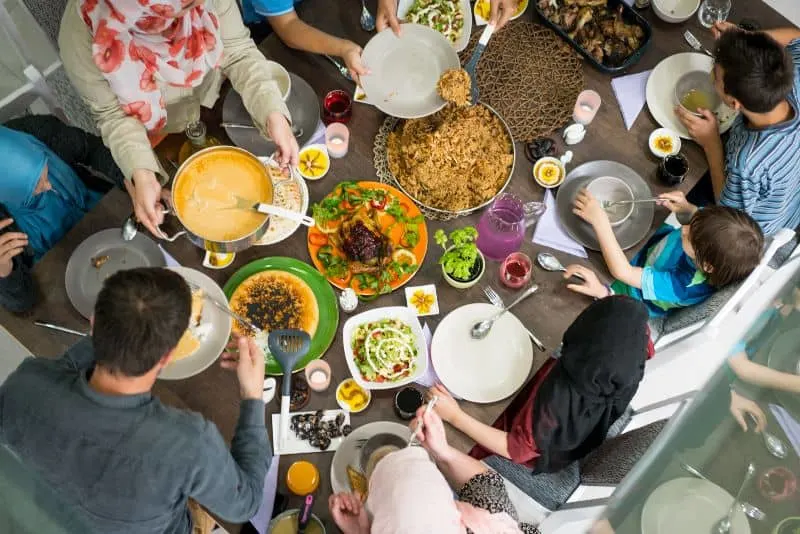 …But research shows that dining together is more important than you might think!
Just because things have changed, though, doesn't meant that the value of meals together has diminished, as these potent family dinner statistics highlight.
According to The National Center on Addiction and Substance Abuse at Columbia University, kids and teens who share family dinners three or more times per week:
Are less likely to be overweight
Are more likely to eat healthy food
Perform better academically
Are less likely to engage in risky behaviors (drugs, alcohol, sexual activity)
Have better relationships with their parents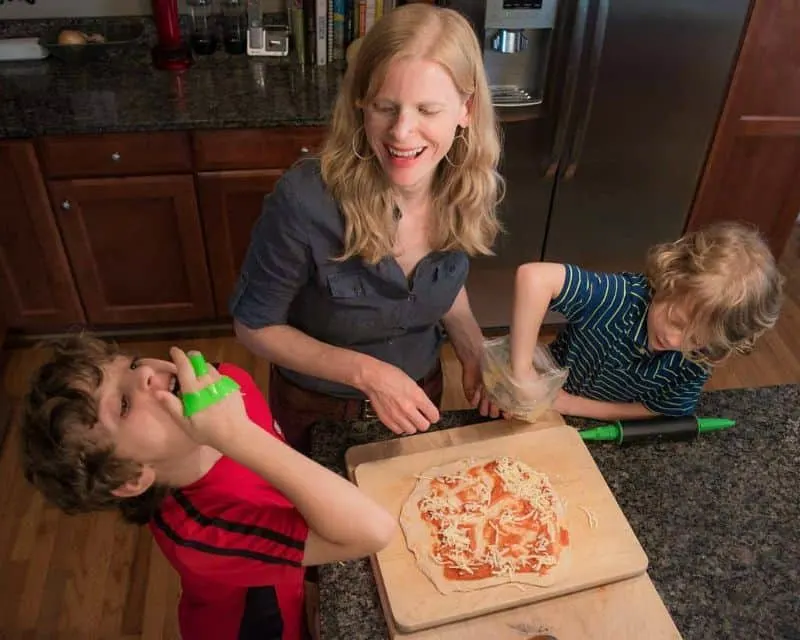 Family Dinners Are Good for Our Kids' Emotional Health
What is more, "more frequent family dinners are related to fewer emotional and behavioral problems, greater emotional well-being, more trusting and helpful behaviors towards others and higher life satisfaction." –Journal of Adolescent Health, April 2012.
Children and teens also love the connection. For instance, 24 percent of teens reported wanting more frequent family dinners.
Family Dinners Are Good for Our Kids' Physical Health
Family dinners also teach our children how to have a healthy and happy relationship with food. According to the American College of Pediatricians, children and adolescents who share family meals three or more times per week are more likely to be in a normal weight range and have healthier dietary and eating patterns than those don't.
It can also help us all to eat more healthfully. Families who eat dinner together with the television off eat more fruits and vegetables than those who eat separately or with the television on, according to a study in the Journal of the American Dietetic Association.
And my personal favorite: People think you are a better cook—and a better person—if you serve vegetables at dinner, according to the Cornell University Food and Brand Lab.
In short, the more family dinners you share, the greater the benefits for children and teens!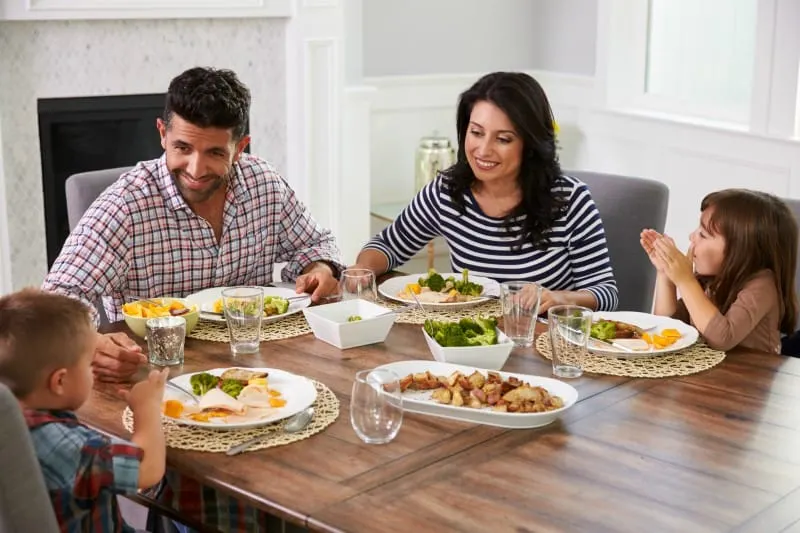 We asked families what they thought. They said…
It's very important for families to eat dinner together regularly (89.9 percent said so!)
The typical family dinner lasts 15-30 minutes.
The major culprits preventing families from sharing dinner more often: a lack of time and managing picky eaters.
Yes you can…
With The Scramble's family-friendly meal plans, we make it possible to:
Enjoy less stress with a week of dinners planned for you.
Prepare dishes even the pickiest eaters will love in under 30 minutes.
Save money and time with an organized grocery list.
Let us help you make family dinners a reality in your house
Want some easy dinner inspiration? Check out some of our resources including tips on how to liven up steamed rice and 15 toppings for baked potatoes to see how simple staples can become a full and delicious meal!