The Scramble's staples list will help you to make sure you have a well-stocked kitchen and are never stuck wondering what to make for dinner.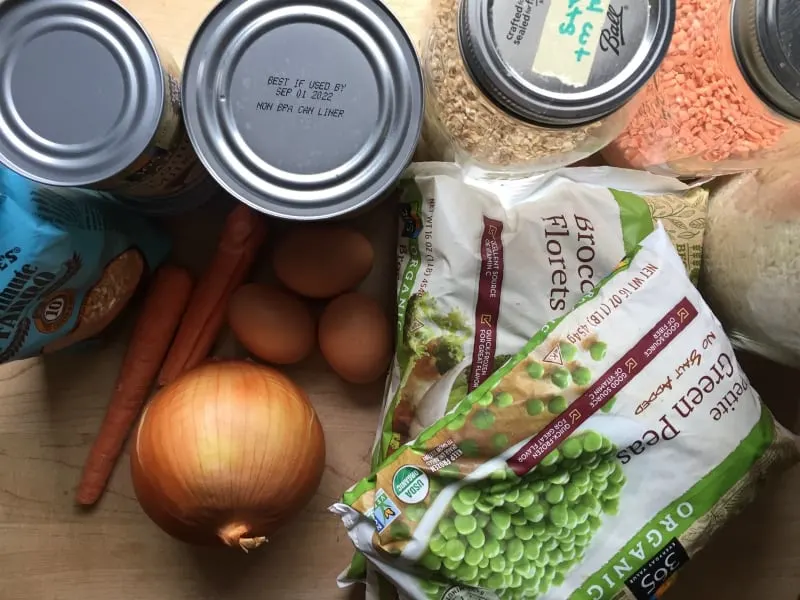 Have you ever opened your pantry or fridge and thought, "what on earth can I make tonight?" You are not alone! One of my favorite tricks to avoid that paralysis is a well-stocked pantry.
To help you with this, I am sharing my secret to a well-stocked kitchen: The Scramble's staples list. Having these basics will allow you to follow numerous Scramble recipes just from what you have in the house and also to improvise as you become a more confident cook!
The Well-Stocked Kitchen: The Scramble Staples List
There are a number of ways that The Scramble's staples list and a well-stocked kitchen can help you:
You can take advantage of sales or bulk purchases on these commonly used items.
A well-stocked freezer can save you money. Frozen fish, chicken, and vegetables often have the same nutritional value as fresh but are less expensive and can be stored longer with less waste. I have included these items in the event you have extra freezer space.
Your grocery trips each week should be even faster. When you are well-stocked with staples, you can focus your weekly shops mainly on fresh produce, meats, and dairy.
With a well-stocked pantry, you can more easily pull together an extra meal or two (The Sixth Night Scramble) with unused ingredients in your refrigerator from the week's meals (The Scramble's recipe database can help!).
Depending on the size of your kitchen and pantry you can stock up on the following items. Those items marked with an asterisk (*) are used especially frequently in Scramble recipes and are great candidates for bulk purchase.
★ Get a printable version of The Scramble's Pantry Staples List FREE! ★
Simple Meals from a Well-Stocked Kitchen
If you are still skeptical that stocking your kitchen with staples is worth the effort, here are some examples of dishes you can make purely from The Scramble's staples list.
Fried rice made with rice, eggs, ground meat, onions, and frozen vegetables and/or carrots.
Pasta with a quick skillet sauce (or jarred sauce) and pre-cooked sausage (if desired).
Omelet or frittata with frozen vegetables and left over cooked grains.
Bean and rice bowls with sauteed frozen vegetables and salsa.
Pantry Staples
Oils: olive oil*, vegetable or canola oil*, peanut oil, sesame oil, nonstick cooking spray*, butter or margarine*
Vinegars: red wine vinegar, rice vinegar, balsamic vinegar*
Sweeteners: white and brown sugar, honey, pure maple syrup
Wines: rice wine, white cooking wine, red cooking wine, dry sherry
Bread crumbs: regular and/or panko
Flours: all purpose, whole wheat, cornmeal
Grains: white or brown rice*, quinoa, couscous, wild rice
Pasta: regular or whole grain, variety of shapes*
Broth: reduced-sodium chicken or vegetable broth*
Pasta sauces: store-bought or homemade red pasta sauce*
Canned tomatoes: 28 or 15 oz., diced*, fire-roasted, crushed, whole
Canned beans: black*, kidney*, cannellini, and/or pinto* beans
Nuts: pine nuts, walnuts*, slivered almonds, walnuts, pecans (Tip: store in the freezer as this will preserve their natural oils for longer)
★ Get a printable version of The Scramble's Pantry Staples List FREE! ★
Produce Staples
Onions: yellow are the most often needed, but also consider red and/or sweet*
Garlic: heads of garlic will last for weeks or even months* (or buy the pre-minced jarred variety)
Carrots: great for snacking, but also often included in sauces, stews, and stir fries
Celery: a great aromatic for sauces, soups, and stews
Fridge Staples
Eggs: helpful for omelets and frittatas, as well as baking
Butter or margarine
Milk: Dairy or your favorite milk alternative
Spices
Basil: used often in Mediterranean cuisine, great for sauces and stews, as well as salad dressings
Bay leaves: an aromatic often used in sauces and stews
Black pepper*: whole or pre-ground
Chili powder*: used often in Mexican and Tex-Mex dishes, also great on popcorn
Cinnamon: used in baking, stews, and sauces
Crushed red pepper flakes: a nice hit of heat to add to pasta sauces, pizza, salads, and more
Cumin: used frequently in Mexican, Tex-Mex, and Indian cuisine
Curry powder: used in Indian cuisine such as curries
Garlic powder*: a helpful, quick alternative for garlic
Oregano: frequently used in Mediterranean dishes, great in sauces, stews, salad dressing, and on pizza
Rosemary: wonderful in meat-based dishes, as well as Mediterranean dishes
Salt*: table, Kosher, sea salt
Thyme: used in lots of Mediterranean dishes
★ Get a printable version of The Scramble's Pantry Staples List FREE! ★
Freezer Staples
Frozen vegetables: broccoli, spinach, peas, edamame, corn, etc.
Salmon: preferably wild, divided into 1 – 1 1/2 lb. packages
Firm white fish fillets: such as tilapia, cod, flounder divided into 1 – 1 1/2 lb. packages
Peeled and deveined shrimp: 1 lb. packages are great
Boneless chicken (white or dark meat): divided in 1 lb. packages
Ground meat or meatless crumbles: turkey, chicken, beef, or meatless crumbles, divided into 1 lb. packages
Pre-cooked turkey, chicken, or vegetarian sausage: sweet or spicy
Bread: yes, bread freezes well
Condiment Staples
Salad dressing: vinaigrette is our favorite (or you can make your own)*
Dijon mustard: great for adding a kick to a dish, also helpful in making your own salad dressing
Ketchup and barbecue sauce: a helpful condiment to have on hand, especially for kids
Mayonnaise: great on sandwiches, but also helpful in dips
Asian sauces: reduced-sodium soy sauce*, hoisin sauce
Salsa*: mild, medium, or hot, depending on your preference. Look for ones without added sugar.
Hot sauce: Tabasco, sriracha
Olives: great for salads and also to add a salty kick to stews, sauces, and casseroles
Capers: wonderful with fish, such as salmon
Do you have favorite staples that you would add to the list? I'd love to hear about them in the comments!
★ Get a printable version of The Scramble's Pantry Staples List FREE! ★
Want more cooking inspiration? Check out our tips on how to make daily cooking easy and my secret to meal planning success.