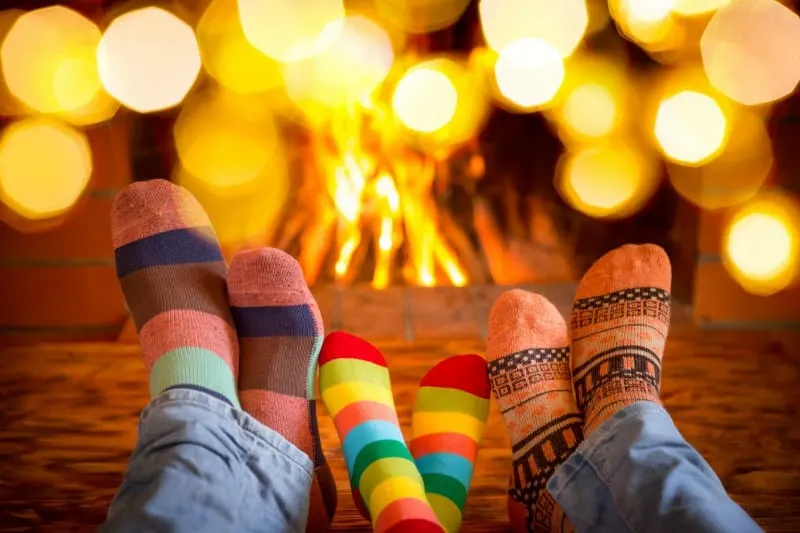 Note: This page contains affiliate links. If you purchase a product through these links, your cost will be the same but The Scramble will receive a small commission. I only link to products I personally use, trust, and love. If you want to learn more, please check out my disclosure page. Thanks for your support!
As with so many things this year, the holiday season is going to be unlike any we have had before. For many of us, the question of how to celebrate with family, while still keeping everyone healthy and safe is a complicated and difficult one.
In order to help you through these difficult times, I have put together ideas of fun and meaningful ways to celebrate the holidays safely this year, both in person and online.
Last week, I shared different ways to make the holiday cooking successful. This week, I am turning my focus to the inter-personal connections that we all crave and miss. So, I have put together a collection of fun and meaningful ways to celebrate the holidays safely, both in person and online. (And make sure to check out our guest post about how to set up family history interviews over Zoom!)
Safety First
There are some of really good articles out there that have advice about whether or not an indoors, in-person family gathering is right for your family and, if so, what precautions (testing, quarantining, etc.) you should take. Here is a great list of concrete suggestions by Meridian Health, and a piece on NPR, all about this topic.
A Note on Patience, Empathy, and Guidelines
As with so many aspects of navigating these strange times we are living in, there is a good chance that you have family members who have different levels of risk tolerance than you do. Therefore, I would encourage you to start with a conversation about guidelines for the gathering.
While this may be frustrating, it is important to remember that we are doing this so that everyone can be together as safely and happily as possible. So, as a general rule, before even beginning to discuss the guidelines that everyone will go by, I would encourage the family to agree to honoring the wishes of the person who is the most nervous about virus spread. That way you can be sure that everyone feels safe and included.
Questions you might want to consider are:
Will everyone get tested beforehand?
Will everyone quarantine beforehand?
Will everyone wear masks when not eating?
Will everyone stay 6-feet apart?
Are there other questions or issues about safety anyone wants to review?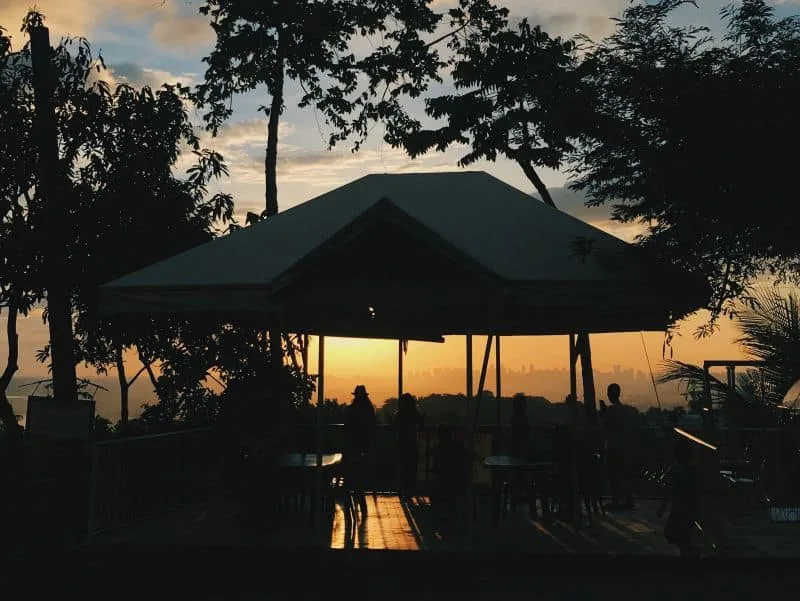 In-Person Family Gatherings for the Holidays
For families that live near (or near enough) to each other, but still don't feel comfortable gathering indoors, I wanted to offer some fun ways that you could have lovely outdoor gatherings.
Gather Under a Tent for a Meal
If you'd like to share a full meal together, just not inside, so that you can be more safely physically-distanced, a canopy tent could be a great option. Canopy tents are larger footprint tents that have open sides, which means air will circulate more freely, while still offering protection from the elements.
You can purchase a tent (this looks like a great one for small gatherings, while this one might work for more people (affiliate links)). Before you invest in such a purchase, unless you know you will use it again, I recommend asking around to see if anyone you know has one you could borrow. I have friends who have them for sporting events, camping, and more. Similarly, if any family member has a car port outside of their house, this could be another, free, option that would still have the air circulation you need.
Table Set Up
There are a couple of ways that you could set up tables underneath a canopy. You could have one, long table with people spaced out or you could set up individual tables for each family unit. Card tables would be great for this option.
You will also want to touch base with everyone about place settings. Do people feel comfortable using regular dinnerware or would disposable or brought-from-home make people feel more comfortable?
Decorate!
So that the tent feels like a joyful place to celebrate the holidays, consider decorating it. You could use holiday lights, Christmas or Hanukkah decorations, or you could set the kids to work and have them make decorations such as paper chains and snowflakes.
Staying Warm
If you will be outside in colder temperatures, then a patio heater (affiliate) can be used on decks, patios, and in backyards. If you choose to go this route along with a tent, then please make sure you get a set up that will be safe in terms of fires, or get tabletop versions (affiliate) of these heaters.
Another cozy option would be to provide each person with a throw blanket. You can get fleece ones relatively inexpensively at places like Ikea. And if you wanted to get super cozy and thoughtful, you could even pair the blankets with fingerless gloves (affiliate) that make it possible for folks to keep their hands warm while they eat. You could then place these goodies on each person's chair, so that when they arrive, they find a nice gift.
The Food
While you can serve your traditional holiday meal under a tent outside, if family members are nervous about sharing dishes, then everyone can bring their own food. Or if you want ideas on how to change things up this year, check out our cooking for the holidays suggestions.
Appetizers-Only
If sitting down to a full meal or setting up tables and place settings feels like too much or too crowded, you could have an appetizers-only get together. You can share small bites while you enjoy time together and then return home to full meals (or just fill your bellies on the appetizers). For easy appetizer ideas, make sure to check out my 25+ holiday appetizers post.
Just Dessert
The CDC recommends limiting the amount of time we gather. So, if you want to limit your exposure risk or if a full meal outside feels like too much, then how about just dessert? You could do this under a tent, as described above, or just on a back porch or in a yard, all six or more feet from one another.
Other Outdoor Options
While getting together for a meal is the most traditional way of celebrating the holidays, it is not the only way that family can gather together. Here are some other fun options that could create lasting memories and maybe even launch new traditions.
Fire Pit Fun
There is a reason that we feel drawn to sit near fireplaces—the hearth is the traditional heart of a home. It is our natural instinct to gather around fire, to have it as a soothing and welcoming centerpiece for gatherings. So why not take advantage of that natural human instinct and bring it into your holiday celebrations by gathering around an outdoor fire pit?
This year, to celebrate Halloween outdoors with some friends, my family purchased this fire pit (affiliate) and are so glad we did! It was a lovely way to gather with friends, at a safe distance, with brisk fall temperatures all around us.
Some ways you could make time around a fire pit special include:
Make s'mores
Set up a table with a crockpot of warm hot chocolate, cider, or mulled wine (for the grown-ups)
Read holiday stories aloud
Tell ghost stories
Have a sing-along (holiday-themed!), although you may want to wear masks for this to stay super safe
Make wishes for the coming year, write them on slips of paper, and then place them in the fire to send up in to the heavens
List the things you are ready to leave behind in 2020 and then place it in the fire to let them all go
A Family Walk or Hike
This is a tradition my family enjoys every year, even pre-pandemic. On Christmas morning, after gifts have been opened and brunch has been enjoyed, we all bundle up and head out for a long family walk. The brisk air and exercise always feel so good. (This will also be a great way to give your pandemic puppy some exercise on an already busy day!)
If you wanted to make it especially festive, you could bring along travel mugs of warm drinks like cocoa, cider, or adult beverages.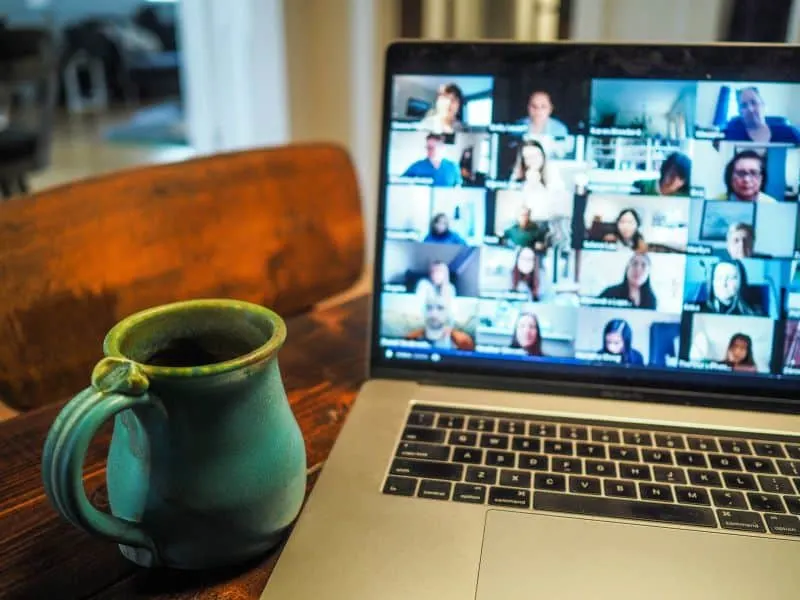 Online Family Gatherings for the Holidays
But what if you live far from your family and aren't able to safely travel? Or what if your family includes members who are too high risk to gather in person? Then I've got some great online ideas to help you make this a memorable and meaningful holiday season!
At this point, most of us are familiar with Zoom/Google Meet/Skype for work meetings, as well as for social gatherings, but how can you make them really special? How do you make it more than just another meeting?
Build the Excitement
My friend Marissa Sams, of Marissa Sams Events, recommends building the excitement about the gathering through invitations and goodie boxes.
Invitations
You can use an electronic invitation system such as Paperless Post or even send real paper invitations to the online family gathering. This will add a sense of novelty and anticipation that will bring joy this different way of gathering.
Goodie Boxes
In order to have a shared, common experience, Marissa suggests assigning one person the task of organizing and sending out goodie boxes for everyone to enjoy together. Options here include:
Centerpiece items for the table
Hand-decorated place cards
A unique Christmas tree ornament or Hanukkah decoration
Spices everyone can cook with
Bottles of champagne
Special sweets or other delicacies (either homemade or purchased)
Not only do these goodie boxes mean that you will all share a communal experience, but the arrival of the boxes will also bring joy, excitement, and anticipation to the day.
Set Up for Success
My friend Terri Holley, of Holley Creative, a website designer and marketing specialist saw an opportunity at the start of the pandemic and started hosting large zoom parties for her community and beyond. For her, clarity on platform usage is key to a successful gathering.
Terri recommends making sure that everyone, but especially older family members, are comfortable on the platform. She even suggests offering to do a practice run for those who might need it.
Terri also recommends reminding everyone to mute when they aren't talking so that the noise doesn't get overwhelming. Finally, she advises setting a password so that no one crashes your family event.
A Zoom Meal
If you have decided to share a meal together as a family, there are certain ways that you can set it up to be meaningful and inclusive of everyone on the call.
Same Food, Different Locations
One way to have a common experience is to eat the same dishes, or at least some of the same dishes. Is there a family recipe for a special dish? Have everyone make it! You could even have an online cooking together session (see my holiday cooking post for tips on this).
Computer Placement
Ideally, you want everyone to be able to see everyone. To do this, I recommend setting a laptop computer up at the head (or foot) of the table as that will give the best view of everyone who is at the table. (Computer safety note: please make sure to keep all liquids far away from your laptop!)
A Meal Activity
Conversation over zoom, while eating, might be a bit chaotic (although, let's be honest, in-person big family meals are chaotic, too). One way to streamline things a bit is to have an activity. Some nice options around the holidays include:
Sharing gratitude. Have everyone take turns sharing things that they are grateful for this year.
Rose, Bud, Thorn. Have everyone take turns sharing a rose (something that made them happy), a bud (some way they hope they will grow), and a thorn (something that was challenging this year).
Favorite memories. Use this as an opportunity to focus on asking your older family members to share stories from their childhood or family history (stay tuned for an upcoming guest post on how to use this year to interview family members!)
Check out our family dinner games post for more ideas.
Skip the Meal, Play Some Games
If eating on a large video call doesn't sound like fun to you, then how about some fun games instead? Here are some that Terri suggested that I have tweaked for holiday celebrations:
Use the polling tool on your meeting platform to ask funny holiday-related or family trivia questions.
Name that place. Share pictures from favorite family-related places (vacation spots, family walk locations, Grandpa's recliner, etc.) and have everyone guess. The first person to type the correct answer into the chat gets a prize.
Word scramble. Share a holiday or family-themed word. Then, two people have 1 – 2 minutes to find as many other words as they can within that word. Take turns having people (of roughly the same age) compete against each other. The person who come up with the most words wins.
Name that song. This one requires two computers: one for playing the music and another for facilitating. Play snippets of favorite holiday or family songs and have people write down what they thing each song is. Whoever gets the most songs right wins.
Have a dance party. Have one person be the DJ and everyone can dance together. Use holiday songs or just go wild! Silliness encouraged.
Watch a Movie
Most video-streaming platforms now offer a feature called "Watch Party," which is a way for people in different houses to watch a movie or show together. The only catch is that everyone has to have a membership to the platform. Once that is taken care of, you can pick a favorite holiday (or other) family movie to watch together. The watch party platforms have a chat function, but if you want to also verbally chat while it is on, you can set up a zoom call (just make sure to mute yourself when you aren't talking or the feedback will get crazy).
Do you have fun and creative ways to celebrate the holidays with your loved ones this year? Let's keep the sharing going in the comments!