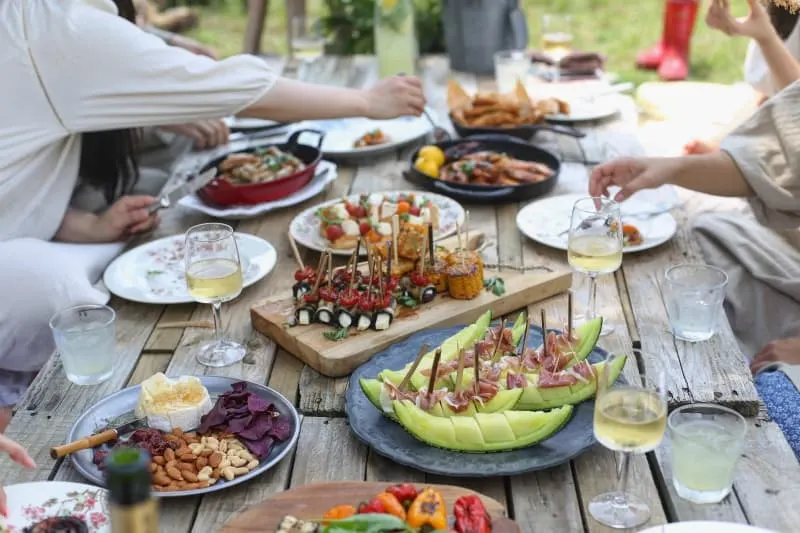 When I recently surveyed Scramblers about what holiday content would be most helpful to them, a number of people shared that one of their favorite holiday traditions was the sharing of various appetizers that could be enjoyed over the course of a number of hours.
As one Scrambler put it, "For Christmas Day 'lunch,' we usually do an appetizer buffet that we leave out throughout the afternoon for everyone to nosh on as they're enjoying their gifts. This usually includes indulgences we don't normally have, such as shrimp cocktail, fancier cheeses, gourmet items, etc. I would love new ideas to add to our appetizer menu (particularly if they are make-ahead or just a few quick ingredients, and/or especially eye-appealing)."
This was a challenge that I happily accepted as I am an avid fan of appetizers, finger foods, and shared dishes that can bring us together.
In putting together this collection of recipes, I wanted to provide dish options that were easy to prepare, varied in taste and texture (I'm a sucker for appetizer spreads with lots and lots of different options), and fun so that they feel like they are adding to your celebration.
All of these easy holiday appetizers would be fantastic for an evening or afternoon with just your family or to bring to a larger holiday gathering.
A couple of notes on how this holiday appetizer menu is organized. I have divided the selections up into a few categories: soups, dips, finger foods, other delights, and something sweet. In addition, I have noted which of these recipes can be made ahead of time to make the day less hectic as well as options that work well in a slow cooker.
I hope that in this holiday appetizer list you will find some options that will brighten your table and add to your celebration.
25+ Easy Holiday Appetizers
Soups
I find that pureed vegetable soups are a wonderful addition to any appetizer spread for two reasons: 1) they provide a nice (and often much needed) dose of vegetables and 2) they are really fun to serve in tiny cups or mugs as shots of soup.
This creamy, rich soup is a classic. If you serve it in shooters, you can top each one with a little minced chives for a festive pop of color. (Make-ahead and slow cooker)
This warming soup offers a lovely balance of savory and sweet and the addition of the crispy sage makes it feel really special. (Make-ahead and slow cooker)
With some sweet and some heat, this creamy soup is absolutely decadent and delicious. (Make-ahead and slow cooker)
I mean, who could argue with a bright red soup for Christmas (or any other celebration)?! (Make-ahead and slow cooker)
Dips
Not only are dips delicious, but when you serve them with whole grain crackers or crostini and/or crudité, you are also providing an opportunity for some healthy noshing.
Cheesy, pizza-y goodness to scoop up with bread. The perfect addition to any celebration.
While it's called a spread, my family enjoys this one even more when we dip carrot and celery sticks in it! (Make-ahead)
A fun spin on an appetizer classic. (Make-ahead)
Probably my favorite dip in the lineup. I love the warming spices and creamy goodness that comes with every bite.
Deanna and Serena over at Teaspoon of Spice have done it again with this healthier version of a creamy, decadent dip.
Finger Foods
From crostinis to yummy bites on sticks, I am a sucker for finger foods. I love that I can grab one as I walk by or create a little (or big) plate with lots of different tastes.
If there aren't deviled eggs, is it even a celebration? An absolute favorite in my house. If you want to change things up a bit, you can also try our Hummus Deviled Eggs. (Make-ahead)
Ever since developing this recipe back in 2017, these super easy crostini have been a must-have every holiday season. They're always a massive hit (just don't tell anyone how healthy they actually are). (You can make the pumpkin puree ahead of time and then just assemble when ready)
All of the deliciousness of buffalo wings, but in the form of roasted cauliflower?! Yup. And it's super delicious.
My favorite thing about these babies is that while they look fancy and taste like you slaved all day, they are actually incredibly easy to make. (These can be made ahead of time and then warmed back up in the oven)
Not only will you be getting some nice, lean protein into everyone, but your kids will be thrilled!
A healthier version of a party classic, these finger-lickin' wings are going to disappear faster than you can believe!
This is another dish that looks complicated but is actually quite simple to prepare. (Make-ahead)
While our recipe doesn't have you put these on a stick, you can absolutely cook them on skewers for easy eating later, or prepare as directed to save time and just let people get their hands a little dirty! 
We love these cute little balls of goodness, especially since we get a nice dose of veggies at the same time! If you aren't a kale fan, check out our Spinach Balls for a different version.
Other Delights
While these may require a small plate and a fork (or for some just a toothpick), they still make wonderful additions to any holiday appetizer table.
Meatballs are always a hit, but these middle eastern-inspired lamb meatballs take it to a whole new level. With a beautiful blend of spices and a tahini-flavored dip on the side, these koftas will be an instant hit. (Make-ahead)
Based on a Hanukkah classic, these babies take potato pancakes to a whole new level and are perfect for any celebration. (These can be made ahead of time and then crisped back up in the oven)
These are a fun alternative to shrimp cocktail and with only three ingredients, it can't get much simpler!
These will add a different flavor profile to the table. If you make these fritters on the smaller side, they can even be skewered with toothpicks. Make sure to serve them with a sweet chili sauce! (These can be made ahead of time and then crisped back up in the oven)
Created by my friend Cassie at Cook It Real Good, these are a fun new spin on fritters. (You can make these ahead of time and then crisp them back up in the oven)
My friend Jenny creates the most amazing seafood recipes and this one is no exception. She's taken the classic but labor-intensive dish, bacon-wrapped scallops, and turned it into a totally doable dish!
Jessica Levinson is at it again with these super cute, super healthy bites! Everyone will be popping these colorful beauties like crazy.
Something Sweet
If you want to add something sweet to your offerings, we've got you covered there as well! Here are some of our favorite, easy sweet treats.
With no added sugar, these little balls of sweetness and spice will bring joy to everyone. (Make-ahead)
You can make this delicious, gluten-free crisp in one big batch or divvy it up into individual ramekins so everyone gets a personalized treat. (Make-ahead)
Want to spread the holiday cheer with some gifts? Check out our edible gift ideas!
Do you have special appetizers you bring out for the holidays? I'd love to hear about them in the comments!