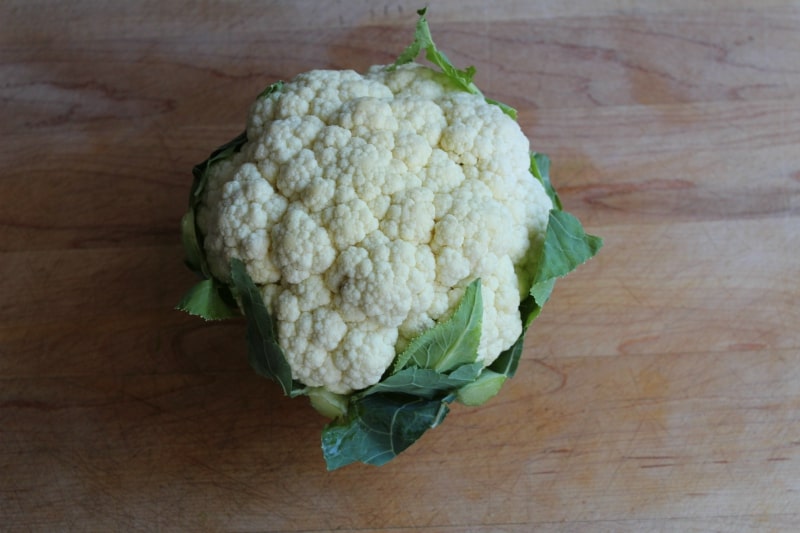 Cauliflower is one of my absolute favorite vegetables (I can honestly eat a whole head by myself in one sitting), but it wasn't always this way. Growing up, we didn't each much cauliflower but when we did it was steamed and boring…until you put the cheese sauce on top.
While I continue to love cauliflower with cheese sauce (I mean, what is there not to love?), I have come to realize that really what you are tasting is the cheese and not the amazing vegetable underneath.
So, in the hopes of helping you to discover the wonderful joy to be found in this lovely vegetable, I wanted to share tips on how to prepare cauliflower and recipes to get you started.
Nutritional Benefits of Cauliflower
Cauliflower is a cruciferous vegetable, which means it is in the same family as broccoli, cabbage, kale, bok choy, and Brussels sprouts, all nutrient-dense, fantastic additions to our diets.
In particular, cauliflower is high in antioxidants such as Vitamin C, K, and manganese which help your body to have a strong immune system, as well as prevent such illnesses as cancer, heart disease, and arthritis.
In addition, it's packed with fiber, which helps to keep things regular and happy in your digestive system, and also helps you to feel full for longer.

How to Prepare a Cauliflower
While you can buy cauliflower already turned into florets or riced (which is a great time saver!), here are some tips to make preparing cauliflower easy.
How to Cut a Cauliflower into Florets

Here is what I have found to be the most efficient way to chop cauliflower florets:
Step 1: Remove the outer leaves.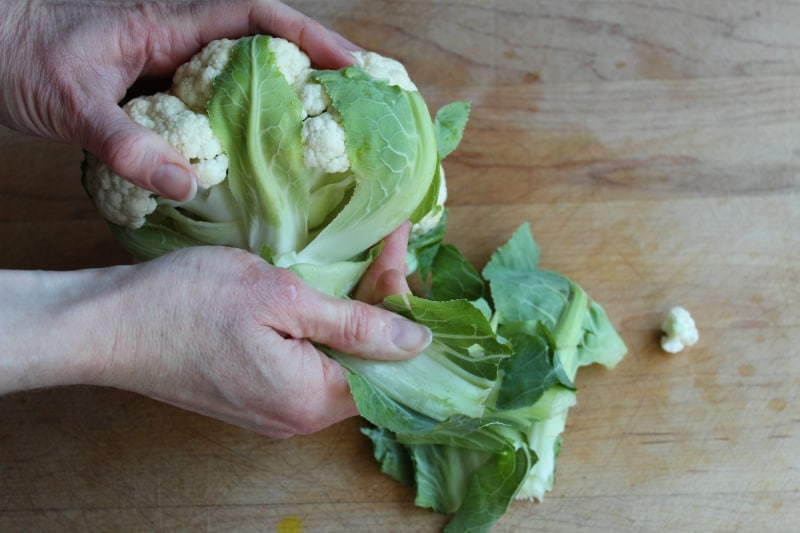 Step 2: Use a chef's knife to cut off the stem so that you get a more or less flat bottom.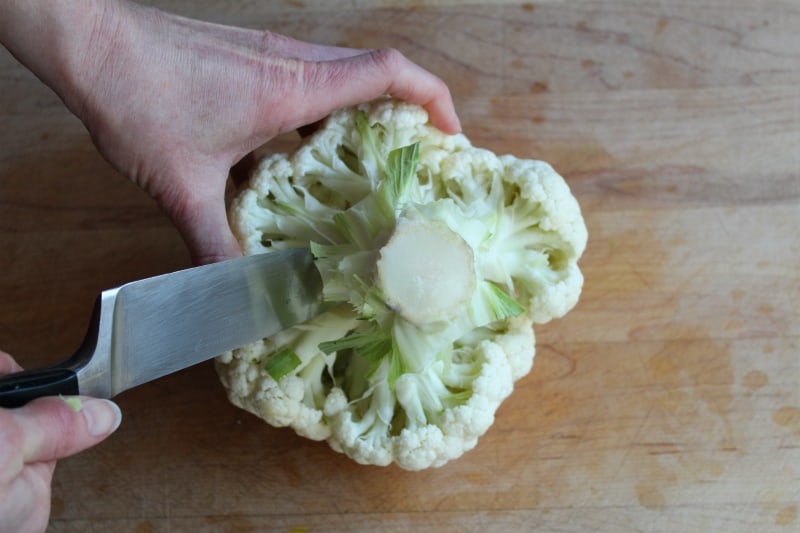 Step 3: Cut the cauliflower in half.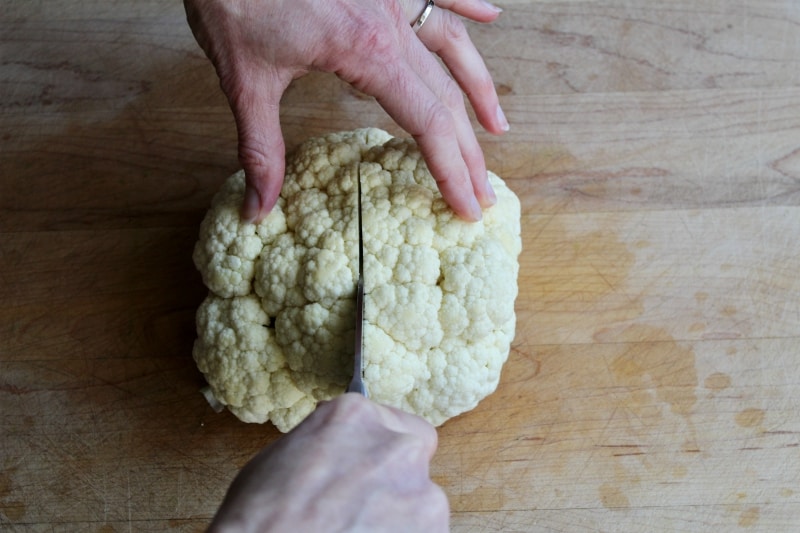 Step 4: Cut each half in half again to form quarters.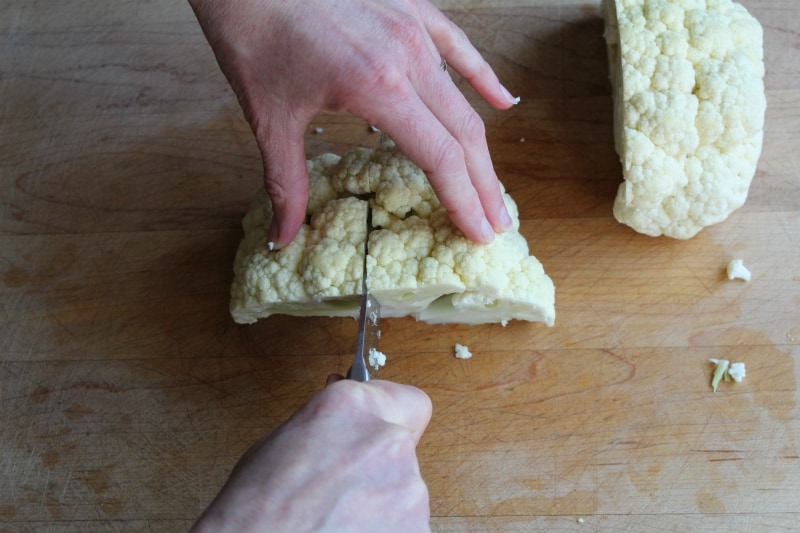 Step 5: Cut off the rest of the stem (I like to save this to dice and add to my florets)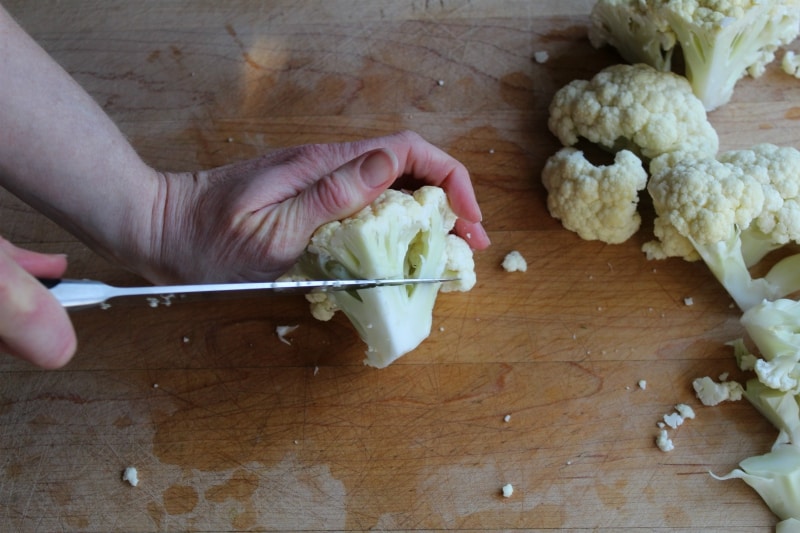 Step 6: Use your fingers to break off florets in the size you want.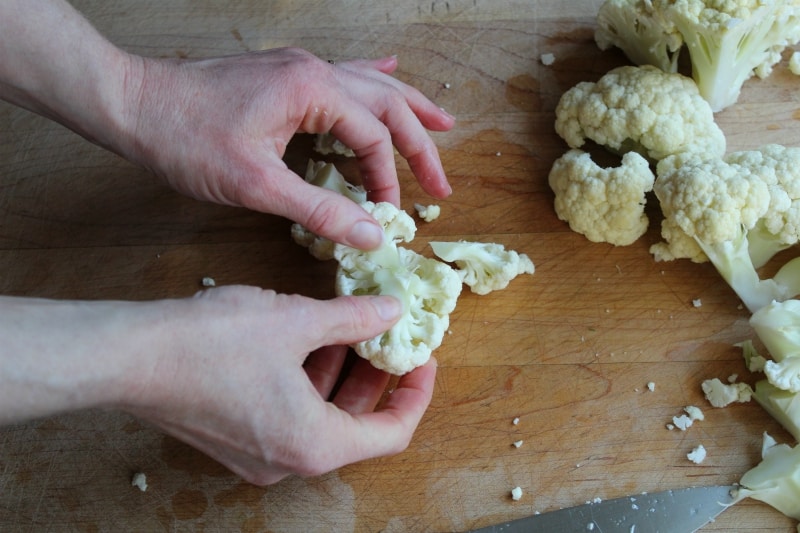 Step 7: If necessary, cut larger florets into smaller ones.
How to Make Cauliflower Rice
Making cauliflower rice couldn't be simpler. There are two ways to make it: in the food processor or with a box grater.
How to Make Cauliflower Rice in the Food Processor
Making cauliflower rice in the food processor is super easy! It only takes 3 steps:
Step 1: Roughly cut up the cauliflower in any way that is easy for you—it doesn't need to be even or pretty.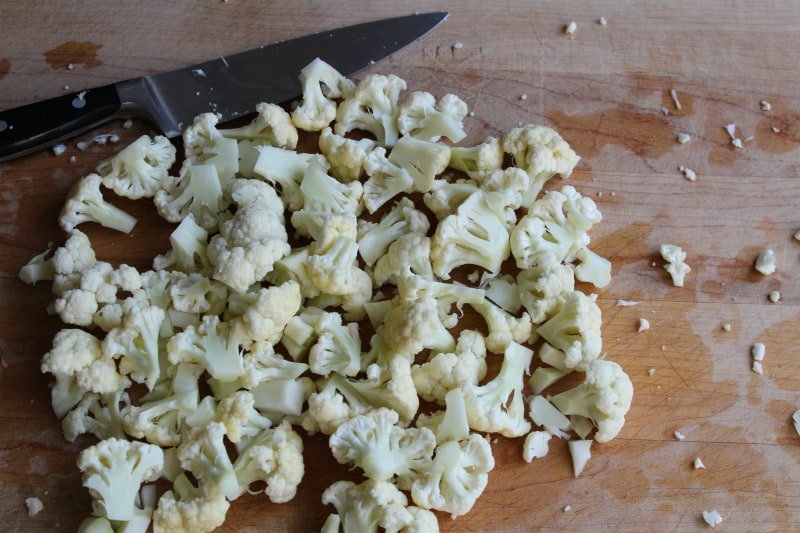 Step 2: Set up your food processor with the grating blade.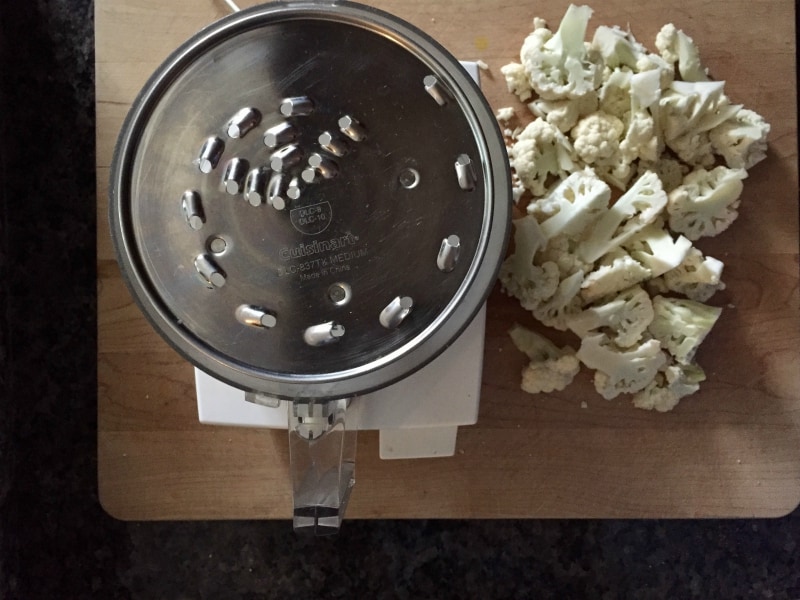 Step 3: Turn on your food processor and feed the cauliflower pieces through the tube.
How to Make Cauliflower Rice Without a Food Processor
If you don't have a food processor or are nervous about using one, you can also easily make cauliflower rice with a box grater. All you do is put your box grater down on its side, take the head of cauliflower, and rub it back and forth over the box grater to shred the cauliflower.

How to Cook Cauliflower
Cauliflower can be roasted, sautéed, steamed, and mashed all to great effect. And even better, none of them are hard to do!
How to Roast Cauliflower
To roast cauliflower, preheat the oven to 450 degrees
Line a baking sheet with parchment paper (this step is optional but makes clean up easier)
Toss the cauliflower in oil (I like using olive or coconut oil), salt, pepper, and any other spices you like (chili powder and garam masala are two of my favorites)
Place it onto the baking sheet and make sure that it is in a single layer (if you need to use two baking sheets, go for it and just rotate them once, half-way through roasting)
Roast for 15 – 20 minutes, or until they the florets are starting to brown
How to Sauté Cauliflower

Sautéeing cauliflower is quick and easy, just heat some olive oil in a large skillet, toss in the cauliflower and sauté it, stirring occasionally until it is fork-tender, about 4 – 5 minutes. If you want to make it more interesting, you can add herbs and/or spices such as thyme, basil, chili powder, garam masala, za'atar, or paprika.
How to Steam Cauliflower
Steamed cauliflower is low in fat and simple to do. Put about 1 inch of water in the bottom of a pot and bring the water to a boil. Place the cauliflower into a steamer basket, sprinkle with salt, place the steamer basket over the boiling water, and cover. Allow to steam for 4 – 8 minutes (the time will depend on the size of your florets), or until tender. Remove from the heat, move to a bowl, and season to taste.
How to Mash Cauliflower
To mash cauliflower, follow the steps described above for steaming cauliflower (you can also add some chopped garlic, if desired), but allow it to steam until the florets are very soft, about 8 – 10 minutes.
Remove the florets to a large bowl, if you are using an immersion blender, or into a blender. Add some sour cream or buttermilk, salt, and pepper, and puree until smooth.
Cauliflower Recipes to Get You Started
Here are some great, easy cauliflower recipes to get you started including our massively popular Veggie Cauliflower Fried Rice (see recipe below)!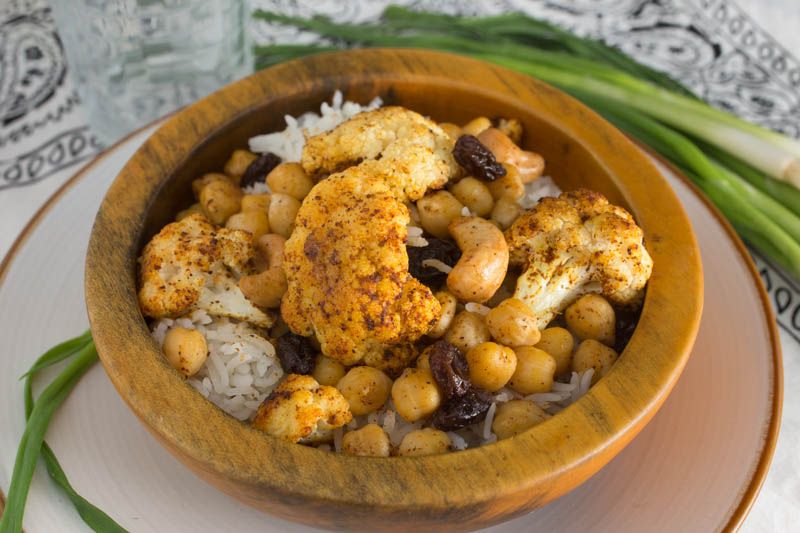 Indian Cauliflower Tossed with Chickpeas and Cashews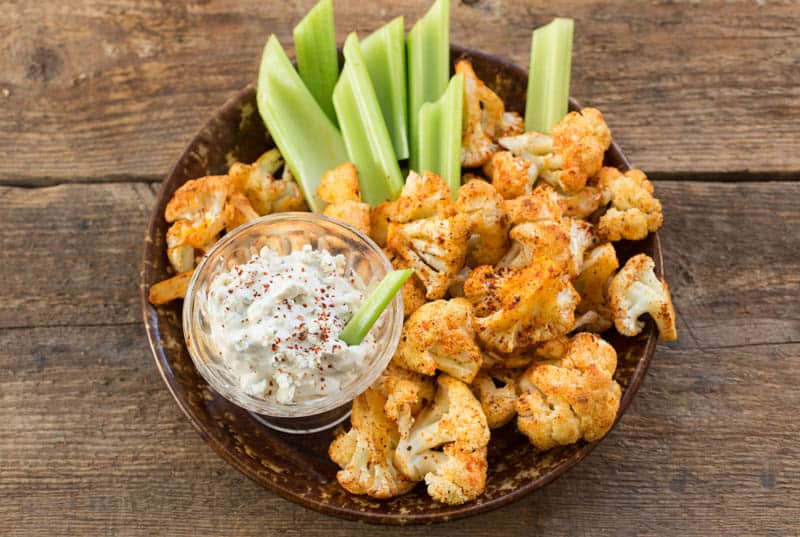 Roasted Cauliflower Buffalo Bites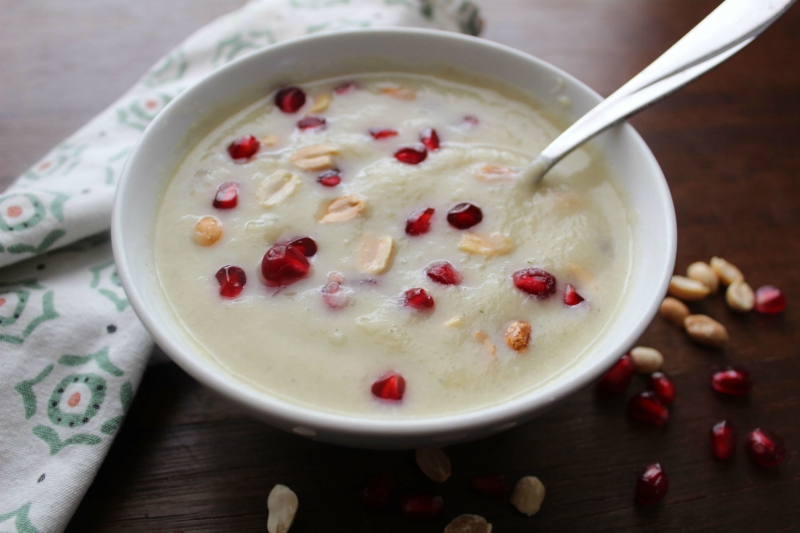 Creamy Cauliflower Soup with Pomegranates and Peanuts
Veggie Cauliflower Fried Rice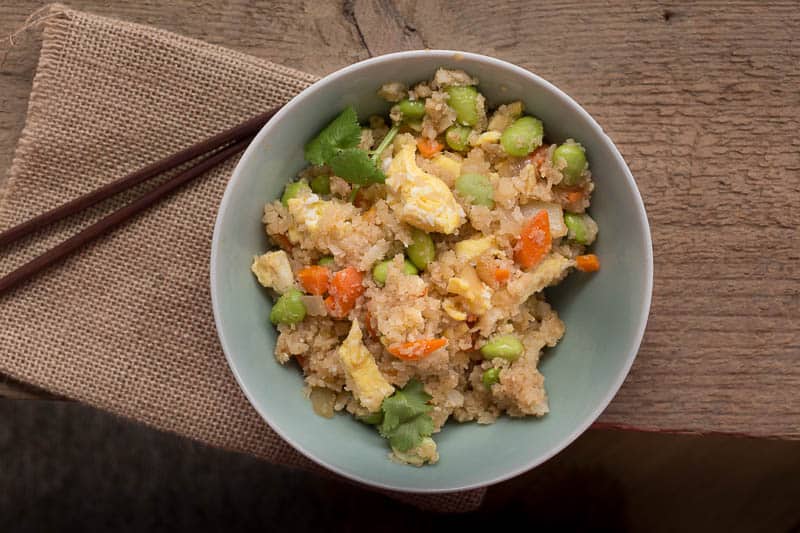 Cauliflower rice has some health benefits over rice—high fiber, concentrated nutrients, and it's low in calorie, low in carbs and is Paleo friendly. You could also sauté a cup or two of cooked diced chicken or peeled shrimp instead of the edamame. My thanks to R.D. Jessica Levinson of Small Bites by Jessica for inspiring the addition of rice vinegar and sriracha to the sauce. "Dana and I couldn't get over that we were eating cauliflower and not rice. It looked and tasted and felt exactly like rice. The flavors and the texture were spot on. The dish was satisfying, filling and tasty. Just right!" according to Scramble recipe tester Amy Stanley.
2

Tbsp

vegetable or canola oil

1/2

yellow onion

finely diced (1 cup)

1

carrot

finely diced

2

cloves

garlic

minced, about 1 tsp.

3

eggs

beaten

1

lb.

riced cauliflower

or 1 head cauliflower grated/riced (see link below for guidance) (4 – 5 cups)

3

Tbsp.

reduced-sodium soy sauce (use wheat/gluten-free if needed)

1

Tbsp.

sriracha

Vietnamese hot sauce

1

Tbsp.

rice vinegar or rice wine vinegar

1

tsp.

sesame oil

1

Tbsp.

orange juice

1

cup

frozen shelled edamame
2

Tbsp

vegetable or canola oil

1/2

yellow onion

finely diced (1 cup)

1

carrot

finely diced

2

cloves

garlic

minced, about 1 tsp.

3

eggs

beaten

1

lb.

riced cauliflower

or 1 head cauliflower grated/riced (see link below for guidance) (4 – 5 cups)

3

Tbsp.

reduced-sodium soy sauce (use wheat/gluten-free if needed)

1

Tbsp.

sriracha

Vietnamese hot sauce

1

Tbsp.

rice vinegar or rice wine vinegar

1

tsp.

sesame oil

1

Tbsp.

orange juice

1

cup

frozen shelled edamame
Heat 1 Tbsp. of the canola oil over medium heat in a large nonstick skillet or wok. When it is hot, add the onions and carrots and sauté them for about 3 minutes until they are starting to get tender. Add the garlic and cook for 1 more minute, then transfer the vegetables to a bowl and set them aside.

Add the eggs to the pan and scramble them for about 2 minutes until they are well cooked, chopping them with a spatula into bite size pieces as they cook. Add them to the bowl with the vegetables.

Add the remaining canola oil to the pan, and when it is hot, add the cauliflower and toss it a bit. Cover it for 2 minutes to let it steam, then remove the cover and continue cooking it for 2 – 3 more minutes, tossing occasionally, until it is tender.

Meanwhile, in a large measuring cup or bowl, combine the soy sauce, sriracha, vinegar, sesame oil and juice to make the sauce.

Add the vegetables, eggs, sauce and edamame to the pan and toss everything together over the heat until the sauce is well distributed. Serve it immediately or refrigerate it for up to 3 days.
Spray the inside of your slow cooker with nonstick cooking spray or coat lightly with oil so the cauliflower will not stick. Whisk together all ingredients except the onions, carrots, cauliflower, and edamame in the slow cooker until well combined. Add the vegetables and mix well. Cook on low for 5 – 6 hours, or on high for 3 hours. (Slow cooker cooking times may vary—Get to know your slow cooker and, if necessary, adjust cooking times accordingly.)
Do Ahead or Delegate: Dice the onion and carrot, peel the garlic, beat and refrigerate the eggs, rice the cauliflower if making your own (see our video for easy tips), make and refrigerate the sauce, steam the edamame, or fully prepare and refrigerate the dish.
Scramble Flavor Booster: Sauté 1 – 3 tsp. of fresh minced ginger with the garlic. Serve it with fresh lime wedges and additional sriracha sauce.
Tip: This is a recipe that you can get really creative with depending upon what you're in the mood for. It would be tasty with add-ins like crushed peanuts or cashews or different vegetables like bell peppers, mushrooms or snow peas.
Video: Watch Jessica make this on Facebook Live.
Nutritional Information Per Serving (% based upon daily values)
Calories 302, Total Fat: 19g, 29%; Saturated Fat: 3g, 13.5%; Cholesterol: 140mg, 46.5%; Sodium: 654mg, 27%; Total Carbohydrate: 20g, 6.5%; Dietary Fiber: 7g, 26%; Sugar: 6g; Protein: 17g
Like this recipe? Check out The Scramble's family-friendly meal plans to see just how simple getting dinner on the table can be!