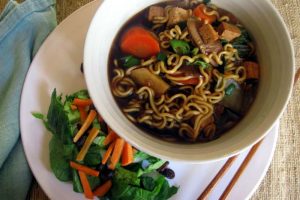 The more I learn from my slow cooker guru and Scramble team member, Marla Kostis, the more amazed I am by how many things can be made in a slow cooker, including baked potatoes, fish fillets and brownies.  Now I understand why so many of you are passionate about this appliance!
Recently I learned that it's also really easy to make your own vegetable broth in the slow cooker for free, rather than buying it at the store.
Here's how you make your own healthy and flavorful vegetable broth in the slow cooker: Marla recommends that you keep a resealable bag in your freezer, and add to it whenever you peel vegetables like carrots, broccoli, celery and beet ends, onions, garlic, eggplant, etc. (any veggies will do).  When you are ready to make stock, put enough of the peels into your slow cooker to fill it roughly 1/4 full, add water to fill, then add a small amount of salt (start with about 1 tsp. for a large slow cooker).  Turn it on low and leave it all day (or night).  Then cool, strain, and freeze the stock in 1 – 2 cup containers, so you can thaw just the amount you need for recipes.
Or, if you prefer to buy bouillon or broth, my favorite brand is Better than Bouillon Organic, with all natural ingredients.