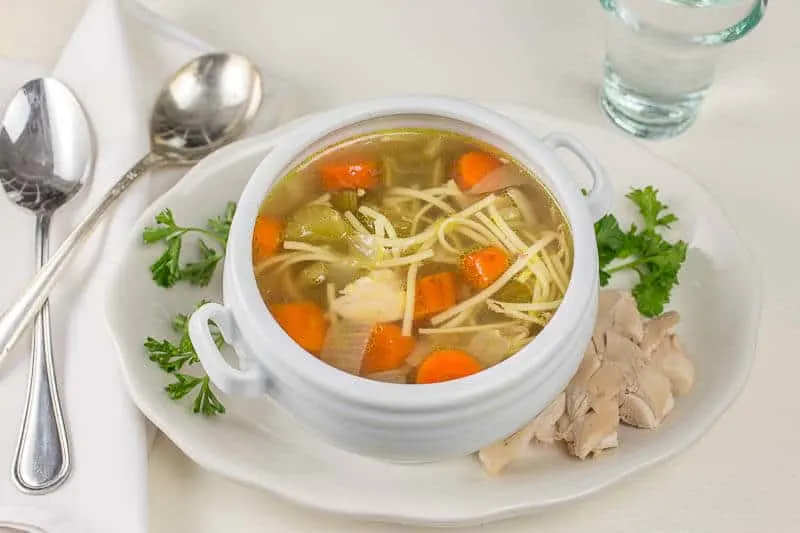 Note: This page contains affiliate links. If you purchase a product through these links, your cost will be the same but The Scramble will receive a small commission. I only link to products I personally use, trust, and love. If you want to learn more, please check out my disclosure page. Thanks for your support!
How wonderful is the idea of walking into your house at 6 PM to be greeted by the mouthwatering aroma of dinner waiting for you?
It doesn't have to be a fantasy! With a slow cooker and a little advanced preparation, this can be your reality several nights a week.
The beauty of a slow cooker is that you can put all the ingredients together in the morning, go off and take care of all the things you need to do during the day – from work to taking care of the kids to getting errands done – while your dinner quietly cooks in the background, filling your home with all those wonderful smells that imply that you've been cooking all day long.
So, to help you make the most of this magical appliance, I put together a collection of my favorite slow cooker tips and tricks.
Slow Cooker Cooking: Beyond Soups and Stews
Whether you are a slow cooker newbie or veteran, I find that there is always more to learn about the slow cooker. When I first started using one, I was really only comfortable making soups and stews. Thanks to my slow cooker guru and Scramble team member, Marla Kostis, my mind has been consistently blown by what is possible in a slow cooker, from roast chicken, to lasagna, to fish fillets.
In addition, I found that it was a lifesaver when it came to making some of my favorite staples such as chicken or vegetable broth and beans.
What's the right size slow cooker for you?
If you are new to slow cookers and contemplating purchasing one (or a second), here are some tips:
1 to 1 ½ -quart: Perfect for one person or dips and sauces.
2 to 3 ½ -quart: Perfect for two adults who don't want too many leftovers.
3 ½ to 4 ½ -quart: Perfect size for two adults who enjoy leftovers or a family of four. Many recipes are designed with this size in mind. This is a great version (affiliate).
4 ½ – 5 ½ -quart: These are great for a family of four that likes to have some leftovers for lunches the next day.
6-quart: If you have a larger family and/or like to double recipes so that you can enjoy leftovers or freeze extras for another night, this is the right size for you. I like this one (affiliate) because it is programmable and can be used on the used on the stovetop, which means you can brown ingredients before starting the cooking process.
8+ -quart: These are for feeding an army. If you like to make giant batches of food for events, you will want one of these giant slow cookers.
Note: I recommend getting a programmable slow cooker because you can then set it up in the morning to start cooking at the ideal time so you don't return home to an overcooked meal.
Slow Cooker Tips and Tricks
Size matters
To work best, slow cookers should be about ½ – ¾ full. If they are less full than that the food may burn. While, on the other hand, if they are more full, they may not cook the food completely or could boil over if filled to the brim.
If your slow cooker is too big for the recipe you plan to use, then you can use an oven-safe bowl placed inside the bowl of your slow cooker.
Spray the bowl with cooking spray
Coating the inside of the ceramic bowl with cooking spray will prevent sticking and make cleanup easier, especially for casseroles and other more solid dishes.
Place hard vegetables at the bottom
Hard vegetables such as carrots, potatoes, and other root vegetables tend to take longer to cook, so place them at the bottom of the slow cooker where the temperature is highest and they have the best chance of absorbing moisture.
Add less liquid
Since slow cooked foods retain their juices, you may find yourself needing to add less liquid than you are used to when cooking by other methods.
Avoid adding frozen food
Unless you are working from a recipe that calls for the addition of frozen food, try to avoid adding frozen ingredients as they will slow down the cooking process considerably and can lead to unsafe conditions.
Choose cheap cuts of meat
Cheaper cuts of meat tend to have a higher fat content, as well as more connective tissue. This means that they benefit from the low and slow cooking which results in a moist and tender dish. This means that these less costly cuts, such as beef brisket, pork/lamb shoulder, and chicken thighs, are perfect for the slow cooker, especially since the leaner cuts risk drying out in a slow cooking process.
Trim the fat
When you cook meat on the stove or in the oven, the higher heat cooks away a lot of the fat. But that is not true for a slow cooker, so try to trim any excess fat off of your meat.
Omit the oil
Because slow cookers cook things slowly, there is less likelihood that the food will scorch. This means that you can almost always omit the oil from a regular recipe that you are adapting to a slow cooker (you will often see this noted in The Scramble's slow cooker directions), which has the added bonus of leading to a lower fat and calorie count.
Browning is up to you
Some slow cooker recipes include a browning step for meat, onions, or other ingredients prior to placing them in the slow cooker. This is because some people say that browning first add additional flavor. In some cases this is true, but to save time and effort you can almost always skip the browning.
Browning the ingredients can happen in two ways, either you can brown it in a separate skillet or pot and then transfer the ingredients over, or you can use a slow cooker that has a sauté option built in, like this one (affiliate).
Add dairy at the end
Dairy such as milk, cream, and sour cream will breakdown if cooked for too long. To avoid this issue, add any dairy (other than cheese) that is called for in the last 15 minutes of cooking.
Add herbs at the end
While adding spices and other flavor enhancers at the beginning is a good idea to help build flavor, the flavor of herbs tends to dissipate while cooking, so add them at the end, especially if using fresh herbs.
Cook pasta separately
Pasta can be tricky to cook in the slow cooker because if left too long it will get mushy. Some recipes will direct you to add pasta during the last 30 minutes of cooking. When in doubt, it's best to cook the pasta separately.
Move food to another container for storage
The ceramic insert in a slow cooker is specifically designed to hold heat in. This means that it won't allow the food to cool quickly enough in the refrigerator, which increases the chances of bacteria growth. So make sure to transfer your meal to another dish for storage.
Don't peek!
Unless specifically directed in the menu, don't lift the lid to check your food. Each time the lid is lifted, it adds approximately 30 minutes to the cooking time.
Don't worry!
A slow cooker is very forgiving, and can be left for long periods of time. In other words, an unexpected last-minute errand will likely not ruin your meal.
Do you have favorite meals to make in the slow cooker or other tips you'd add to this list? I'd love to hear about them in the comments!
And if you would like new slow cooker recipes, check out The Scramble's family-friendly meal plans to see just how simple getting dinner on the table can be! Many of our recipes are either developed for the slow cooker or have slow cooker directions.