Are you frustrated with the way meals are going in your house? Too much takeout or cereal for dinner? Eating the same things over and over? Family complaining about what you make? Then maybe it's time to turn things around with meal planning!
There are so many reasons to meal plan, from saving time and money to making healthier choices (you are more likely to stick to dietary goals if you plan your meals) to less panic and tension as dinnertime approaches. But getting over the hump and actually doing it is a big struggle for a lot of people. Over the years I have found some ways to help to make meal planning less intimidating and more doable that I want to share with you.
1. Keep It Simple
There are all sorts of meal planning approaches out there from the classic weekly plan to two-week rotations, to even monthly systems. In my experience, the longer-term plans can be daunting, while weekly plans are more accessible. If you want some more structure you can try a thematic approach where each day of the week has an assigned meal type either by protein (Meatless Mondays, Chicken Tuesdays, etc.) or by ethnicity (Taco Tuesdays, Pasta Wednesdays, etc.).
2. Check with Yourself
Each week, before you jump into planning, do a little check-in with yourself. Ask: what do I feel like eating? How do I feel about leftovers? How much time am I willing/able to spend on cooking this week? What does my schedule look like this week? Which days will I have time to cook and which days will there be a crunch? Are there foods in the fridge or pantry that need to get used up? Use the answers to these questions to inform your meal choices.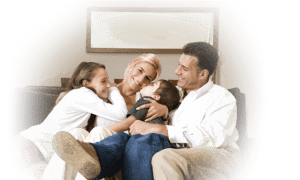 3. Check with Your Family
When I sit down to meal plan each week I always ask my family if there is anything that they would like on the plan for the week. This serves two purposes: 1) I don't have think up as many ideas and 2) I get more buy-in at every meal if they know that their favorites have been included in the week's plans. Some families also use this time to get each family member to take on one meal for the week, especially as kids get older.
4. Make Your Plan
Search for the recipes that you plan to make in cookbooks, online, or with a meal planning service like The Six O'Clock Scramble. Think about if there are ways to save time and effort by making extras to be eaten as leftovers, used in another dish (e.g., leftover rice can become fried rice or leftover protein can become fillings for paninis or mixed into pasta sauce), or frozen for another week.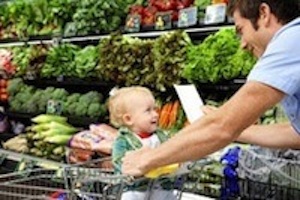 5. Make Your Shopping List and Organize it by Grocery Store Section
Take an inventory of your pantry to see what you need. Remember to include your weekly staples. Taking a few minutes to organize your shopping list will mean you only need to do one trip to the store and it will go faster while you're there. (The Scramble organizes your shopping list by grocery story section for you!)
6. Pre-Prep
When you get home from the grocery store, take 30 minutes to an hour to pre-prep food to make cooking easier during the week. Pre-prep can include chopping vegetables, grating cheese, or mixing up marinades. This is a great activity to get the whole family to help with! (The Scramble helps you to know what pre-prep steps you can take each week with our Do Ahead and Delegate options for each recipe.)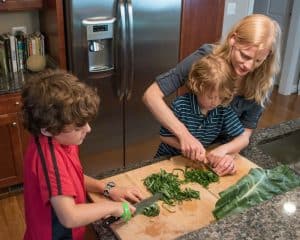 7. Post the Plan
Post your plan for the week somewhere where everyone can see it. This will decrease the "what's for dinner?" questioning and will help to remind you of what you might need to take out of the freezer to defrost, put into the slow cooker in the morning, etc.
8. What to do When You Don't Want What You Planned?
This will happen. It happens to all of us. So here are three ways to handle those moments: 1) tough it out and make what you planned but try to change your mood with some fun music, a glass of wine, or a kitchen dance party, 2) adjust days in the meal plan so you get something you're more excited about, or 3) tweak the recipe with different spices, different protein, different grain, something that will make it more appealing to you.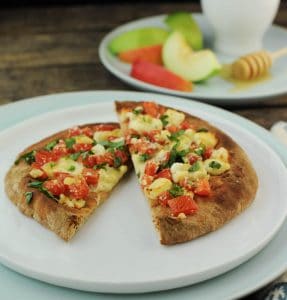 9. Leave One Night Unplanned
Invariably, something goes awry, or you receive an unexpected invitation, or you have leftovers to finish up. I like to plan for one less meal than I plan to make to account for these circumstances or to make a meal out of odds and ends to save money and reduce waste.
10. Get Help
Meal planning is an incredibly helpful and important habit to get into, but if these steps feel like too much to take on, then use a meal planning service to help you. The Six O'Clock Scramble not only offers family-friendly meal plans, including side dish suggestions, but also gives you the opportunity to customize your meal plan, generate a personalized shopping list, and get dinner on the table with less stress so you can enjoy family dinners again! Sign up for the 2 week free trial here. (There's a 30 day money back guarantee, so there's no risk in trying something new.)
I'd love to hear from you! Do you have any meal planning tricks that help you to get dinner on the table? Share your thoughts in the comments!