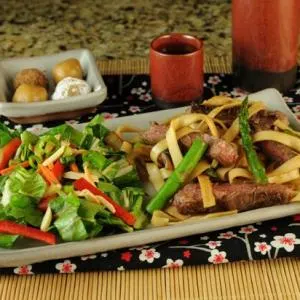 Chinese Lo Mein Noodles with Asparagus
Scramble member Susan Oliver shared her family's recipe for lo mein noodles, which she describes as "melt in your mouth." The sauce is very mild and kid-friendly (Susan's three children love it).
Ingredients
1/4

cup

reduced-sodium soy sauce (or use any variety) (use wheat/gluten-free, if needed)

plus additional for serving

1

tsp.

superfine sugar

or use granulated sugar

3

cloves

garlic

minced, about 1 1/2 tsp.

1/2

lb.

boneless, skinless chicken, steak, or extra-firm tofu,

cut into thin strips if using chicken or beef, drained, wrapped in a clean dishtowel to remove extra moisture, and diced if using tofu

16

oz.

Chinese lo mein noodles (sold with Asian foods) or spaghetti (use wheat/gluten-free, if needed)

1/4

cup

peanut oil

1

yellow or white onion

quartered from top to bottom and cut into thin slices

1

lb.

asparagus

ends trimmed and cut into thirds
Instructions
In a large dish with sides, combine the soy sauce, sugar, 1/2 tsp. garlic (1 clove), and then add the meat or tofu. Flip the meat or tofu to coat it thoroughly and set it aside.

Cook the noodles according to the package directions until they are al dente.

Meanwhile, in a wok or large nonstick skillet, heat 1 tsp. of the oil over medium to medium-high heat. Add the meat or tofu along with the marinade, and sauté it until it is cooked through, about 5 minutes, stirring frequently. Remove it from the pan and set it aside (don't return the chicken or beef to the same bowl in which you marinated it).

In the same skillet heat another 1 tsp. of the oil over a medium to medium-high heat and sauté the onions and remaining garlic for about 2 minutes, then add the asparagus and toss the mixture for another 3 - 4 minutes until the asparagus is tender crisp.

Drain the noodles thoroughly, return them to their cooking pot, and toss them with the remaining oil. Add the noodles to the skillet with the vegetables, or if the pan is too small, combine them in the pasta pot.

Add the meat or tofu and toss thoroughly to combine. Add additional soy sauce, to taste, and serve it immediately or refrigerate it for up to 2 days.
Slow Cooker Directions:
Put 1/4 cup water or broth in the slow cooker. Add the soy sauce, sugar, garlic, and all the oil, and stir to combine. Add the onions, asparagus, and chicken, steak, or tofu, turning over several times so that it will absorb some of the sauce mixture. Cook on low for 4 - 5 hours or on high for 2 - 3 hours, until the meat is cooked through and the asparagus is tender. Prior to serving, add the cooked noodles to the slow cooker and stir the contents to distribute all the sauce ingredients. (Slow cooker cooking times may vary—Get to know your slow cooker and, if necessary, adjust cooking times accordingly.)
Notes
Do Ahead or Delegate: Peel the garlic, cut the meat or tofu and refrigerate, make the marinade and marinate the meat in the refrigerator (don't marinate the tofu for too long, as it will absorb all the marinade leaving less sauce for the whole dish), cook the noodles and store them tossed with a little oil to prevent sticking, quarter and slice the onion, cut the asparagus, or fully prepare and refrigerate the dish.
Scramble Flavor Booster: Add 1/4 - 1/2 tsp. chili garlic paste or crushed red pepper flakes to the marinade.
Tip: According to a study in the American Journal of Clinical Nutrition, people who incorporate plenty of onion and garlic into their diet have a lower risk of developing cancer. Recipes like this that have both onion and garlic further boost those benefits.
Nutritional Information Per Serving (% based upon daily values): Calories 320, Total Fat: 8g, 12%; Saturated Fat: 2g, 8%; Cholesterol: 15mg, 5%; Sodium: 340mg, 14%; Total Carbohydrate: 47g, 16%; Dietary Fiber: 7g, 28%; Sugar: 2g; Protein: 15g
Like this recipe? Check out The Scramble's family-friendly meal plans to see just how simple getting dinner on the table can be!