This is a paid post by California Figs. All opinions expressed in this post are based on my personal view and I only agreed to the partnership because I was already a big fan of their figs.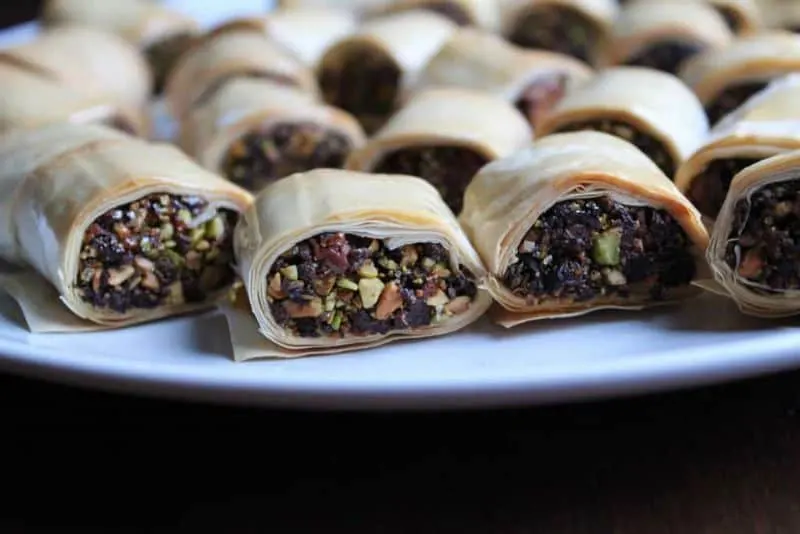 The first year I attended a family Thanksgiving with my boyfriend (now husband) my future sister-in-law prepared baklava as one of the dessert options. For years it was a tradition that I looked forward to as I always felt that the light, slightly spicy dessert was the perfect end to such a heavy meal. Somehow this tradition ended, not sure why, but when California figs got in touch with me about possibly developing a Thanksgiving recipe for them my first thought went back to the baklava that I still missed and so figs in a blanket was born!
The Benefits of Figs
I am a huge fan of figs. When they are in season in the summer, they are a staple in my house. Throughout the rest of the year, I love including dried figs in all kinds of recipes from One-Pot Morroccan Chicken, to cranberry sauce (which I love at Thanksgiving but also all winter long on my granola and oatmeal), to a topping for salads, to a power-packed snack on their own.
Figs are also really good for you! They are packed with fiber, just three to five figs provide 5 grams of fiber, 1.5 of which is soluble fiber, which has been linked to lowering cholesterol and balancing blood sugar. They are a good source of calcium and potassium and are rich in anti-oxidants. In addition, their natural sweetness can offer that sugary experience without added sweeteners.
If you are looking for recipe inspiration to include more figs in your diet, check out the awesome new cookbook that California Figs just put out (you can get the book on their site!). It is packed with recipes for every meal of the day from breakfast bars to salsas to pizzas to sweets.
No joke, my copy has seventeen recipes tagged right now and the three I have already tried have all been delish!

Figs in a Blanket: An Easy Version of Baklava
Now back to the figs in a blanket. I love them because they are like the easier cousin of baklava. If you have ever attempted or even looked at a baklava recipe you will know that assembly requires a massive amount of effort.
You have to build the baklava with layer upon layer of filo dough, brushing on melted butter between each layer. A way too fastidious process for this lazy cook.
We skip that monotonous process with these by using just eight sheets of dough and rolling, rather than piling. In addition, the fruit and nut mixture here is very simple to make and requires no cooking ahead of time.
The other reason I like the rolling method is that if your filo dough happens to rip or tear (which is almost inevitable), the rolling will cover up the flaws!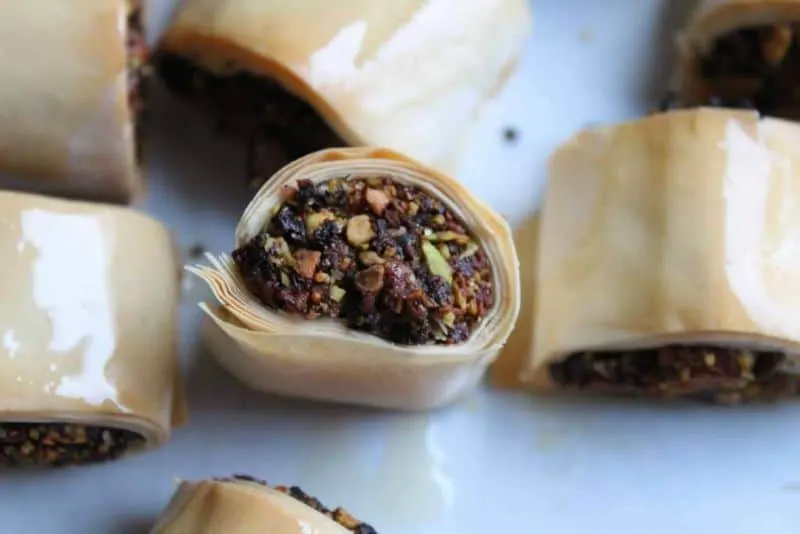 Another perk to these figs in a blanket is that they are truly bite-size, so if you have a huge holiday spread, these are a nice, not overwhelming option to add to the mix. Plus their gentle sweetness and satisfying crunch are just lovely.
In my house and at a dinner party where I served them, figs in a blanket were an absolute hit. Everyone loved the crunchiness, the subtle sweetness, and the balance of nuts and dried fruit. One friend compared them to his mother's mince meat pies (a fruit and nut pastry) served at Christmas.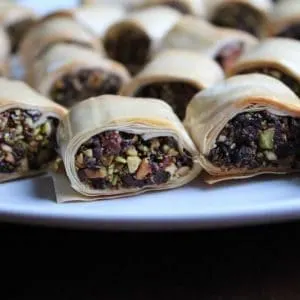 Figs in a Blanket
These are an easy version of baklava. They're a bit more labor intensive than a standard Scramble recipe, but are still quite simple and you're guaranteed to get oohs and aahs when you bring them out, whether for a weeknight surprise or a special occasion. They are also delicious served alongside ice cream.
Ingredients
Orange-Honey Syrup
¼

cup

sugar

2

Tbsp.

water

2

Tbsp.

honey

2

Tbsp.

orange juice
Fig Rolls
1

cup

dried California figs

stems removed

1

cup

shelled pistachios

½

cup

dried apricots

2

Tbsp.

sugar

1

tsp.

orange zest

½

tsp.

cardamom

8

sheets filo dough

defrosted and brought to room temperature

2

Tbsp.

butter

melted
Instructions
In a small saucepan, combine all of syrup ingredients and heat over a medium high heat, stirring frequently until the sugar has dissolved, about 2 minutes. Turn down to medium-low and let it simmer until slightly reduced, about 3 minutes. Pour the syrup into a bowl and set aside to cool.

Preheat the oven to 375 degrees and line a baking sheet with parchment paper.

Place the figs, pistachios, apricots, sugar, orange zest, and cardamom in a food processor and run until everything is finely chopped and combined. If you pick up a small amount in your fingers you should be able to smush it together and have it stick.

Place on sheet of filo dough on the counter, brush it with melted butter, and then place another sheet on top.

Place ¼ of the fruit and nut mixture in a line at the bottom of the filo sheets, leaving a 1 to 1 ½ inch border along the bottom. Fold the bottom edge up over the mixture and lightly apply pressure as you roll so that that mixture is solidified. Continue to carefully roll the dough away from you so that it forms a cylinder. Then cut the cylinder into 12 even pieces and lay them on the baking sheet.

Repeat the same process three more times with the remain sheets of filo dough.

Bake the rolls for 15-20 minutes, or until lightly golden on top.

Remove from the oven, brush the tops of the rolls with the orange-honey syrup, and let them sit for at least 5 minutes. Serve immediately or store in an airtight container for up to 5 days.
Notes
Do ahead or delegate: Make the orange-honey syrup and store at room temperature. Process the fruit and nut mixture. Or fully prepare the rolls.
Tip: Filo dough can be scary to work with because it is so delicate, but don't worry! By layering two sheets, any rips or tears that happen will easily be covered up.
Scramble flavor booster: Double the cardamom or add ¼ tsp. cinnamon.
Nutritional Information per serving (% based upon daily values): Calories 129, Total Fat 6g, 9%, Saturated Fat 1g, 7%, Cholesterol 4mg, 1%, Sodium 47mg, 2%, Total Carbohydrate 19g, 6% Dietary Fiber 2g, 6% Sugar 11g, Protein 2g
Like this recipe? Check out The Scramble's family-friendly meal plans to see just how simple getting dinner on the table can be!