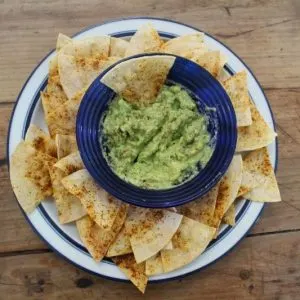 Homemade Barbeque Tortilla Chips with Avocado-Lime Smash
My 9-year-old loves BBQ chips, but at $4 a bag that can feel like quite the splurge. So decided to see if I could make them myself-- turns out that it's pretty easy! To boost the nutrition, I decided to add an avocado-lime smash and wouldn't you know, the avocado got inhaled just as quickly as the chips did!
Ingredients
1

package corn tortillas

1

Tbsp.

coconut or canola oil

melt the coconut oil if it is not in liquid form

1 1/4

tsp.

chili powder

1/4

tsp.

brown sugar

¼

tsp.

salt

1/8

tsp.

garlic powder

1/8

tsp.

onion powder

1

avocado

½

lime

juice only
Instructions
Preheat the oven to 350 degrees and pull out two large baking sheets.

Mix 1 tsp. of the chili powder, all of the brown sugar, 1/8 tsp. of the salt, and all of the garlic powder and onion powder in a small bowl.

Pour the oil in a small bowl and, using a pastry brush, lightly brush the top of one tortilla with the oil and then sprinkle a small amount of the spice mixture on top. Then brush one side of the next tortilla with oil, flip it over, and place the oiled side on top of the spiced side of the first tortilla. Brush the top of the second tortilla (which is now on top of the first) and sprinkle it with some of the spice mixture. Repeat the process with all the rest of the tortillas until they are all piled on top of one another.

Cut the pile of tortillas into sixths (cutting similar to a pizza, so the pieces are triangular) and then lay each piece out on the baking sheets, making sure that they don't overlap. When you get to the very bottom layer, brush some oil on the bottom side (which did not get brushed with oil at the beginning) and sprinkle some spice mixture on top. Sprinkle any remaining spice mix over the tortilla pieces.

Bake for 10-15 minutes, or until they are starting to get crispy and have darkened by a shade or two. (Keep a close eye on them so they don't get too browned.)

While the chips are baking, in a small bowl, smash the avocado together with the lime juice, the remaining chili powder, and remaining salt until well combined.

When the chips are starting to crisp and have gotten a shade or two darker, remove them from the oven and allow them to finish crisping or, for maximum crispiness, turn off the oven and allow them to cool in the oven.

Serve immediately with the avocado-lime smash (leftovers can be stored in an airtight container or Ziploc bag).