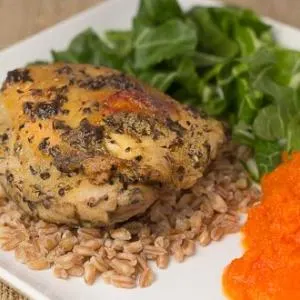 Lemon Basil Baked Chicken
This is a dish you could feel good serving to company because the skin turns a beautiful golden brown. You can tweak the marinade to your heart's content, substituting herbes de Provence for the Italian herbs, for example, and using chopped fresh basil or parsley instead of the pesto. Scramble recipe tester Melinda Kelley said, "Tested this tonight and it was a WINNER. I've made a lot of chickens that didn't turn out that well - just too dry and tasteless - but this was moist and delicious, and amazingly easy. I would definitely use this for guests."
Ingredients
1

whole chicken cut up or use 8 - 12 bone-in chicken pieces of your choice (about 4 lbs.),

1

lemon

juice only, about 1/4 cup

3

Tbsp.

extra virgin olive oil

1

Tbsp.

Dijon mustard (use wheat/gluten-free if needed)

1

Tbsp.

pesto sauce

or use freshly chopped basil and/or parsley

1

Tbsp.

Italian seasoning blend

or use a combination of dried oregano and basil 1 shallot, minced, or use 2 cloves garlic

1/2

tsp.

salt

1/4

tsp.

black pepper
Instructions
Put the chicken skin side down in a a 9 x 13-inch baking dish or one just large enough to hold it.

In a large measuring cup or a bowl, combine the remaining ingredients and whisk together with a fork.

Pour evenly over the chicken, and flip the chicken twice, until the skin remains down, trying to coat it with the sauce. Cover and refrigerate it for at least 1 hour and up to 24 hours.

Remove the chicken from the refrigerator and preheat the oven to 400 degrees. Flip the chicken so the skin side is up, and bake it, uncovered, for 45 minutes – 1 hour until the skin is golden brown and the chicken is cooked through. Remove it from the oven and serve immediately, or refrigerate it for up to 3 days.
Slow Cooker Directions:
There's no need to marinate the chicken in advance, and, if you buy a whole chicken that is not already cut up, there's no need to cut it into pieces. Put the chicken in the slow cooker. Prepare the marinade and pour over the chicken, turning several times to be sure it is well coated. Cook 6 - 8 hours on low or 3 - 4 hours on high. (Slow cooker cooking times may vary—Get to know your slow cooker and, if necessary, adjust cooking times accordingly.)
Notes
Do Ahead or Delegate: Cut up the chicken if necessary and refrigerate, juice the lemon, mince the shallot, make the marinade and marinate the chicken in the refrigerator, or fully prepare and refrigerate the dish. Scramble Flavor Booster: Add 1 tsp. of lemon zest to the marinade. Tip: Serve leftover pesto sauce with crackers, tossed with noodles or steamed veggies, add it to lasagna, or freeze for future use. Nutritional Information Per Serving (% based upon daily values): Calories 358, Total Fat: 22g, 34%; Saturated Fat: 6g, 28%; Cholesterol: 118mg, 39%; Sodium: 252mg, 10.5%; Total Carbohydrate: 1g, 0.5%; Dietary Fiber: 0g, 0%; Sugar: 0g; Protein: 37g