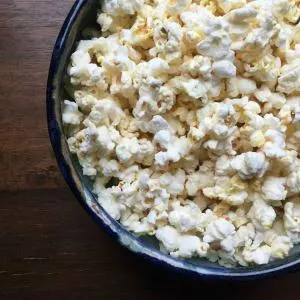 Stove Top Popcorn
Stove top popcorn is so easy to make and so much healthier and tastier than the pre-packaged or microwave variety that you will never want to go back!
Ingredients
1/2

cup

popcorn kernels

2 - 3

Tbsp.

canola

vegetable or coconut oil for popping

2– 3

Tbsp.

melted butter

coconut oil or olive oil to toss with popcorn

1/2 - 3/4

tsp.

popcorn salt or table salt

to taste
Instructions
Heat a heavy pot over medium-high heat, add the oil and the popcorn kernels and shake the kernels around to coat.

Cover the pot leaving the lid a tiny bit ajar to let the steam escape. When the kernels start popping, reduce the heat to medium and shake the pot occasionally to make sure the un-popped kernels make it to the bottom of the pan.

When the popping slows to every 5 seconds or so, remove the pan from the heat, shake it again and cover it for one more minute to make sure all or most of the kernels are popped.

Transfer the popcorn to a large bowl, toss it with melted butter or oil, salt, and desired seasonings.