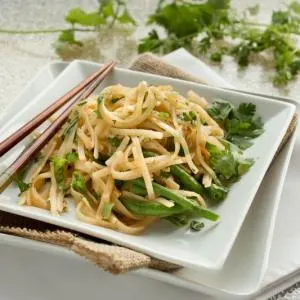 Thai Noodles with Green Beans in Oyster Sauce
This recipe was inspired by a recipe from 11-year-old Clare Townsend who was a finalist in the Real Food for Kids cooking contest. Her dish, Thai Shrimp Noodles with Broccoli was so delicious that we wanted to create something similar at home. Scramble recipe tester Jamila Mergerson said, "Whenever I make something new, I always ask my kids if the recipe is a 're-make or not.' Everyone said ...'RE-MAKE'!"
Ingredients
1

lb.

green beans

4

Tbsp.

oyster sauce, or use soy sauce

4

cloves

garlic

minced, about 2 tsp.

2

Tbsp.

rice vinegar or rice wine vinegar

1

Tbsp.

honey

1

Tbsp.

sriracha (Vietnamese hot sauce)

optional

2

Tbsp.

toasted sesame oil

14

oz.

Thai stir-fry rice noodles, or use ramen noodles or other Asian noodles,

or use whole wheat linguine

1/4

cup

fresh cilantro

chopped, or use a combination of cilantro and chives
Instructions
NOTE: This recipe assumes you are using Thai rice noodles that don't need to be cooked in boiling water first. If you are using noodles that need to be pre-cooked, do that now.

Put 4 cups of water to boil in a medium to large covered saucepan while you trim and cut the the green beans crosswise.

Cook the beans for 4 - 6 minutes in the boiling water, according to desired tenderness, and drain them.

Meanwhile, make the sauce by combining the oyster sauce, garlic, vinegar, honey, sriracha (optional), and half of the sesame oil.

In a large nonstick skillet or wok, heat the remaining sesame oil, and when it is hot, stir in the noodles and sauce and stir-fry it for 2 minutes until the noodles are soft and coated with the sauce.

Add the green beans and cilantro, and stir-fry everything for 1 more minute until the beans are heated through. Serve immediately or refrigerate for up to 3 days.
Slow Cooker Directions
Trim and cut the green beans crosswise and combine them with the oyster sauce, garlic, vinegar, honey, sriracha (optional), cilantro, and half of the sesame oil in the slow cooker. Cook on low for 5 - 6 hours or on high for 2 1/2 - 3 hours until the beans have reached desired tenderness. At serving time, heat the remaining sesame oil in a large nonstick skillet (or wok), and when it is hot, stir in the noodles and green beans with the sauce and stir-fry them for 2 minutes until they are soft and everything is well combined (see the Note in the above directions about preparing the noodles). (Slow cooker cooking times may vary—Get to know your slow cooker and, if necessary, adjust cooking times accordingly.)
Notes
Do Ahead or Delegate: Trim the green beans and cut them crosswise, peel the garlic, make and refrigerate the sauce, cook the noodles if necessary and toss with a little oil to prevent sticking, chop the cilantro, or fully prepare and refrigerate the dish.
Scramble Flavor Booster: Use the optional sriracha and/or serve it with sweet chili sauce.
Tip: Slowing down when you eat allows you to be more in control of how much you consume (and will help to keep you from overeating). One strategy you can try is to eat with your non-dominant hand (so if you are right-handed, eat with your left). This will naturally slow you down and allow you to savor your food a bit more, and it's also a fun family game at the table.
Nutritional Information Per Serving (% based upon daily values): Calories 333, Total Fat: 5g, 7.5%; Saturated Fat: 1g, 3.5%; Cholesterol: 0mg, 0%; Sodium: 672mg, 28%; Total Carbohydrate: 67g, 22.5%; Dietary Fiber: 5g, 19%; Sugar: 7g; Protein: 5g
Like this recipe? Check out The Scramble's family-friendly meal plans to see just how simple getting dinner on the table can be!