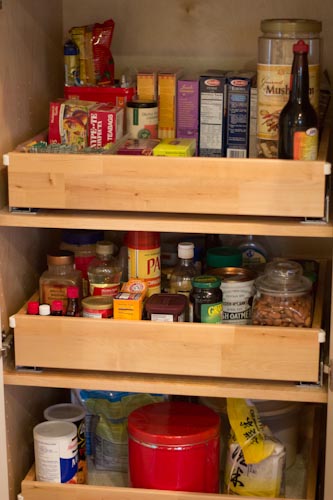 The Virtues of a Well-Stocked Pantry
Recently my family and I went away for a trip and before we left I made sure to use up as much of our food as possible, after all, who wants to come home to spoiled milk and mushy or moldy vegetables? But as we drove up to the house upon our return, I suddenly had a moment of panic: what was I going to feed everyone for dinner? It was late and we were tired, but I was reluctant to order take out after all the junk we'd been eating and money we'd been spending, so I decided to dig in and see what I could pull together.
30 minutes later dinner was on the table.
This is not because I am a magician, it is thanks to my well-stocked pantry. You see, in my cupboards I found a box of pasta and a can of tomatoes. I paired that with an onion, some garlic, a carrot I had leftover in the fridge, and some frozen spinach, and I had a quick marinara sauce ready to go!
Whether you are seasoned cook or a rookie just getting started, building up a well-stocked pantry is an investment that will save you time, money, and help you to eat healthier. As I see it, here are the six virtues of a well-stocked pantry:
Saves Money 1: Less Take Out
If you've got food at home that can be made into a quick and easy dinner, you are less likely to depend on take out.
Saves Money 2: Take Advantage of Sales
Once you've got your standard staples list figured out, you can then take advantage of grocery store sales and coupons. There are certain foods that I check every week, even if they aren't on my list, so that I can grab them if they are on sale. My list includes: canned tomatoes, favorite cuts of meat (so I can freeze them), favorite breads (also freezable), favorite frozen vegetables, butter (freezable as well), pasta, and eggs.
Saves Time
You'll find you are taking fewer trips to the grocery store and your shopping will go faster because you'll already have a lot of what you need.

Less Food Waste
When you have staples on hand, it is easier to turn leftovers into other meals. Leftover vegetables can become frittatas with some eggs, leftover cooked protein can be turned into fillings for quesadillas or toppings for pizza. You get the idea…
Consistently Healthier
Home cooking is almost always healthier than eating out and allows you to have more control over what goes into your food.
Builds Your Confidence in the Kitchen
The more you cook, the more confident you become, and having staples available to cook and experiment with allows for that time and growth in the kitchen.
So now that I've convinced you that stocking your pantry is well worth it, how do you know what to stock your pantry with? The first step is to think about what you like and feel comfortable cooking and then stock up on those ingredients on a regular basis. Jot down those ideas and ingredients and then refer to that list whenever you are preparing your shopping list for the week or going through the grocery store. Pretty soon, checking for those items will become second nature.
Looking for cooking inspiration, check out The Scramble's family-friendly meal plans to see just how simple getting dinner on the table can be!