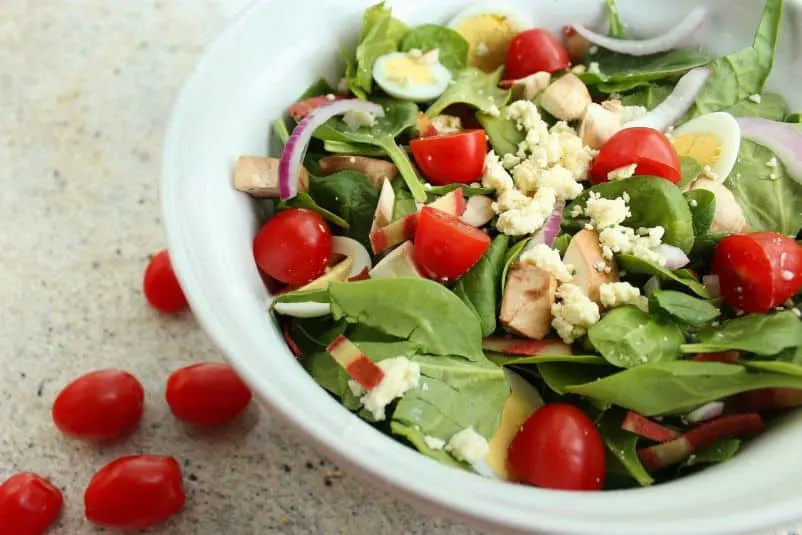 Note: This page contains affiliate links. If you purchase a product through these links, your cost will be the same but The Scramble will receive a small commission. I only link to products I personally use, trust, and love. If you want to learn more, please check out my disclosure page. Thanks for your support!
A great salad is a true treat. Sometimes they're a meal—a hearty salad with chicken or beans, hard-boiled eggs, and an assortment of bright, colorful vegetables, for example—but usually they're enjoyed as a great side dish for a healthy and delicious dinner. The truth, though, is that all too often, the salads we make at home consist only of lettuce and dressing, which can be a bit of a bummer. The good news, however, is that it doesn't have to be this way. So, I wanted to share my basic technique for how to make the perfect salad.
How to Make the Perfect Salad
I find that there are two components that make up the perfect salad. The first is flavor. Not only do you want to fill the salad with flavors you like, but also think about including different flavors – some sweet, some savory, and some that are more neutral to bring it all together. The second is texture. You want to have a variety of soft and crunchy options on your plate as this will add interest in every bite.
Start with the Freshest Lettuce
I lean toward romaine, Boston or Bibb lettuces, or baby spinach. I tear it into bite-sized pieces and wash and dry it very well (nothing's as gross as gritty salad) using a salad spinner. If you don't have a salad spinner, I would highly recommend getting one as they make washing and drying your greens SO much easier.
Consider Mixing Greens
Personally, my favorite salads include a mix of greens. In particular, I like to pair a crunchy, more neutral tasting lettuce such as romaine with a more flavorful, softer leaf green such as arugula or baby kale. So if you are looking for an easy way to change up your salads, consider buying some two different kinds of greens and then mixing them together each night.
Consider Adding Herbs
While we tend to think of herbs as being used in cooking, they are also wonderful to add to salads, giving them a bright, vibrant flavor! Some of my favorite fresh herbs to add include: mint, basil, and chives.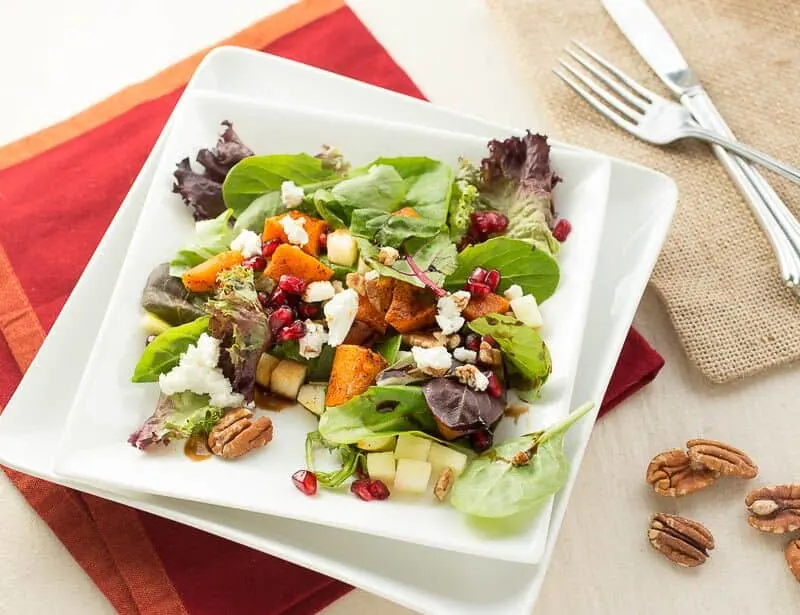 Include lots of mix-ins
My second favorite trick is to include lots of goodies in the salad. My preferred combinations usually involve a variety of vegetables, nuts, occasionally a whole grain (like quinoa or farro), and cheese. Adding fresh or dried fruit can be fun as well!
And, if you are making a salad that will serve as a full meal, adding in some extra protein will help to make it much heartier. Some great options include: diced chicken, hard-boiled eggs, beans, roasted tofu, or canned tuna.
Vegetables to Add to Your Salad
Additional vegetables add crunch, flavor, and nutrition to your salad. Some of my favorite extra veggies to add in include:
diced bell peppers
chopped tomatoes (especially grape or cherry)
diced cucumber
chopped carrots
corn
sliced red onion (ok, this isn't actually one of my favorites, but rest of my family loves it)
roasted vegetables (e.g., sweet potato, potato, zucchini, eggplant, etc.)
My Favorite Fruits
People tend to have strong feelings about whether or not to include fruit in salad. If you are not a fan, then by all means skip it. But if you like a little hit of sweet, here are some fun options to consider:
orange chunks
chopped apples or pears
sliced strawberries
blueberries
grapes
dried cranberries
avocado
My Favorite Nuts
Nuts offer a very satisfying crunch, as well as a nice hit of healthy fats and protein. You can use pretty much any nut you like, but some of my favorites include:
walnuts (glazed or plain)
pecans
pistachios
pine nuts
cashews
My Favorite Cheeses
If there is one ingredient I am most likely to add to a salad, it's cheese. I love how cheese adds saltiness, creaminess, and tang.
A note on crumbled cheeses: while the pre-crumbled cheeses are a slight time-saver, I like crumbling my own for two reasons: 1) the non-crumbled versions are cheaper per ounce, so I get more bang for my buck and 2) I find that the un-crumbled ones tend to be fresher tasting.
For cheese options I like:
grated Parmesan
cubed cheddar
diced manchego
crumbled feta, Gorgonzola, blue, or goat cheese
Other Fun Add-Ins
There are a couple of other items that I sometimes like to add to a salad, especially if I am making a very hearty one. All of these options offer strong flavors for a really satisfying bite of food. They include:
olives
capers (especially if I'm adding canned tuna or another kind of fish)
pickled or marinated beets
artichoke hearts, marinated or in water
pepperoncini peppers

Dressing Matters
Finally, I use just a little bit of high-quality dressing, usually homemade (a simple combination of olive oil, balsamic vinegar and Dijon or honey-Dijon mustard works well), or even just a drizzle of really good olive oil and vinegar to finish the salad off right.
I have found that once you build a really good salad that is packed with flavor and textures, the need for lots of dressing dissipates. So I recommend that you start by lightly dressing your salad and then you can always add more to taste.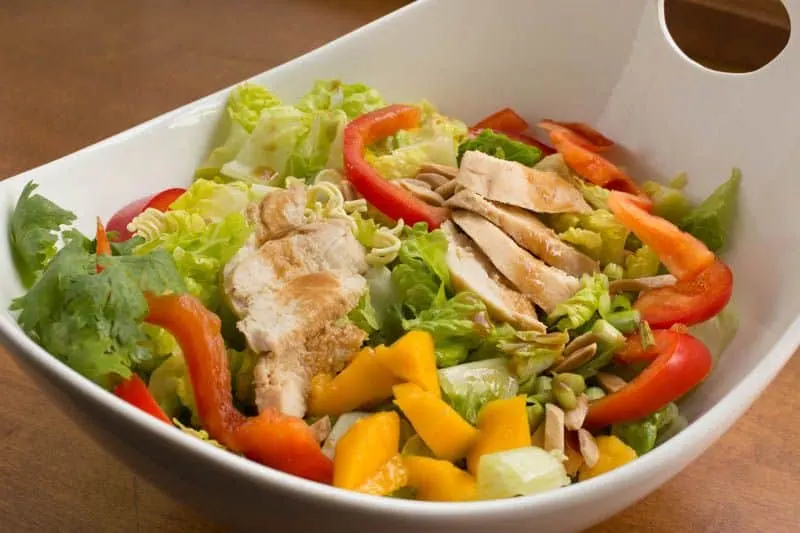 How to Assemble the Perfect Salad
The final piece of making the perfect salad is how you assemble it. Here are some tips that will help you to build your salad so that you can enjoy it to its fullest.
Start with a big bowl. You want the bowl you use to seem too big. This will allow for much easier tossing of the salad at the end of assembly and will lead to fewer crushed ingredients.
Combine your lettuce/greens and all of your mix-ins, except for the soft ones such as goat cheese or avocados.
Add your dressing and then toss gently. (A note on dressing: if you have people who don't love dressing you can also skip this step let everyone dress their salads themselves.)
Finally, add the softer additions, after tossing the salad so they don't get squished at the bottom of the bowl.
And your perfect salad is ready!
Here are Some of my Favorite Salad Recipes
Want some salad inspiration to get you started? Here are some of my favorites: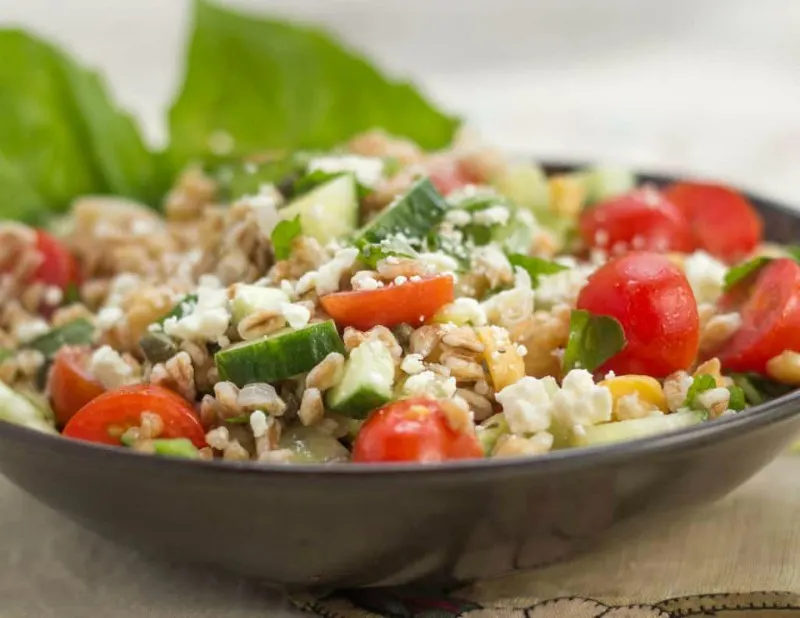 This salad has tons of fun textures and flavors, which means it never gets old.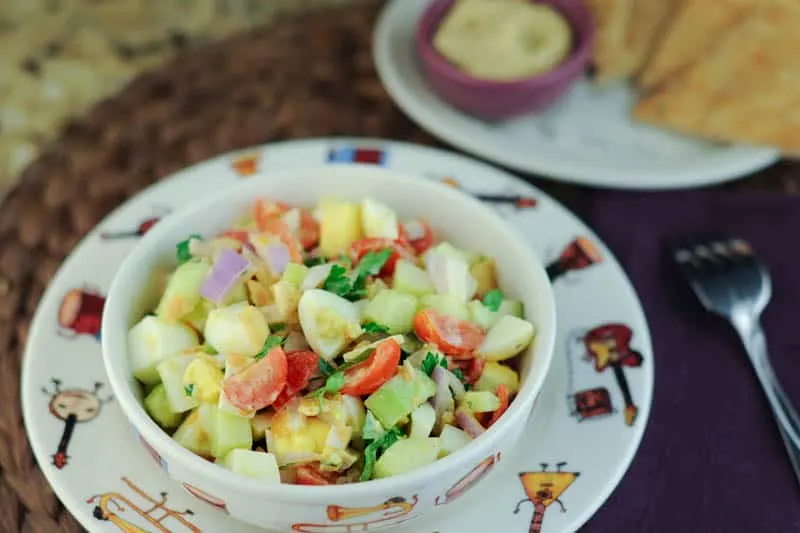 Based on a traditional salad you can find in many restaurants and homes in Israel, this salad is crunchy, creamy (thanks to the tahini dressing), and full of protein.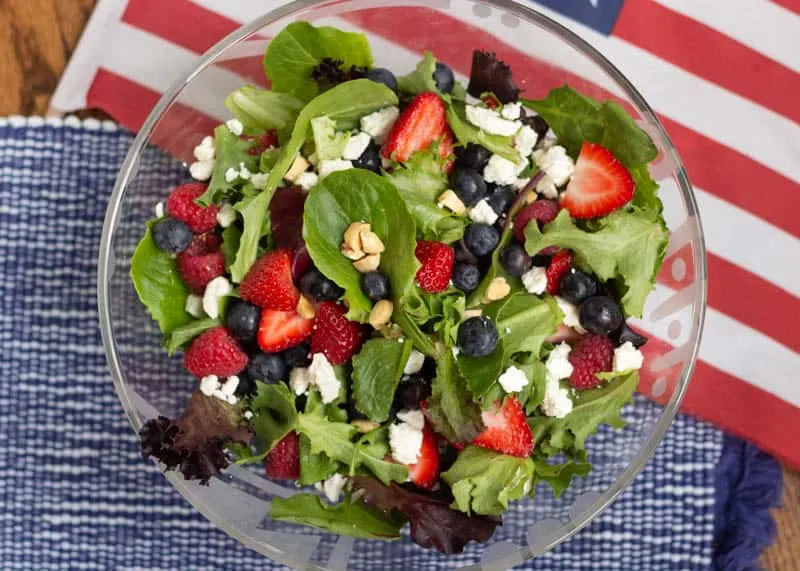 If you enjoy fruit in your salad, then this one is for you! With two types of berries, you are sure to get some flavorful bites. But we also can't forget the creamy, salty goat cheese, which takes this salad to greatness.
Do you have a favorite salad recipe, tip, or combination that we should try? Please leave a comment below or on The Scramble Facebook page.
Want all your meals to be easy, healthy and delicious? Check out The Scramble's family-friendly meal plans!