Looking to liven up your plain baked potatoes? We've got 15 fun and delicious ideas for delicious and easy baked potato toppings, plus directions on how to make them in the oven, microwave, and slow cooker.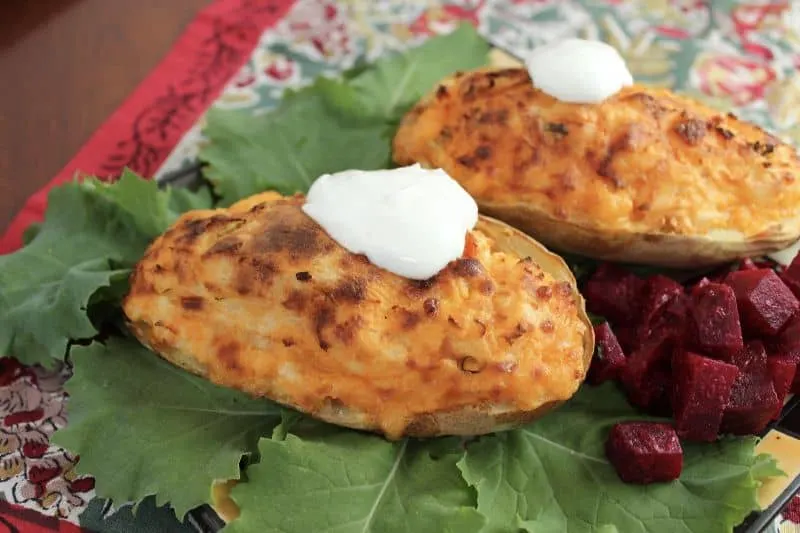 15 Ideas to Liven Up Plain Baked Potatoes
Baked potato nights are a guaranteed hit in my house. My family loves playing with different toppings and flavors, plus any dinner where everyone gets to build their own meal is always a favorite.
While eating them with butter, salt, and pepper is always a winner, we wanted share 15 ideas of baked potato toppings to liven up plain baked potatoes.
In addition, we are sharing tips on how to make perfect baked potatoes in the oven, microwave, and slow cooker!

How to make Baked Potatoes in the Oven, Slow Cooker, or Microwave
No matter what method you use, the first step remains the same: pierce the potatoes in several places.
This will allow the steam that builds up in the potato to escape, which will mean that your potato won't explode while baking (this doesn't always happen when they aren't pierced, but is a real risk!).
Tip: According to the Environmental Working Group, conventional potatoes have high concentrations of pesticide residue, so, if possible, try to buy organic.
Oven Directions
Preheat the oven to 400 degrees. For more flavorful skin, rub the potatoes with olive oil and sprinkle them with salt before baking.
Place the potatoes directly on the oven rack and bake them for 50 – 60 minutes, or until tender when pierced with a knife, turning them once.
Slow Cooker Directions
Place the potatoes in your slow cooker. Cook them on low for 6 – 8 hours or until potatoes are tender.
Tip: If you like a crispier skin on your baked potato, try throwing the already cooked potatoes into the oven or toaster oven at 400 degrees for 3 – 5 minutes.
Microwave Directions
Cook the potatoes on high for about 10 minutes, flipping them once, until they are tender when pierced with a knife. If they are not done after 10 minutes, microwave them again in 2-minute intervals, checking after each round.
Tip: If you like a crispier skin on your baked potato, try throwing the already cooked potatoes into the oven or toaster oven at 400 degrees for 3 – 5 minutes.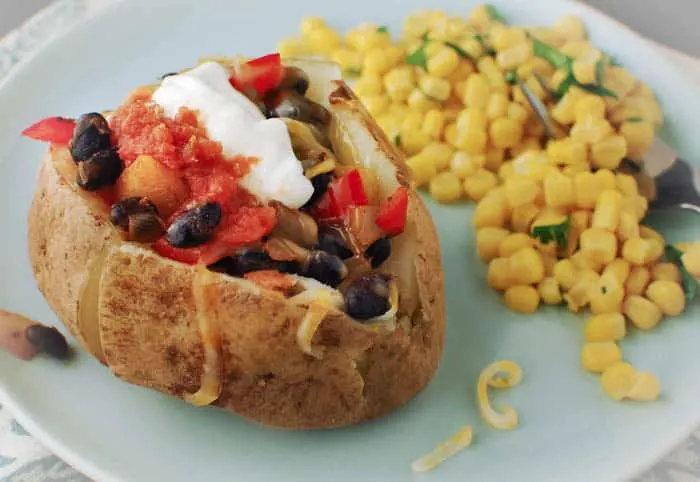 15 Ideas for Baked Potato Toppings
1. The Classic: top it with butter, sour cream, salt, and pepper (you can also add scallions for color and flavor)
2. Mexican: pile on the chicken, ground beef, or black beans, taco spices, cheese, and salsa and you'll be blown away by the flavor! My family likes to call these "po-tacos"
3. Greek: topped with sauteed mushrooms, onions, and spinach, along with rosemary and/or Greek seasoning and feta cheese or Greek yogurt makes this version a consistent winner
4. Italian: a fun alternative to pasta, add some pesto or tomato sauce along with mozzarella, Parmesan, or ricotta. If you want to make it even more fun you can add chopped tomatoes or even diced pepperoni
5. Mediterranean: hummus, chopped olives, and tomatoes make this baked potato a creamy, savory dream of a dish
6. Indian: chickpeas and curry powder
7. Buffalo: Gorgonzola and buffalo sauce, sour cream, green onions
8. Chili: a great way to use up your leftover chili and any other toppings you've got to go with it such as grated Cheddar cheese, sour cream, and/or avocado
9. The Spiced-Up Classic: sour cream, salsa, and chives
10. BBQ: leftover BBQ pulled chicken or pork
11. Creamy and Simple: cottage cheese, chives, and freshly ground pepper
12. Cheesy Broccoli Bomb: steamed and chopped broccoli and grated Cheddar cheese
13. Absolutely Eggs-celent: fried egg and sriracha or other hot sauce
14. Better-Than-Bacon-Bits: ranch dressing and chopped up bacon (check out our recipe for homemade ranch dressing)
15. Pesto Potato: diced chicken or ham, pesto, and mozzarella cheese broiled so the cheese melts

Don't forget baked sweet potatoes!
Now that we've highlighted the classic spud, I want to give a quick shout out to the sweet potato. While we tend to think of sweet potatoes as an ingredient to chop up and mix into dishes, they are also fantastic to bake.
Baked sweet potatoes are really fun, tasty, and super nutritious.
Here are some topping ideas:
Crumbled gorgonzola and broiled (so the cheese melts)
Fresh lime juice and cumin
Black beans, shredded Cheddar cheese, and guacamole
And for more inspiration, check out our post about how to cook sweet potatoes with recipes to get you started.
Got more ideas for topping baked potatoes or sweet potatoes? We'd love to hear about them in the comments!
Want more inspiration to spruce up classic foods? Check out our tips on enlivening steamed rice!