One of my favorite tricks for making dinner prep easier is the build-your-own dinner night. I find that these meals are a great way to keep family dinners going, especially during the busiest times. Here's what these simple, fun meals looks like in my house.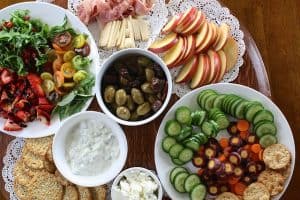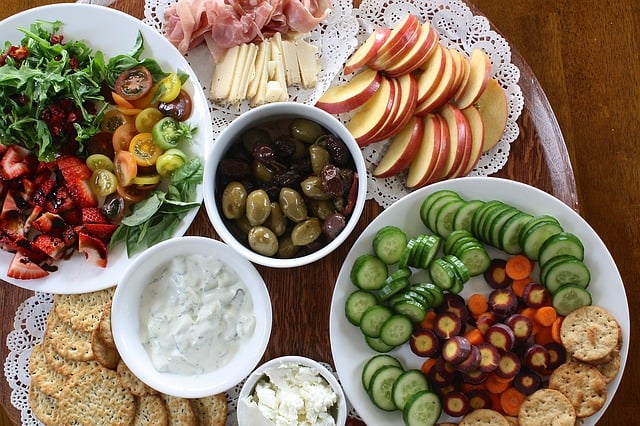 I don't know about you, but my time is feeling crunched these days. Between everyday life, preparing for the holidays, attending events and parties, and trying to make the season meaningful for my kids, I am feeling kind of tapped out.
At busy times like these, making the time to slow down and reconnect around the dinner table is even more important, but can also be challenging to fit in. This is when I pull out one of my favorite tricks for making dinner prep easier: the build-your-own dinner.
Whether it's build-your-own bean and rice bowls, tacos/burritos/quesadillas, salads, or sandwiches, these build-your-own nights are always a big hit in my house and can be thrown together surprisingly quickly, which is especially helpful during busy times.
Another nice perk: less cooking means fewer dishes!
Build-Your-Own Night

Step 1: Pick a base.
It could be rice, quinoa, bread, pasta, or greens.

Step 2: Pick a protein.
Beans, roasted tofu, roasted chicken or turkey breast, sliced up steak, some browned ground meat/veggie crumbles, or even deli meat. Leftover protein from another dinner is also great to use up here.

Step 3: Put out the veggies.
I usually throw out a combination of vegetables to let everyone choose from including: bell peppers, cucumbers, lettuce or greens, tomatoes, sprouts, and/or leftover roasted vegetables. Obviously, you can customize this based on the preferences of your family.

Step 4: Put out the toppings.
Depending on your base and protein, this could be salad dressings, grated or crumbled cheeses, salsas or guacamole, vinegar, sriracha, or other hot sauce.
Step 5: Let everyone build their own meal!
Each time I do this, I am pleasantly surprised by how excited my family is and also how many vegetables my kids end up loading into their meals. Sometimes I think there's a bit of a competition going between the two of them—who can make the biggest meal—but I'm not complaining as I watch them stuff their sandwiches with two kinds of greens, bell peppers, roasted sweet potatoes, and tomatoes!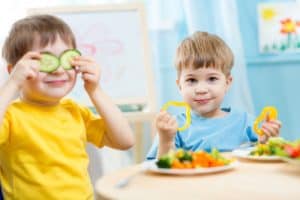 So as you navigate these busy weeks and are seeking out ways to make life a little easier, try a build-your-own night. Maybe it will save you some time, some sanity, and some dishes.
Would you like to family dinners to be stress-free and easy to prepare? Want more delicious and easy recipes, check out The Scramble's family-friendly meal plans to see just how simple getting dinner on the table can be!
Do you have a favorite super-quick meal that helps you to keep family dinners going at this time of year? I'd love to hear about it in the comments!