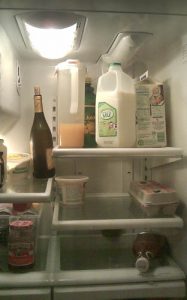 Today for lunch I ate leftover scrambled eggs mixed with some mushy avocado and salsa, and on the side, I had the last piece of turkey rolled up with our last piece of muenster cheese with a squirt of mustard. A few weeks ago, I hit a new low (or high?) by choking down, for lunch every day, a gloppy leftover beef, cabbage and rice concoction, a failed recipe test, until it was gone.
Why, as a food lover, would I eat such a strange, and possibly unappetizing lunch, you might wonder? Because I'm The Finisher. I simply can't stand to see any leftovers or odds and ends go to waste.
I work at home, and when I get hungry I open the refrigerator and scan it for leftovers, especially those that might go bad or be shunned by the rest of the family. Even if there are fresh salad greens, yogurt and berries, or some of my other lunchtime favorites, I make the sacrifice of eating what nobody else wants. Usually I don't mind, at least not much. In fact, I get such satisfaction from using up all the food I buy, that at the end of the week I sometimes open up the fridge and gaze proudly at its nearly empty shelves. (I know that sounds weird, but I really do.)
I try to buy the best local and organic ingredients for my family.  We rarely eat out and I feel our health and enjoyment are worth the few extra dollars that I end up spending on our food. But I simply refuse to let any of it go to waste. So I embrace my role as The Finisher.
Another easy way to use up leftovers is in a quiche, frittata or omelet.  You can dice up left over veggies, meat and cheeses and make a delicious meal.  Check out our recipe for Garden Quichelettes for inspiration.
Are you a finisher or a tosser? What's the weirdest combination of foods you've eaten to avoid throwing them out?  Let us know below or on The Scramble Facebook page.
Want to waste less food, have fewer failed recipes and feed your family delicious and healthy meals all week? Start your 2-week free trial of our meal planning service, The Six O'Clock Scramble.